Things to Do in Anchorage
The Best Things to Do in Anchorage
Anchorage is an urban city with easy access to magnificent scenery, adventurous activities, cultural demonstrations and wildlife viewing. Within an hour or two from town you could be kayaking among icebergs, watching brown bears in the wild, or hiking through a rainforest or alpine meadow. Get the most fun out of your time in Anchorage with our list of the top ten activities/day trips.
01
Day Cruise from Whittier, Seward, or Portage
Glaciers, marine wildlife, coastal scenery, rail tour
There are three spots you can board a boat and marvel at glaciers from the water on a day trip from Anchorage. Awe-inspiring tidewater glaciers meet the waters of Prince William Sound, and hanging glaciers nestle in the towering peaks. See it all on an afternoon cruise leaving from the small town of Whittier, just an hour and 15 minute drive south of Anchorage. Seals, sea otters, sea birds, and even whales can be spotted here, too.
If you have a car, leave Anchorage early to give lots of time for stopping to photograph the dramatic scenery of Turnagain Arm and Portage Glacier Road (towering mountains, cliffs, Dall sheep, glaciers, and salmon in mid-July to late-August). You can also visit the Begich Boggs Visitor Center to learn about the glaciers, wildlife, climate, geography and people of the Chugach National Forest and Prince William Sound. Drive through the 2.5-mile Anton Anderson Memorial Tunnel to get to Whittier. The one-way tunnel is shared by cars and trains, with specific times for travel in each direction, so check the schedule carefully.
You can also take the morning train from downtown Anchorage. It takes a little longer than driving so you'll arrive back in Anchorage well after dinner, but you'll enjoy a meal on the cruise and can buy snacks on the train.
A 2.5 hour drive from Anchorage (or 4 hours by train) puts you in the seaside town of Seward, the gateway to Kenai Fjords National Park. Most cruises into the national park are 5 -6 hours, perfect for a day trip. And, they're timed to work with the train. When you arrive in Seward you'll be transported to the boat harbor from the rail station and back for your evening return to Anchorage.
If you're short on time, the 1-hour Portage Glacier Cruise offers the quickest view of a glacier on the water from Anchorage.

Transportation: Car or train (Whittier / Seward)
Activity level: Mild
Weather: Beautiful rain or shine. The blue of the glaciers really pops on overcast days.
Tip: Book cruise in advance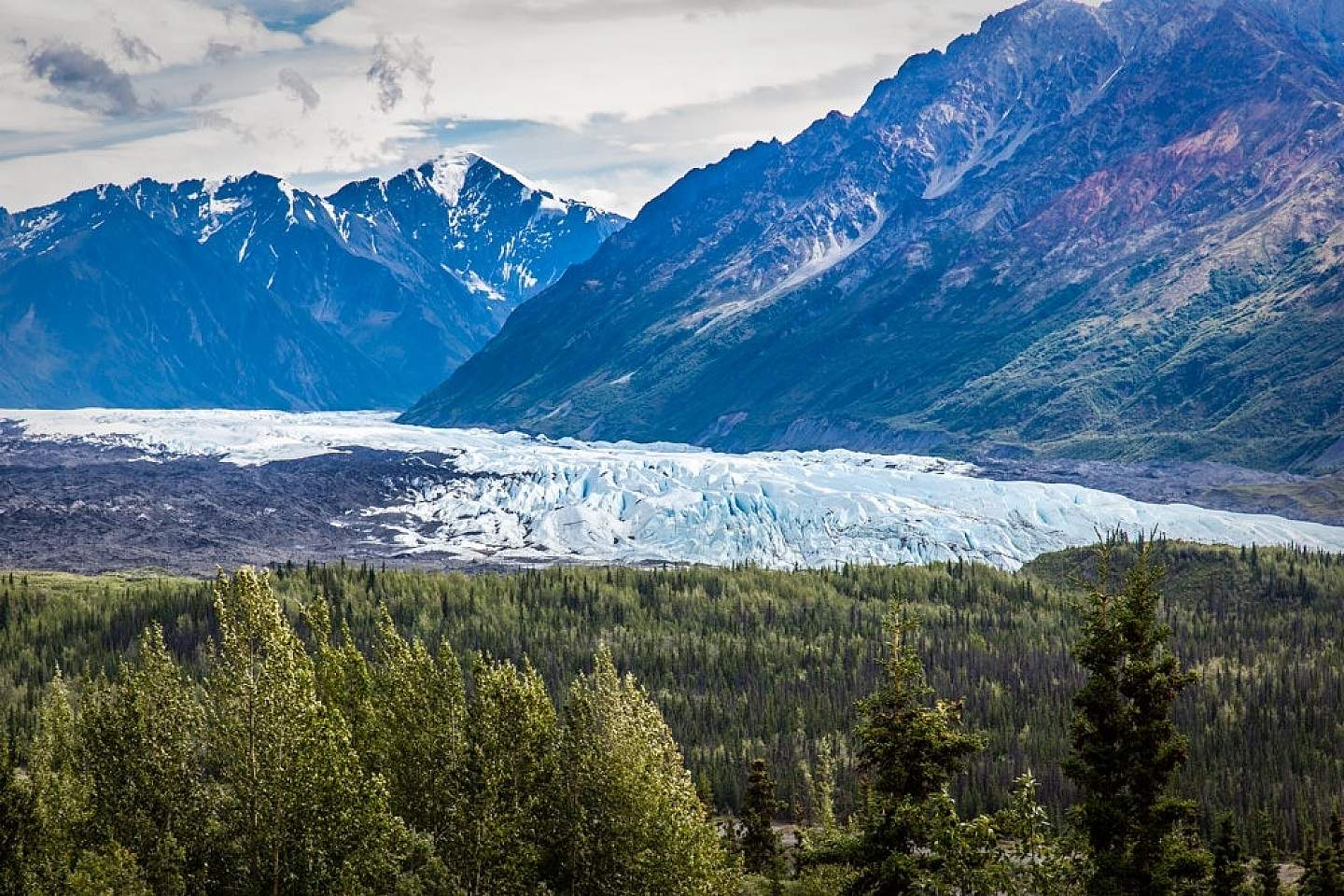 02
Drive to the Matanuska Glacier
Scenic driving, glacier, ice climbing, rafting, ziplining
Just 2.5 hours from Anchorage, the 4-mile-wide face of the great Matanuska Glacier invites you to a day full of adventure – climbing the ice, rafting the river, or flying through the air on Alaska's fastest zip line. Drive along the scenic Glenn Highway from Anchorage to Mile 101, where you can stretch your legs and take photos at the Matanuska Glacier State Recreation Site. The quiet one-mile Edge Nature Trail winds through a boreal forest, leading to viewing platforms. You'll find food and another view at a nearby lodge/restaurant (Mile 102.2). At Mile 102, take a privately-owned access road closer to the glacier for a fee. At this point you can explore the marked trail on your own. To go further, get a guide.
For a full day of highly-recommended adventuring, choose from several guided activities that don't require previous glacier experience. Some can even be done with young children. Raft along the Matanuska River, take a guided trek on the glacier for a close-up view of fissures, pools and rivers on the icy surface, climb a vertical wall of ice, or drive a rough and ready ATV on wooded trails overlooking the glacier valley!
Transportation: Car or van tour (Salmon Berry Tours or Wild Journeys Alaska)
Activity level: Mild to Wild
Weather: Glacier activities are all-weather. There's no accurate forecast, as the glacier and surrounding peaks create a weather hole (often resulting in more favorable weather than surrounding areas). It is 5-10 degrees cooler at the glacier, so layer up and bring rain gear.
Tip: Book activities in advance; bring $5 for parking at the nearby Matanuska Glacier State Recreation Site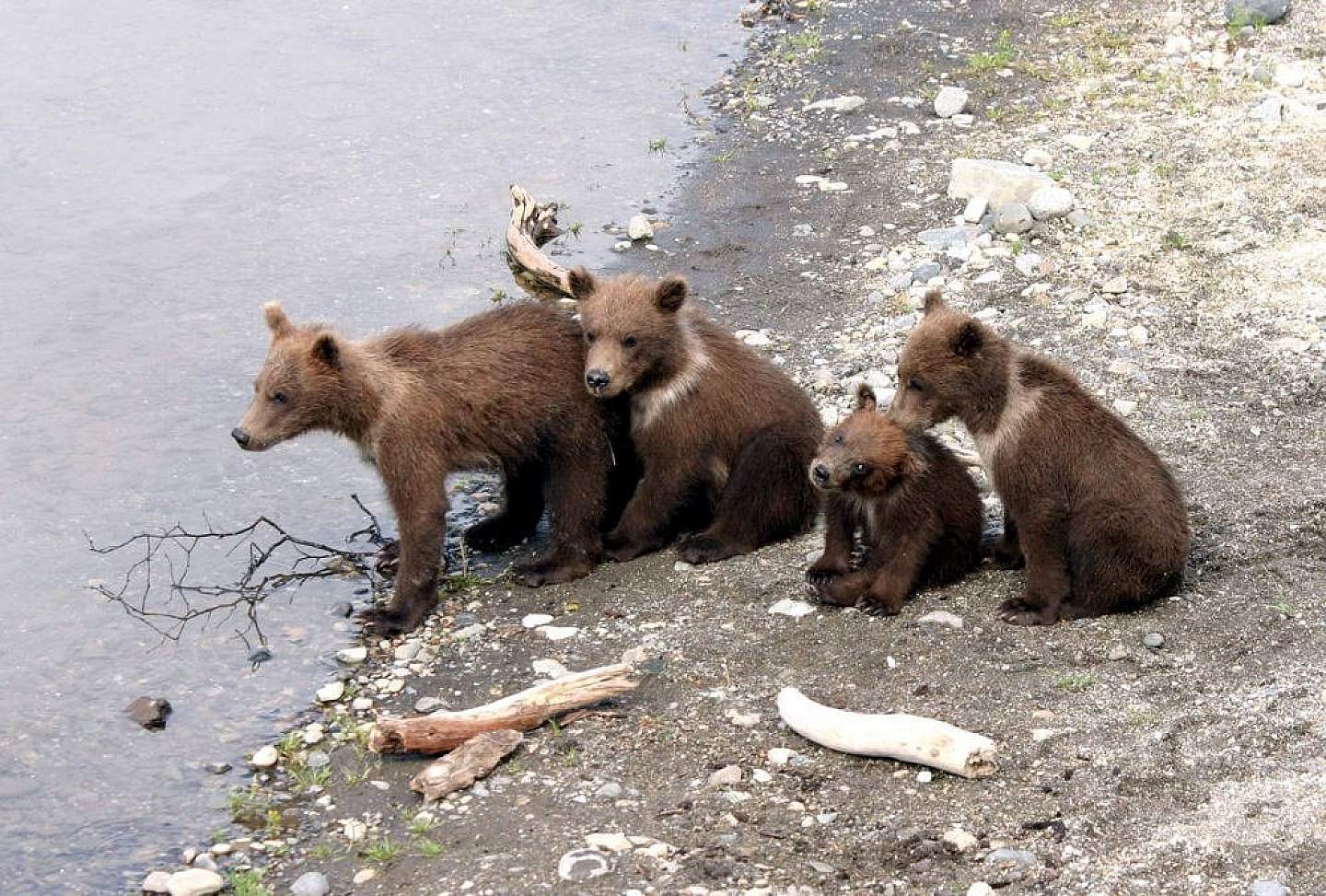 03
Fly-In Bear Viewing
Scenic flight, bears
This is one of the wildest, most amazing day trips you can take from Anchorage. You'll fly out of the city and across Cook Inlet to areas where huge brown bears congregate to fatten up for winter on Alaska's wild and robust salmon runs. They are so focused on this task that they pay humans no mind. Watch them fish, play, and train cubs in their natural wild habitat, and be back in time for a nice dinner out in Anchorage! The thrilling day begins and ends with a scenic flight on a classic Alaska float plane or wheeled plane. You'll fly to either Lake Clark National Park or Katmai National Park, with views of braided rivers, glaciers, volcanoes and possible wildlife such as beluga whales, moose and Dall sheep. Tours start around $700 per person, which may seem high until you consider the 2-6 hour flightseeing experience and hours of bear viewing included in the cost.
Choose Katmai in July if you want to visit Brooks Falls and capture an iconic photo of salmon jumping right into a brown bear's gaping jaws. This is a wildly popular spot, where you can see dozens of bears within a 1.5-mile stretch of the Brooks River. Platforms have been developed above the falls to help everyone get a great view. Between May and September, you can watch coastal brown bears in Lake Clark National Park. Your guide will take you and a small group where the bears are most active, with tour options for hiking along the flats, travel by 4WD vehicle, or viewing from a covered boat.
Transportation: Float plane or small wheeled plane
Activity level: Moderate (walking)
Weather: Rain or shine, but flights can be delayed or cancelled due to weather.
Tip: For best availability, book in advance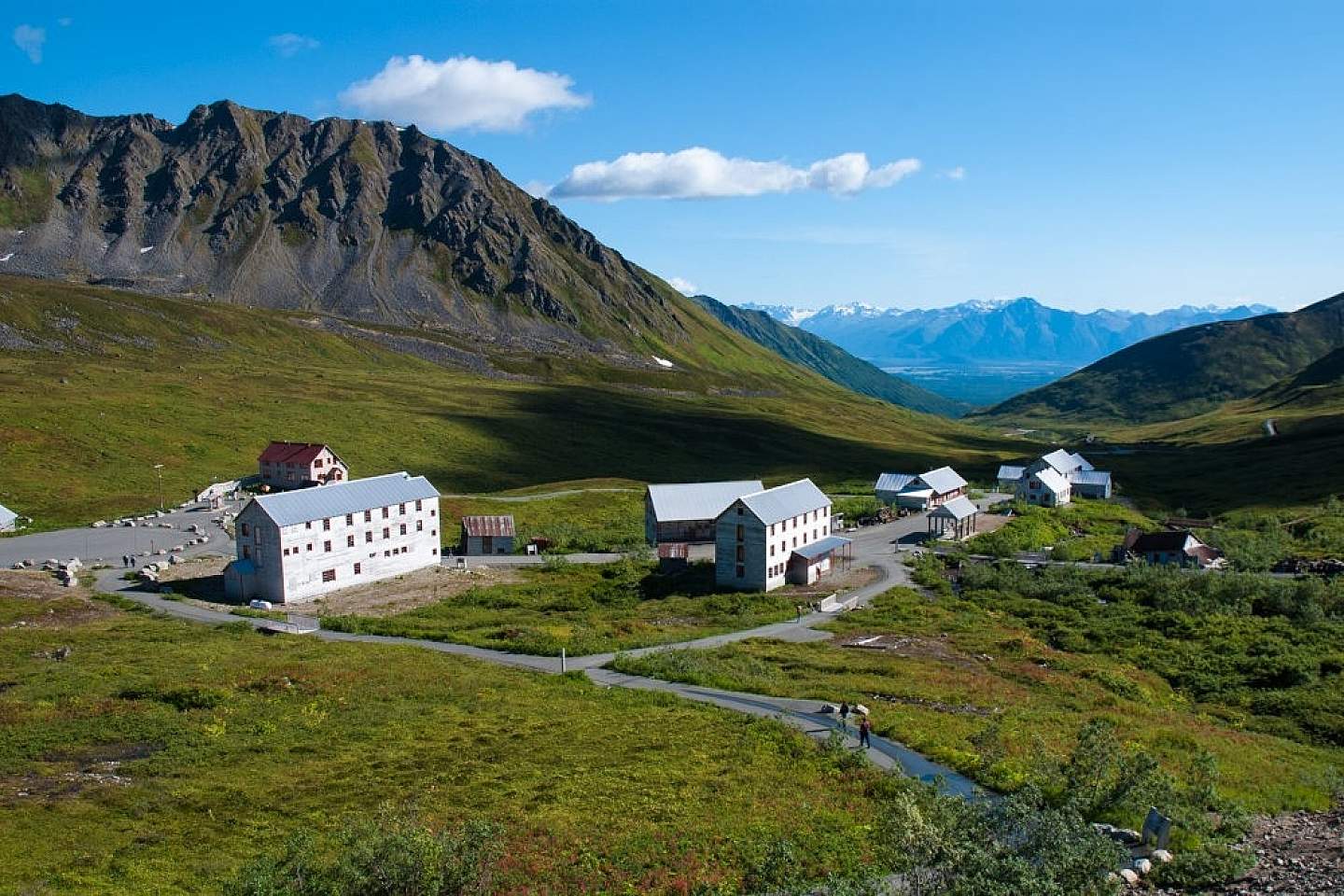 04
Hatcher Pass Scenic Drive
Hiking, history, berry picking
A summer day in Hatcher Pass mixes spectacular scenery, history, and easy to moderate hiking. An 80-minute drive northeast of Anchorage brings you past farms of the Mat-Su Valley and the picturesque Little Su River to a scenic pass high in the mountains where you can tour the remains of the 1940s-era Independence Mine and hike through tundra to a crystal clear alpine lake. The views as you drive up to 3,800 feet are worth the trip even if you are not a hiker. Hatcher Pass is also quite a draw in winter for mountain skiing, sledding, snowshoeing, and snowboarding.
This is a great trip for those on a budget, since your only expense is a $5 parking fee. And it's perfect for families, since trails and tundra hiking are accessible and fun for the kids. Hatcher Pass remains snowy for much of the year, so you have a good chance of hiking to snow even in the height of summer. Exploring trails offers a different experience at each elevation: spongy tundra and alpine lakes further up, spans of colorful wildflowers and waterfalls at subalpine elevations, and lush foliage along a glacial valley at the base of the mountain. Be sure to bring water, a lunch, and warm layers to be prepared for cooler weather. In addition to perfect views, you may also spot paragliders, who regularly launch from the mountain slopes on clear days. For wildlife, you'll see birds, and possibly ground squirrels, marmots and beavers.
Transportation: Car
Activity level: Mild to strenuous (walking/hiking)
Weather: Check operating hours for Independence Mine Visitor Center; bring $5 for parking, bring a bucket for berries in late summer/early fall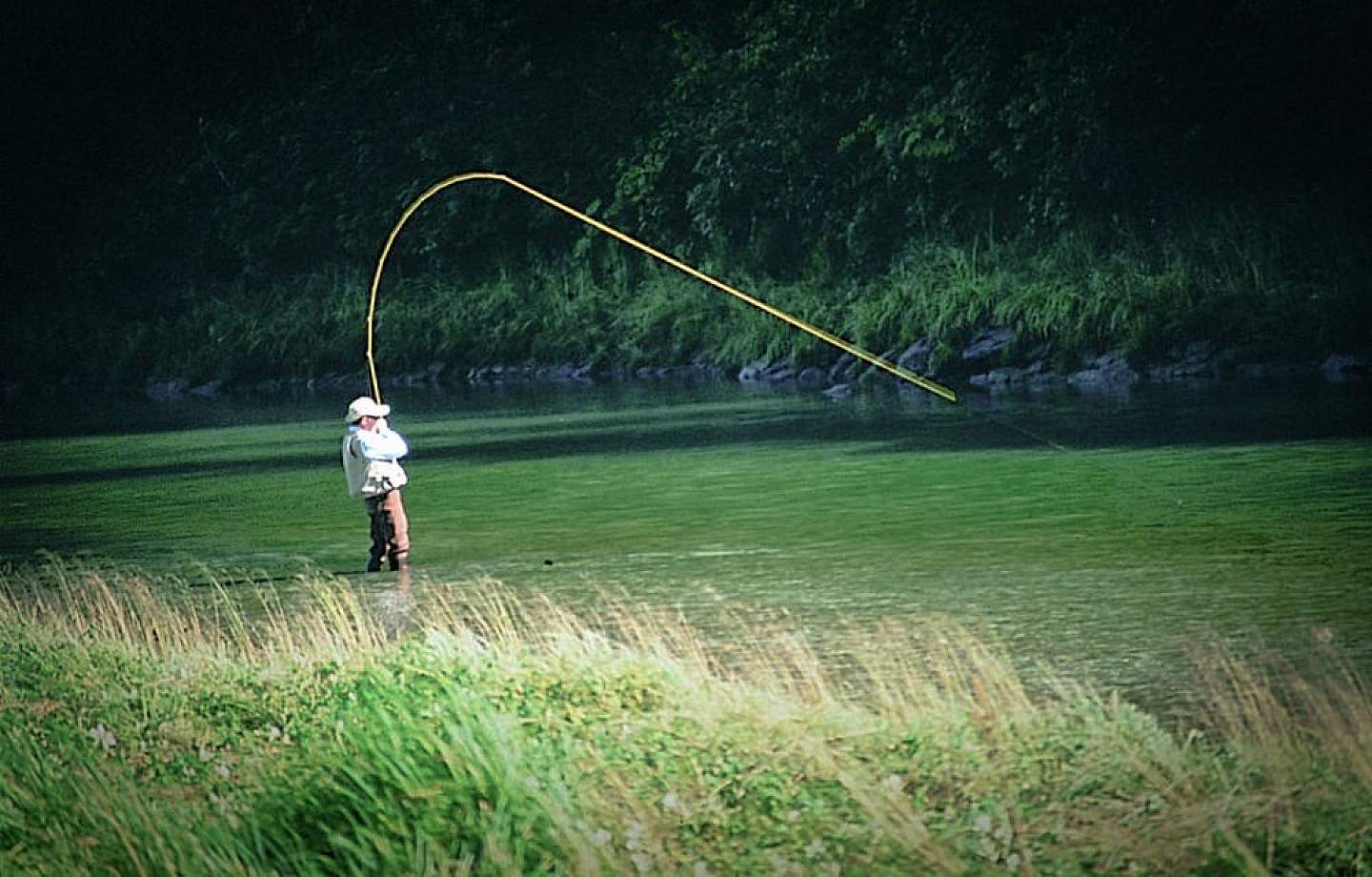 05
Fly-in fishing
Scenic views, remote river/lake fishing, tasty souvenir
Fly-in fishing, which combines a scenic flight with fishing for trout or salmon, is a perfectly Alaskan experience. Soar above the Anchorage bowl toward the Matanuska Valley and touch down 20 minutes later in a prime fishing spot in Alaska's remote backcountry. Spend the day with your line in the water, fishing in beautiful creeks and lakes off the road system. It's more secluded than roadside fishing options from Anchorage, which can get fairly crowded during the season. You'll fish from a boat or from the shore, all geared up in iconic hip-waders.
And you don't have to be an expert to take advantage of the fun. There are guided options, complete with all your tackle and fishing gear (including boots). Or you can bring your own for a do-it-yourself trip. It can be surprisingly affordable, starting at $300 per person for the flight and an unguided day on the water. Expect to pay $600 or more for a day trip with a guide steering you to the best spots for whatever fish is in season. Depending on the time of year, you might land a giant King salmon, a feisty Silver, or a succulent Red. There are also great nearby spots for Northern Pike, Grayling, Rainbow Trout and Arctic Char.
The day ends as it began, with a flight back to Lake Hood, the world's busiest seaplane base and a shuttle back to your hotel. Your charter company can arrange to process your fish to send back home for a tasty reminder of a 100% pure Alaskan adventure.
Transportation: Float plane
Activity level: Mild to moderate (walking)
Weather: Fish are biting rain or shine
Tip: Book in advance; get your fishing license online or in Anchorage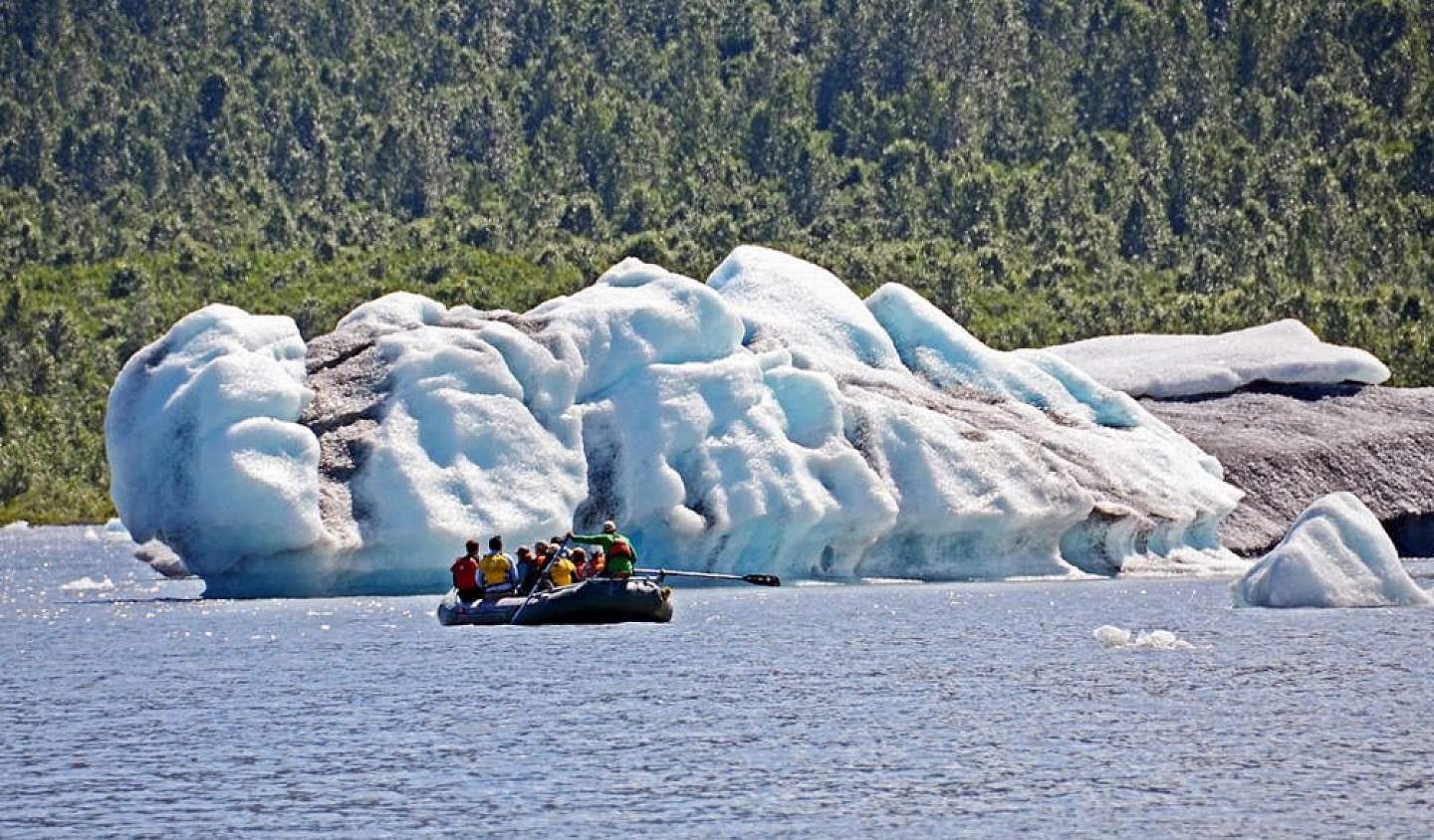 06
Train Ride and Rafting or Kayaking at Spencer Glacier
Glacier, on the water, coastal scenery, wildlife
Ancient ice beckons, just 60 miles from Anchorage, at Spencer Glacier and its namesake lake, which is dotted with icebergs of all sizes. See it, touch it… even taste it, as you get up close in a kayak, canoe or on a raft. This peaceful area is off the road-system, promising a wild and remote feel even though you can get there easily by train.
The day starts on the Alaska Railroad, with a scenic journey along Turnagain Arm and into Portage Valley, where hanging glaciers grace the mountain peaks. Disembark at the Spencer Glacier Whistle Stop, where your guides will suit you up for a mild float on Spencer Lake and the nearby Placer River. Or hop in a kayak and paddle serenely past icebergs up to the toe of the glacier. Strap on a helmet and crampons for a close-up view of ice caves, crevasses, and blue ice.
Choose a guided or self-guided hike if you'd rather explore the area on foot. An easy 1.3-mile gravel trail leads from the Whistle Stop to the Spencer Lake Viewing Platform. From there, you can walk another 1.7 miles along the lake toward the glacier terminus. The trail doesn't quite reach to the glacier since it has been retreating, so you'll want to kayak or raft to get closer.
Transportation: Train or car/train
Activity level: Mild to strenuous
Weather: Beautiful rain or shine, just wear proper clothing. Guides provide a poncho in rain.
Tip: Book rafting/kayaking when you book rail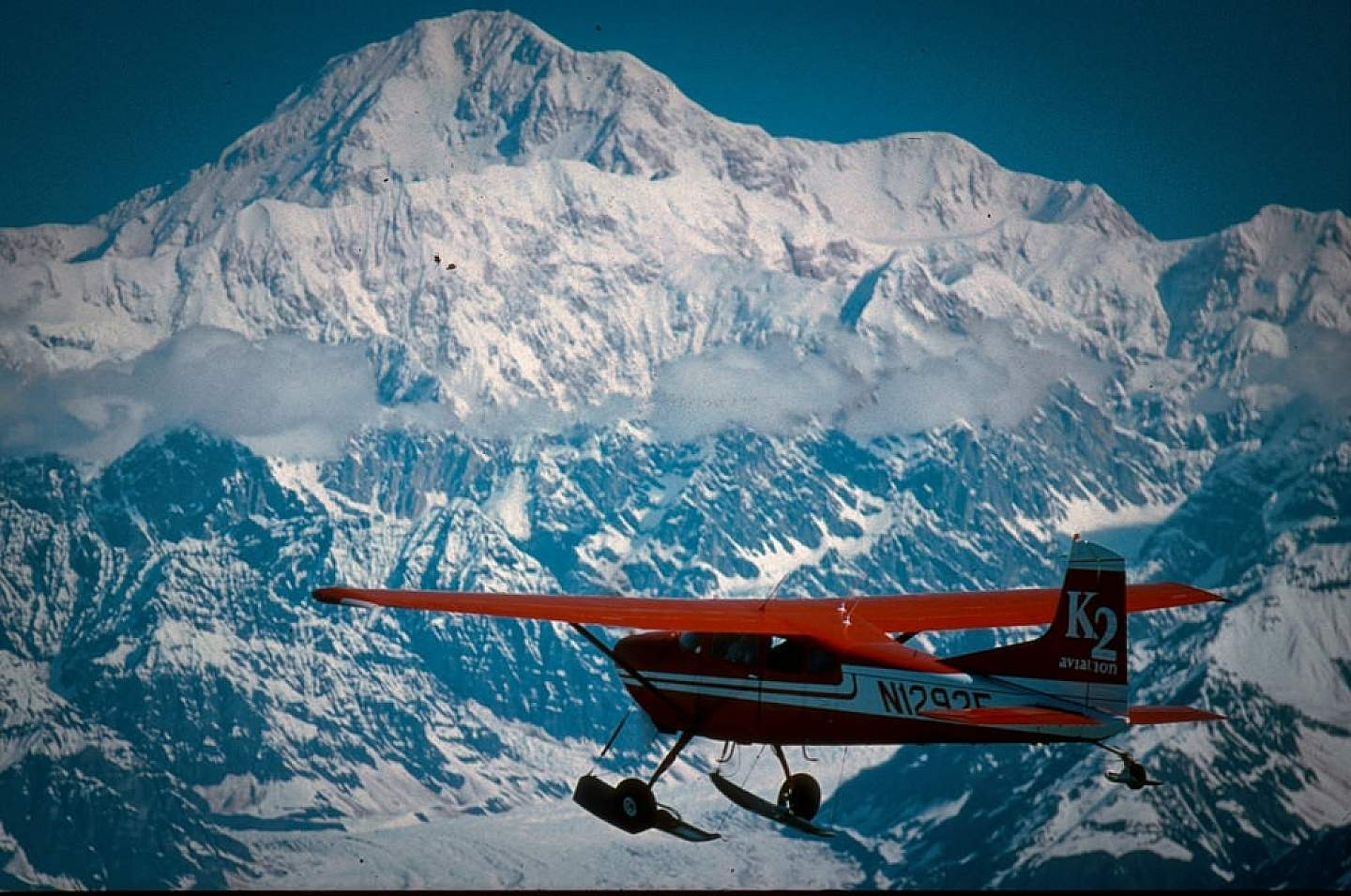 07
Talkeetna & Denali Flightseeing
Scenic flight, glacier landing, quaint town, mountaineering hot spot
Don't have time to drive all the way to Denali National Park? Talkeetna is the perfect day trip for experiencing small town Alaska and getting close to Denali in just a few hours (3 hours by train, 2.5 by car). Charming and historic, Talkeetna is 14 miles off the beaten path, at the confluence of three rivers. It's the jumping off point for mountaineers with the highest aspirations – to summit Denali, the tallest peak in North America (20,310 feet). It's also a hot-spot for more down-to-earth adventuring, like river rafting on a glacial river, hiking, or ziplining through a boreal forest.
The most popular attraction is flightseeing near the snowy peaks of the Alaska Range, including Denali. Soar above ice falls, blue meltwater pools, crevasses, and glaciers that go on for miles. Helicopter or bush plane tours last 1-2 hours each, with many variations: fly above the Denali summit, land on a glacier, or fly into Denali National Park, land on a lake and go hiking!
In town, the small historical museum has exhibits on Talkeetna's early years, the railroad and what it's like to climb Denali. Check out the gift shops, galleries, or open-air market (Sat-Mon) before finding a pizza, burger or even Thai food. There's even a local craft brewery! Walk to the waterfront just a few minutes from town and get a peek at the mighty Susitna River before heading back to Anchorage.
Transportation: Car or train to Talkeetna
Activity level: Mild
Weather: Flights can be delayed or cancelled due to weather. Overcast days can sock in the peaks, but the scenery below is still epic. If you get a clear day, go for it!
Tip: For best availability book train and flightseeing tour in advance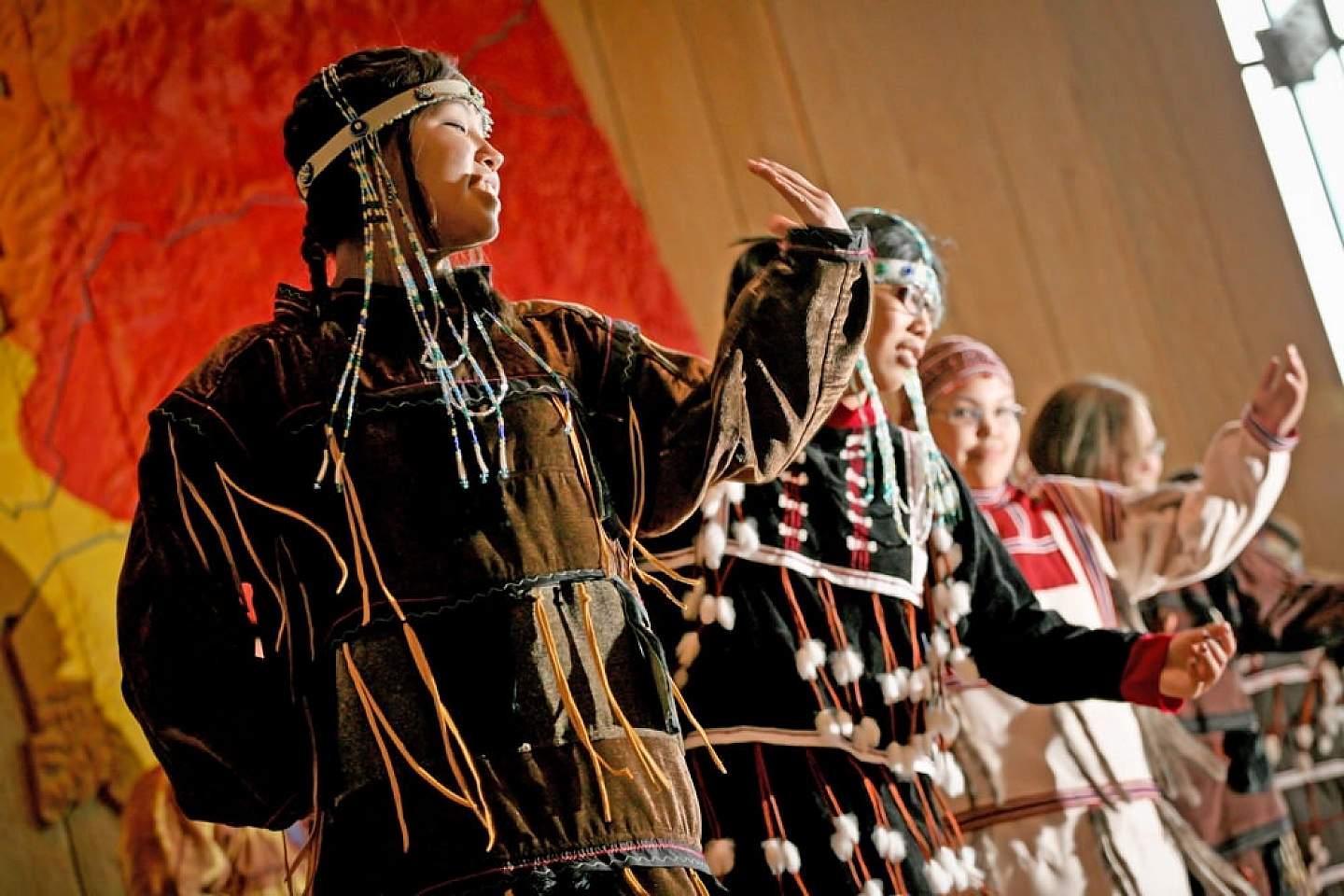 08
Anchorage History & Culture
Anchorage sights, Native dancing, Alaska art and history
Spend a full day immersed in Alaska art, history and culture, and learn about Anchorage too. Start out at the must-see Alaska Native Heritage Center, located in a beautiful area on the northeast edge of town. A free hourly shuttle leaves from the Anchorage Museum, Visit Anchorage, the Captain Cook or the Sheraton. Learn about Alaska's five major Native cultures through art, short films, and demonstrations of Native dancing and games. Outside, take a guided or self-guided tour through a wooded area around Lake Tiulana. The path winds past six authentic life-size Native dwellings illustrating how Native people lived in different parts of Alaska – from the longhouses of the coastal peoples to underground houses entered from ladders or tunnels.
Back downtown at the Anchorage Museum, you'll find world-class exhibits and an interactive Discovery Center especially fun for the kids. Save time for the third floor, where 600+ indigenous Alaska artifacts are on loan from the Smithsonian. Special activities include films at the planetarium and science labs at the Discovery Center. Finish up your visit with a meal at the on-site restaurant or one of several nearby before walking about six blocks to the Log Cabin Visitor Center to catch the Anchorage Trolley tour.
For Anchorage-specific history, there's no better ride than this 1-hour tour. Drivers share fun facts and stories about Anchorage's 100+ year history while covering 15 miles – from Anchorage's historic neighborhoods to Earthquake Park and the seaplanes of Lake Hood.
Transportation: Trolley, Shuttle, car
Activity level: Mild
Weather: Informative everyday; perfect choice on a rainy day
Tip: The Alaska Culture Pass gets you into the Anchorage Museum and the Alaska Native Heritage Center at a discount.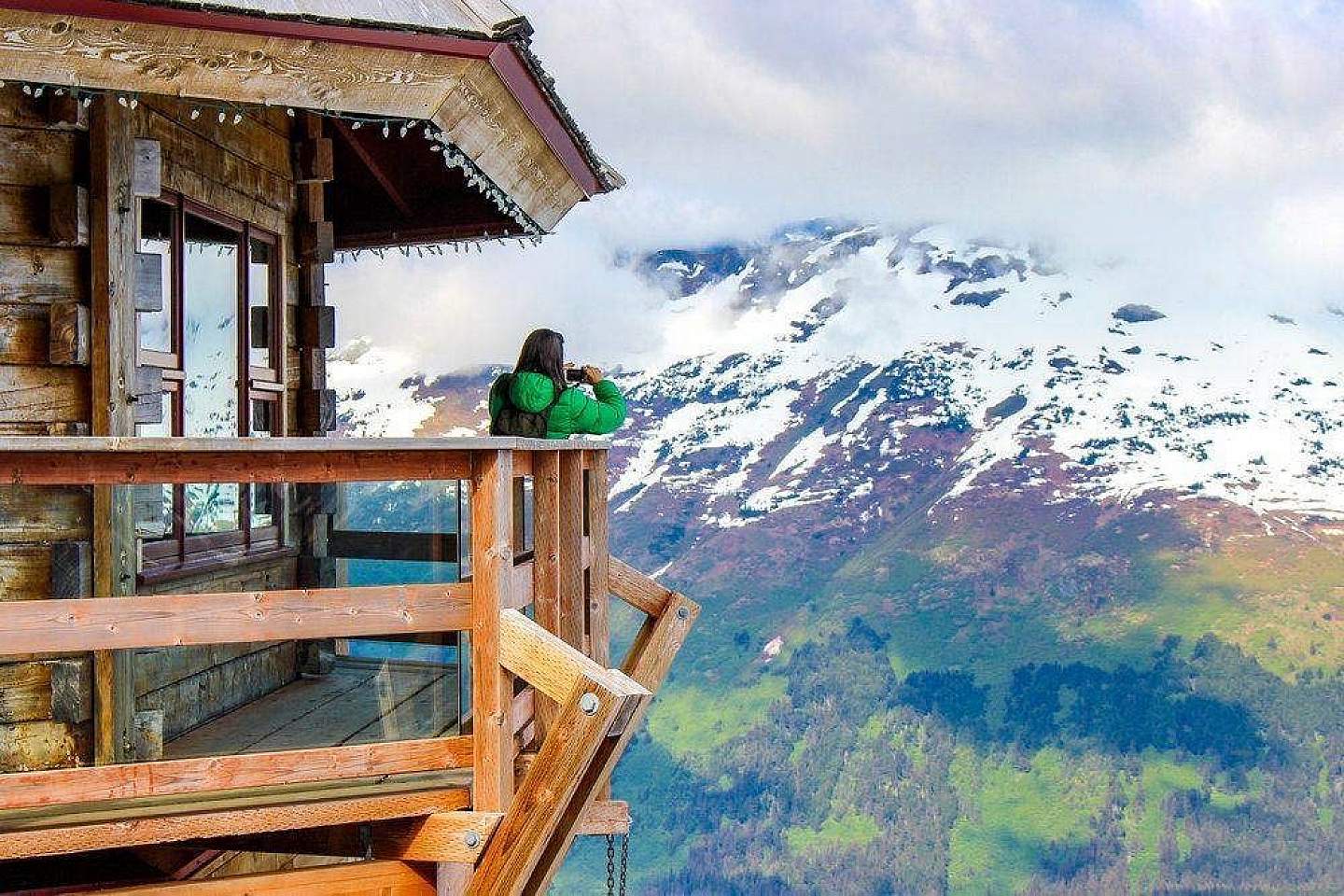 09
Turnagain Arm & Girdwood
Coastal views, wildlife, hiking, biking, charming resort town, temperate rainforest, Iditarod trail
45 minutes south of Anchorage, Girdwood is a haven for outdoor enthusiasts, who enjoy its trails and slopes year round. The easy Winner Creek Trail, starting at Alyeska Resort, is a popular choice that winds through lush rainforest and past lively creeks. It leads to a unique hand tram over a deep gorge and connects with the historic Iditarod Trail. Or head uphill from Alyeska on a 7-minute tram for spectacular views of Turnagain Arm and hanging glaciers, as well as casual and gourmet mountain-top dining. Rent a mountain bike for an adventurous ride back down!
The journey to and from Girdwood takes you through some of the most breathtaking scenery anywhere. The highway winds along, sandwiched between the 3,000-foot mountains of Chugach State Park and the ever-changing Turnagain Arm, whose mud flats stretch up to 4 miles. At Beluga Point (Mile 110.5), especially from mid-July through August, watch for Cook Inlet belugas as they chase salmon at high tide. At Windy Corner (Mile 106), spot Dall sheep on the cliffs along the mountainside. From Mile 115.1 to Mile 100.5, several trailheads offer access to a network of trails, many with gorgeous views overlooking Turnagain Arm. Climb high into alpine tundra, to waterfalls and lakes, or through old-growth forests leading to wildflower-laden valleys.
Transportation: Car or train
Activity level: Mild to strenuous
Weather: Beautiful in light rain or shine, views are better from the tram on a clear day
Tip: Check the schedule. Girdwood throws a great summer party, from the Forest Fair to the Blueberry Festival and the Fungus Fair.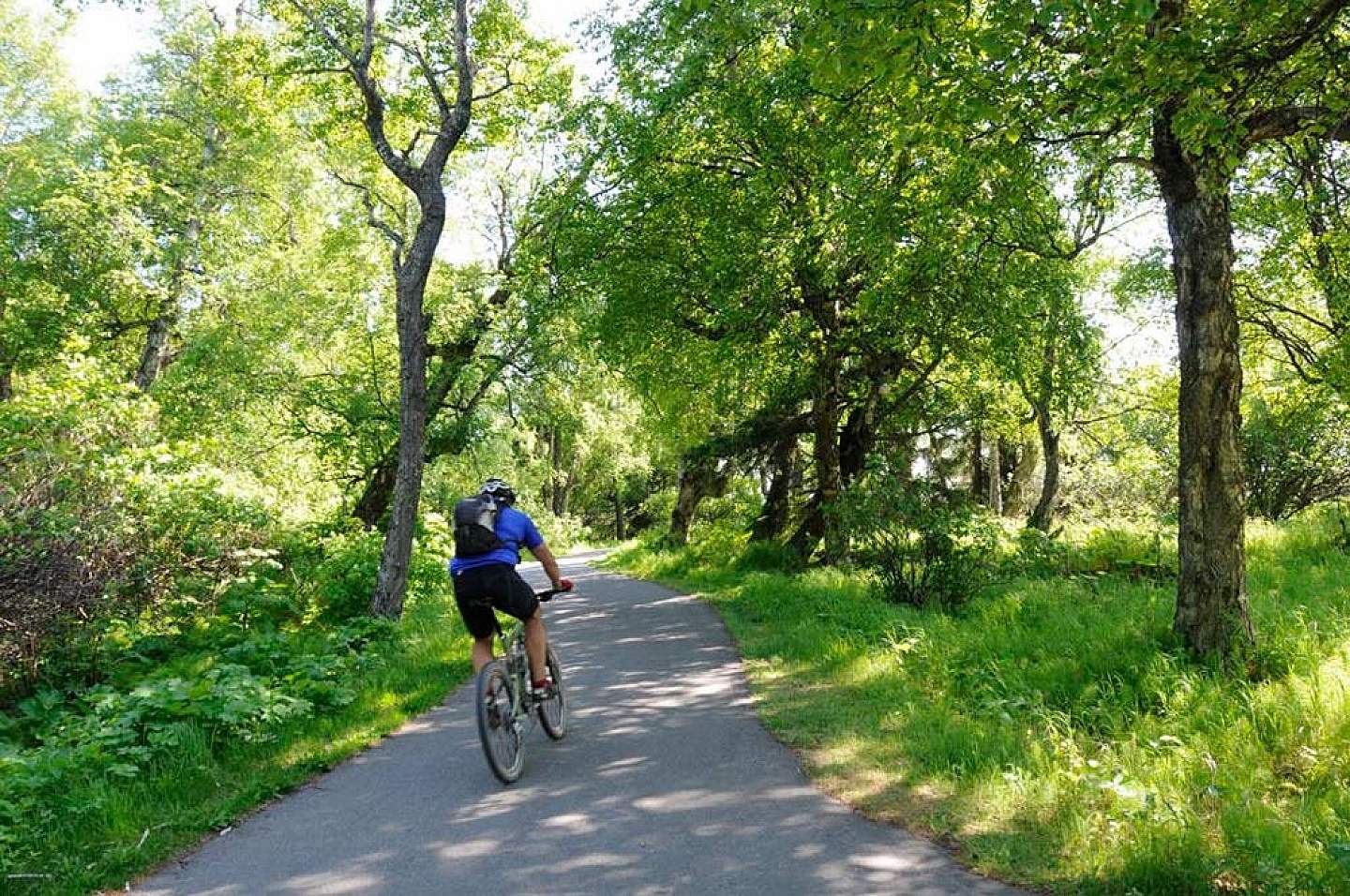 10
Anchorage Outdoors
Stunning views, wildlife, hiking, biking, berry picking
Anchorage may be an urban city of 300,000, but it boasts some of the best parkland and recreational opportunities in the country, ranging from the sea-level Tony Knowles Coastal Trail to the 3,500-ft high Flattop Mountain. The paved coastal trail starts in downtown Anchorage and runs 11 miles out to Kincaid Park. It's easy to rent a bike downtown and hop on the trail, enjoying sweeping views of the mudflats, Cook Inlet, and Sleeping Lady (even Denali on a clear day). Once you've gone a few miles, stop to look back for a great shot of the Anchorage skyline. Chances of seeing moose are very good along this trail, especially as you get closer to Kincaid Park.
For a different perspective of Anchorage, drive just 20 minutes to the Glen Alps parking lot, where you will find a number of trails in Chugach State Park, including one that takes you to the top of Flattop. It's typically windy there, which will be refreshing after the hike up! If you don't want climb that far, the 1.5-mile Blueberry Loop trail still affords a great view and is a little less demanding. An even shorter trail from the parking lot to an overlook ensures a beautiful view of the Anchorage bowl. Don't have a car? A shuttle service from downtown gets you there for $23 round-trip.
Transportation: Car or bicycle
Activity level: Mild to strenuous
Weather: Best on a sunny day, but light rain won't hurt; temps are much cooler on Flattop
Tip: Get an early start; pack plenty of water and a lunch; bring $5 for parking at Flattop