Owners Matti and Dan love the beauty Alaska has to offer, and love to share that beauty with visitors. In the summer they're on ATV's and in the winter, they're exploring the same scenic country on snowmachines. No matter what time of year you find yourself in Alaska, they can set you up for an adventure.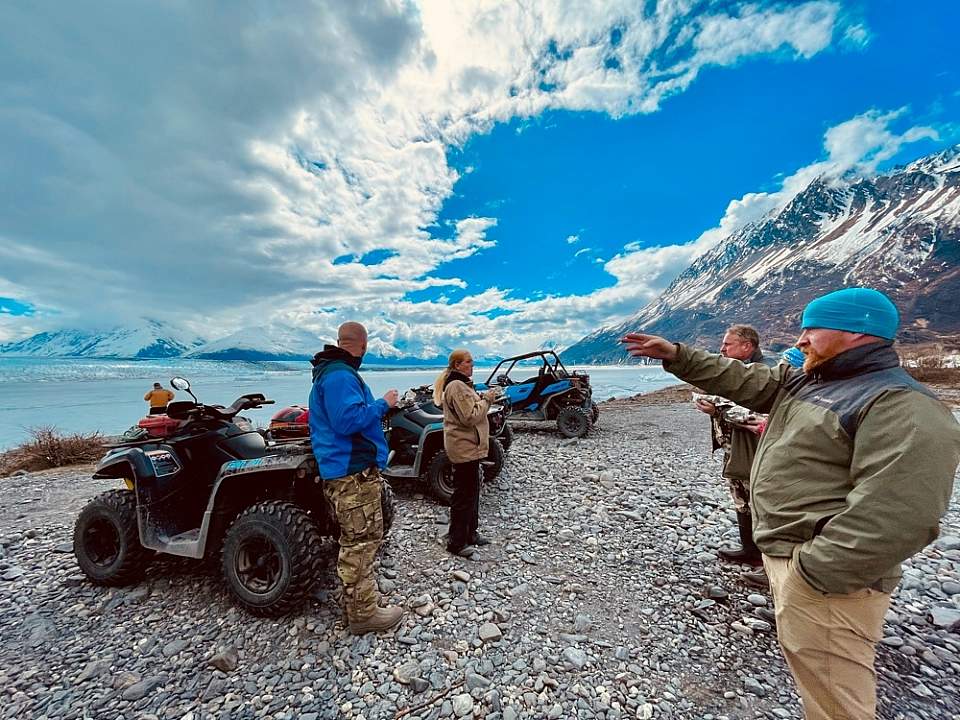 All Ages Fun
There's no better way to explore the backcountry than with a local who knows it intimately and loves it just as much. With Alaska Backcountry Adventure Tours, you get to ride an ATV, led by local experts, while driving over rocks, splashing through mud, and exploring Alaska terrain that's otherwise inaccessible by roads. It's a an easy passion to share: ATVs and side by sides available to accommodate all ages and skill levels. After a short training session, you'll be in command of your ATV, and your guide will lead you and your group (small group sizes) as you steer your machine through the Alaskan wilderness. You'll drive through forested trails, across open valleys, up old mining claim routes, past waterfalls, and through streams. Whether you are driving an ATV or riding together in a side by sides your group is sure to have an amazing trip. These machines power through and over just about anything. Your ATV powers through—and over—just about anything.
Picnic by the Knik Glacier
Your destination is deep in the backcountry, away from tourists and civilization. On the three-hour tours, the huge Knik Glacier will still be a few miles off in the distance. But on the full-day tour, you'll drive right up to the face of the glacier: It's a towering river of ice 26 miles long, some 5 miles wide, and more than 1,000 feet thick. You'll take a break and have lunch while gazing around at the peaks of blue ice that surround you. Then hop back on your ATV for a thrilling, careening ride home. Ether way, you'll see wildlife, awesome mountain scenery and feel the wind on your face – definitely an Alaskan backcountry experience.