Photo Credit: Jacob Whitaker
Getting There
| | |
| --- | --- |
| Anchorage | 3 |
| Homer | 3 days |
How Long to Spend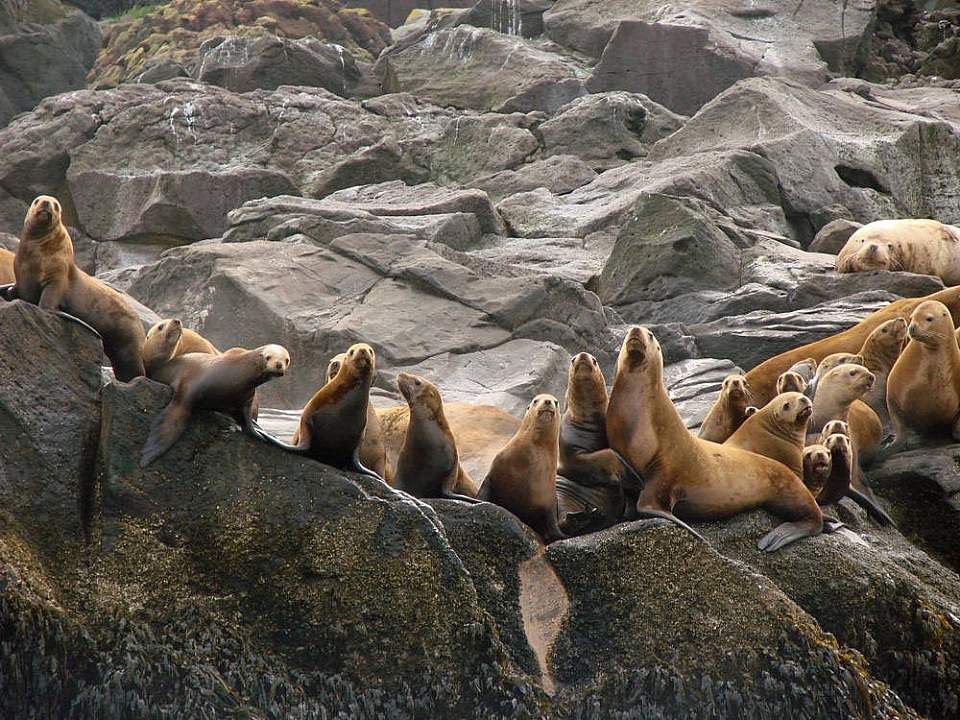 On the map, Unlaska is a tiny dot far off in the middle of strong seas. But somehow, a diverse group of people make this remote island home, and share its wonders willingly with visitors. Ounalashka Corporation, representing the original Unangan inhabitants of Unalaska, allows those with land use permits to hike around much of the remote and rugged landscape of the Amaknak and Unalaska islands.

Seemingly in the middle of nowhere, Unalaska is affixed geographically on the Aleutian chain, and historically in the midst of 10,000-year-old Unangan culture, and in the eras of Russian fur traders, Captain Cook, World War II, and of a commercial fishing industry that ranks above all others in the United States.

Unalaska, the small, wind-swept volcanic rock, draws researchers, tourists, adventurers, birders, World War II buffs, fishermen, and seasonal workers – so many that the population swells from about 4,000 in winter to nearly 10,000 in summer.

The land has a fierce beauty, luring hikers of all levels, as well as experienced and even hard-core kayakers, sea paddlers, gliders, surfers and other adventure sporting enthusiasts. Passionate fishers can find local charters to lead them to the world's best salmon, king crab, halibut and others. Discovery Channel's Deadliest Catch fans often meet their favorite captains and crew, whether by chance in town or at the Carl E. Moses Boat Harbor where most of them are docked when not at sea. And, with the world famous Baby Islands birding sanctuary just 20 miles off shore, birders from all over the world make Unalaska their destination spot to meet the rare Whiskered Auklet, and more.
Despite its remote locale, Unalaska offers fine dining restaurants, a hotel, a full service community center, pool, library, nationally awarded schools, museums, local festivals and sporting events and more weave this tight knit community together in extraordinary ways.
While here, you can partake in everything from a community fun run to a charter birding trip. Take a swim at the Aquatic Center, or taste a dessert at the Blueberry Bash. Watch the ground squirrels as they fatten up for winter's cold chill, and track fishing boats as they ply the harbor during the busy season (which seems to last from January to October!).

As the strong coastal breezes invigorate your body, so too will a visit to Unalaska invigorate your sense of adventure, connection to the land and respect for the past. Hike the Ugadaga Bay trail, visit the World War II outpost at Ulatka head, see the old Russian icons at the Orthodox Church, and get some perspective on it all at the Museum of the Aleutians. Pick some berries. Eat some fish. Photograph some eagles. Wonder at the humpbacks breaching in Captains Bay. Prepare for the cold, the fog, and the rain that produces the lush, emerald carpet all around. Get lost in the landscape, for time has no hold here in the Aleutians. And if your flight leaving Unalaska is delayed for weather (which is often the case), consider it a bonus, not a bother. There's always more to explore.
Getting Here
By air: It's roughly a 3 hour flight from Anchorage with Ravn Alaska to Dutch Harbor.
By sea: Alaska Marine Highway Ferry System has schedules available and typically run 4 to 6 times each summer from Unalaska (Dutch Harbor) to Homer. This trip takes about 3 to 3.5 days each way. (You'll want to consider a combo fly-in/ferry out or vice versa, especially since it's a few weeks between ferry visits.)
By cruise ship: Several companies sponsor cruises to this part of the world. Contact your favorite cruise line for more information.
Sightsee & Shop
On the Water