April in Alaska begins as the tail end of winter—the northern lights still can be seen in the sky, and there is often still enough snow for skiing and other winter sports. By the second half of the month, however, the snowpack has melted and there isn't enough darkness to see the aurora. Things quiet down in preparation for summer.
For local Alaskans, April is a favorite. April is the driest and clearest month of the year and daylight effectively banishes darkness to the middle of the night. There's an excitement and energy that is palpable. The retreating snowpack triggers the first green-up and exposes dry hiking routes near sea level. The adventurous can find some of the best winter sports conditions of the year at higher elevations, and when night freezes have created a morning crust. The mountains and foothills remain white, while flatlands and shorelines awaken to spring. It's beyond postcard-worthy.
This month does come with some caveats. Alaska's extensive summer and winter visitor networks—restaurants, lodges, guides, and tours—are largely closed. Ski areas may suspend operations by mid-month (though recent years of good snow have left weekends open into May). Backcountry hiking or front-country camping can be difficult, if not absolutely sloshy. Plus, the shriveling snowpack unveils lots of gunk and can generate big puddles, so Alaska is not always at its most scenic. Still, with few visitors in April, the sunny, melting landscape can feel gorgeously vast and empty beneath stunning blue skies.
Still, if you're coming in April, there are some great things to do. Read on below.
Key Details
Daylight is returning fast, with an additional six minutes or so of direct sunlight (in southern Alaska) every single day. That's more than 40 minutes a week!
Daytime temperatures often hit the high 40s, but can still dip below freezing in the wee morning hours.
Not many visitor activities or services are open yet. Denali National Park hotels are shuttered, for instance; and while most of the park road remains snowbound, the first 10 or so miles are usually plowed.
Independent travelers should plan on driving themselves; rail, shuttle, and motorcoach services don't ramp up until mid-May. Venturing outside the cities? Make lodging reservations.
Getting Outdoors
Go skiing. Depending on the weather, the first half of April can provide the same incredible snowpack as March, with extensive grooming of trails and almost infinite travel possibilities. Yet a lot of people will have moved on from their winter mindset, often leaving venues empty.
Hike or ski on the crust. April is the best time to find crust. A late-afternoon melt that saturates the snow, followed by a hard freeze overnight, creates a firm surface that can temporarily support skiers, bikers, snowmachiners, and hikers (usually in the early morning). There may be nothing more exhilarating than zooming across a white expanse that fully supports your weight. For skate skiers, in particular, the effortless glide feels a bit like suddenly being able to fly.
Watch life return. If you're seeking exposed dirt and new growth, Turnagain Arm Trail southeast of Anchorage along the Seward Highway and the Eklutna Lakeside Trail inside Chugach State Park both dry out to offer some of the season's earliest hiking in the region. The last weeks will see the year's first plants and tree buds.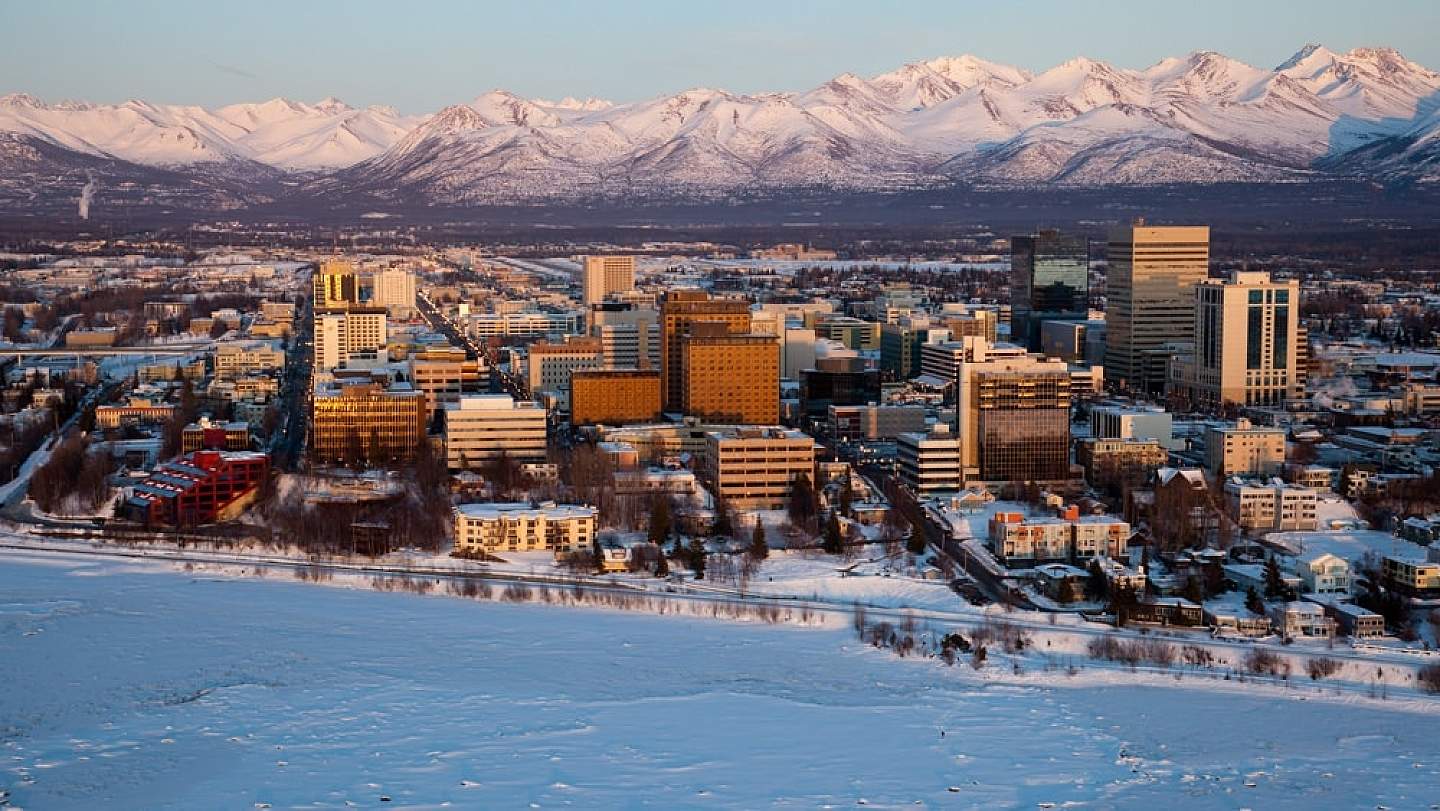 Seeing Wildlife
Moose are enduring the final tough stretch before they can feast on spring greens. Ravens become extremely active, while resident forest birds like chickadees and redpolls continue to forage in noisy flocks. As the snow disappears, the very earliest migratory birds begin to appear, especially on exposed tidal flats and in sea-level forests. Bears sometimes begin emerging from winter dens, though they're rarely seen. The annual gray whale migration begins to pick up in the Gulf of Alaska, with cruises out of Seward and Kodiak. The marine world begins to awaken. Bald eagles and gulls might start showing up in town, with a few ducks and geese making appearances in rare ice-free spots.
What to Pack
Prepare for wide temperature fluctuations. Bring a medium-weight insulated jacket, hat, gloves, and insulating layers. (Snow sports enthusiasts heading to the mountains still need to be prepared for hardcore winter conditions.) A pair of waterproof shin boots—locals call them "break-up boots"—can ensure dry feet in a world of puddles and mud. If traveling through a snowy landscape, bring sunblock and sunglasses: The solar power of April matches August in intensity, and this will be magnified by brilliant snow. Though April can be very dry, a spell of rainy weather will feel especially chilly, so pack rain gear.
Things to do in April
Anchorage Area
Go Outside
Get Cultural
Enjoy a show. Anchorage's Performing Arts Center and local theater scene continues to hop. The very popular Anchorage Symphony—whose concerts often sell out—generally holds a season finale in early April.
See the Native Youth Olympics. In a unique celebration of traditional Alaska Native skills, more than 500 athletes from across the state compete at UAA's Alaska Airlines Center area during the last week of April.
Dive into history. Visit the Anchorage Museum at Rasmussen Center or the Aviation Museum. On First Fridays (when many galleries all over town feature creative works), admission to the Anchorage Museum is free.
Other Cool Stuff
Ride the rails. View the snowy backcountry on a weekend trip to Talkeetna or Fairbanks on the Aurora Winter Train. It heads north on Saturday and returns to Anchorage Sunday. (Or ride one way to Fairbanks, spend a few days, and fly back with Ravn Alaska).
Explore the beer renaissance. For a behind-the-scenes encounter with Anchorage's most interesting and innovative micro-breweries, book an afternoon with Big Swig Brewery Tours.
See indigenous creatures. Check out bears, moose, owls, eagles, wolves, and more—many of them orphaned or rescued-at the Alaska Zoo.

Girdwood / Alyeska Resort
Portage and Portage Valley
Visit the animals. Tour the Wildlife Conservation Center for guaranteed wildlife viewing as the snow peels back and animals become more active.
Play on the snowy crust. Enjoy friction-free fun at Portage Lake, the Placer River Valley, or really anywhere. Perfect for skiers, snow-bikers, snowshoers, hikers, and snowmachiners. Scan temperature reports to gauge crust formation and check the trail blog for when and where to go.

Talkeetna
Denali
Fairbanks
Seward
Rendezvous with gray whales. The whales' annual epic migration accelerates during April; these long-distance travelers are seen crossing the mouth of Resurrection Bay almost every day. Check out tours with Major Marine and Kenai Fiords Tours.
Meet other marine mammals. Tour Resurrection Bay by boat with Seward Ocean Excursions or visit the public aquarium inside the Alaska SeaLife Center to see seals, sea otters, ocean fish, and more.
Homer
Valdez
Backcountry skiing in Alaska is unlike anywhere else on the planet, and spring is the season to take advantage of this thrilling sport in the Valdez area. Take a ski-bump flight or book a multi-day trip to a glacier ski camp with Tok Air Service. You'll fly from Valdez or Thompson Pass to dramatic areas of the Chugach Mountains, Eastern Alaska Range, and the mountains in Wrangell St. Elias National Park.
Southeast Region
Take an early season cruise. Uncruise Adventures offers "Alaska Awakening" trips to explore islands, fjords, and channels of the Alexander Archipelago during spring. See snowy slopes above and an ocean coming alive below—will less rain, fewer people, and lower rates than in summer.
Haines
Attend a local carnival. The annual spring fling brings barbecue, dancing, live music, and games to the Southeast Alaska State Fairgrounds on the last Friday in April.
Enjoy spring snow. Chilkat Pass and the surrounding coastal mountains have great spring skiing (just bring your own gear). And check out the Olen Nash Memorial Big Air Competition—a friendly, one-day snowboard and ski event.
Juneau