If you've done a little homework on how to dress, you've probably seen or heard this advice a thousand times: dress in layers. From spring to early fall in Alaska, be prepared for temperatures in the 50 to 70 degree range, always with the possibility of a little rain and wind thrown in there. Your best bet is to dress in layers and bring a backpack—you'll stay warm and dry when it's chilly or wet, and you can peel off layers and stow them as the weather changes.
Rain or shine, many day tours—flightseeing, cruises, bus tours—offer access to shelter. And while you may spend 2-3 hours outdoors hiking, fishing, or rafting, you can generally expect that your tour operator will provide any specialized gear you need. However, it is always good to be prepared.
A Breakdown of Necessary Layers for Summer, Spring, & Fall
The Inner Layer
The inner layer is what we think of as long underwear, such as Capilene from Patagonia, or any other thin material that absorbs moisture from your skin. On a hot day, you can also wear this alone instead of a cotton shirt—it'll dry much more quickly. The only drawback is that some of these materials also absorb odor, so you might consider buying new stuff before coming up. If you're just walking around town or enjoying the ship's deck, there's no need for specialized active-wear. But you might be more comfortable if you pick up a few basics at a sporting goods store.
The Insulating Layer
The middle insulating layer could be expedition-weight long underwear, a fleece jacket, or even a sweater. Synthetic materials usually have the edge over wool or cotton because of their lightness and warmth. This layer should be a bit looser than the inner layer, maybe a size or half-size larger, so that it fits comfortably and isn't too tight.
The Outer Layer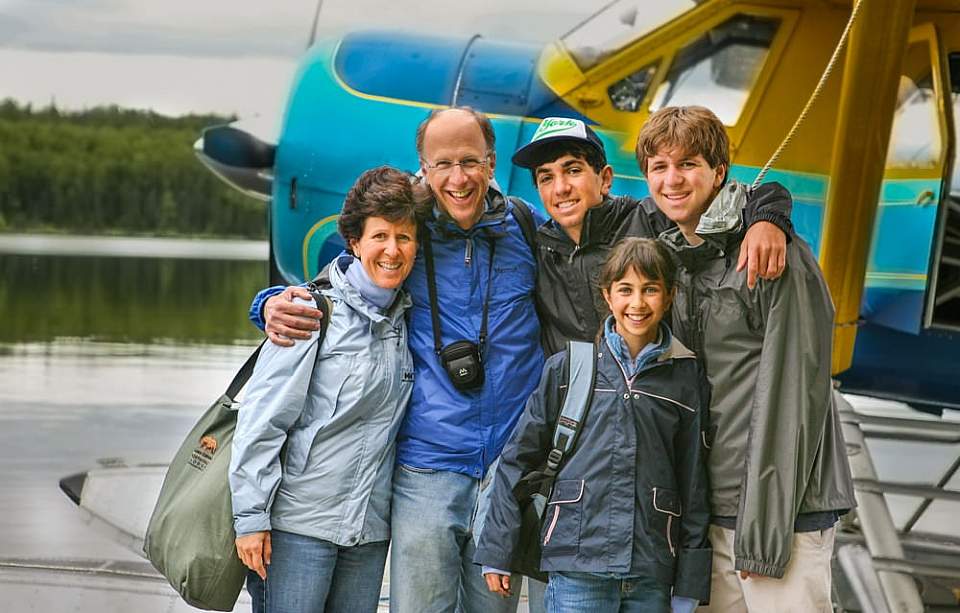 The outer layer is the one you really need to get right. You want a shell that's waterproof and breathable to stay warm when it's windy and dry when it's rainy. These thin, outer jackets can be tucked into in the outer compartments of your suitcase and should be fully waterproof. In our experience, water-resistant clothing only delays the inevitable (you'll start to feel damp after a couple hours in pounding rain). Brand doesn't matter much, but an outer shell made of Gore-Tex® material (including a hood) will keep a wet day from turning into a miserable one. If you're going to be doing any hiking or kayaking, pick up a pair of nylon pants (some have zip-off legs to convert to shorts) so that your legs will dry faster if you get rained on or splashed. Synthetic fabrics have the added perk of being pretty wrinkle-proof, so you can roll them up tight in your bags.
A tip for Rain Forest travelers: If you plan to take extended charters on the ocean or spend a lot of time outdoors in rain forest areas like Prince William Sound or Southeast Alaska, even high quality breathable-waterproof fabrics might not always do the job of keeping you dry. Sustained, torrential downpours can overcome the capacity of Gore-tex and similar fabrics. Coated waterproof raingear is the choice used by Alaska commercial fishermen for such conditions, combined with rubberized shin boots like XtraTufs. Helly Hansen brand rain gear is widely respected, but there are many other choices. This level of rain protection works best when you're not moving around a lot (like on a deep sea fishing charter) because you can get hot and perspire beneath non-breathable shells. However, under most Alaska spring-summer-fall conditions, breathable-waterproof is the way to go for its comfort and versatility.
Download our free PDF! What to Wear in Alaska
Extras
Sun Protection
Bring a lightweight, brimmed hat for sun and rain, sunglasses, and sunscreen. Interestingly, the intensity of the sun in Alaska on a peak summer day is probably equivalent to a spring day in the Lower 48, because of the lower angle of the sun in the subarctic regions. But due to the long summer days, there are twice as many hours of daylight, so you definitely want to protect your skin. Remember your sun exposure will be significantly amplified when you spend time near snow or ice, or a boat deck overlooking the water. Glacier excursions on sunny days are notorious for causing sunburns.
Bugs
Yes, bugs can be a bother in Alaska, especially on calm days along coastal beaches and in the backcountry. Mosquitoes, black flies and the tiny-but-persistent no-see-ums may seek you out for a quick bite. But don't worry! Bug repellent brands with the active ingredient of Deet work well and will almost always keep the pests at bay. (Check out our Alaska Mosquitoes advice page.) Consider buying a lightweight bug net that will fit over your brimmed hat and protect your face, ears and neck. These inexpensive items—sold throughout Alaska in the camping sections of grocery stores and by outdoor specialists—are airy and pleasant and fit in a shirt pocket.
Gloves
Even on a warm summer day, it can get pretty chilly when your ship pulls up to a glacier. While you won't need a parka or anything winter-weight, a cheap pair of thin gloves will be worthwhile. Synthetic liner gloves, often made from polypropylene, work great and dry fast if they get wet. If anything, you'll be able to spend more time out on deck taking great photos.
Proper Footwear
Never bring new shoes to Alaska—you'll be walking a lot, and don't need blisters. We'd rather see you in old tennis shoes that are well-worn than fancy boots that have never been taken out of the box. If you want waterproofing, look for Gore-Tex socks that can slip over your regular, non-cotton socks. If you're going to invest in hiking shoes, we advise against old-fashioned heavy hiking boots. They're heavy, stiff, and can cause blisters. Instead, get yourself a comfortable pair of lightweight hikers with good traction—two pairs, actually, in case one gets wet. And break them in before you come!
Should you be prepared to dress up when going out?
Only if you want to. The state's motto for attire might be—Come as you are! Alaskans almost always dress casually, especially during the summer outdoor season when the emphasis is on staying comfortable and dry. Most restaurants, museums and retailers welcome patrons in the same garb they used for that day's afternoon hike or fishing outing or shopping excursion. Unless you're attending a special event or visiting (the rare or non-existent) venue with a dress code, the same clothing you might wear to a movie theater or to a low-key social event back home will be fine for most indoor or evening activities.
Buy or Rent
If you don't want to purchase gear prior to your Alaska vacation you have a few options. The folks at Alaska Outdoor Gear Outfitter & Rentals will put together custom gear rental packages for your trip to Alaska. Or, you can stop by local shops and purchase gear once you're here! The Hoarding Marmot is a consignment in Anchorage offering gently used outdoor gear. You'll find running shoes, trail shoes, guidebooks, outerwear and more. You can also purchase high-quality clothing and gear from Big Ray's which has locations in Anchorage, Fairbanks and Kodiak. 6th Avenue Outfitters is located in Anchorage and offers Alaska-worthy gear and everything you need for fishing available to rent or buy.