Photo Credit: Grande Denali Lodge
You want to find Denali Park lodging that's right for your needs...and your budget. Here's our insider's advice: First, decide if you want to stay near the Denali Park Entrance or in the remote center of the Park, an area known as Kantishna.
90% of visitors choose a Denali hotel near the park entrance because it's convenient, less expensive, offers a variety of lodges from luxurious to rustic, is near the national park visitor center, and is within easy access to transportation and interpretive bus trips along Denali Park Road and a variety of recreational activities and Denali excursions.
We recommend 7 hotels near the Denali Park Entrance; McKinley Chalet Resort, Denali Park Village, Tonglen Lake Lodge, Denali Grizzly Bear Resort, Denali Princess Lodge, Grande Denali Lodge, and Denali Bluffs Hotel. They are all scenically situated and among the better-managed Denali lodges at the park entrance.

If you want a secluded setting (and have a little extra money and time to spend) in the remote center of the park, choose a Kantishna area wilderness lodge.

Back here, a 6-hour drive from the park entrance, near the end of the mostly unpaved, winding 90-mile Denali Park Road, are a few wilderness lodges. (In 2022, lodges will be accessible via a short flight instead of the 6-hour drive due construction on the Denali Park Road) You won't find restaurant choices or souvenir shops; what you will discover is the quiet solitude of Denali's backcountry.
Staying in the heart of the Park is not for everyone. Not only are these Denali wilderness lodges far from civilization; they're also more expensive. Unlike park entrance Denali hotels, though, prices are all-inclusive, per person rates that include transportation, lodging, meals, and activities.
Some lodges require a 2 to 4 night stay, such as Camp Denali Lodge, one of the finest wilderness lodges in the state. Nearby Kantishna Roadhouse is another quality Kantishna area lodge with a deep sense of history and an idyllic setting on the bend of a river. Or, stay at the Denali Backcountry Lodge on the banks of Moose Creek.
Denali Hotels
Denali Park Entrance Area Hotels
Kantishna Hotels Inside Denali National Park
| Hotel | Flight Time from Visitor Center | All-Inclusive Price / Night | Restaurant on Site | Private Bath | Trip Advisor Rating |
| --- | --- | --- | --- | --- | --- |
| Camp Denali | 1 hr | $1100 per person, all-inclusive, 3 night minimum + $500 (round-trip flight) | yes | no | 5 |
| Denali Backcountry Lodge | 1 hr | $1650+ | yes | yes | 4.5 |
| Kantishna Roadhouse | 1 hr | $1050+ per person, all-inclusive, 3 night minimum + $550 (round-trip flight) | yes | yes | 4 |
Denali Park Entrance Area
Also encompasses McKinley Village / Carlo Creek area 9 miles south
Kantishna Area (Inside the Park)
At the end of the Park Road, 90 miles inside the park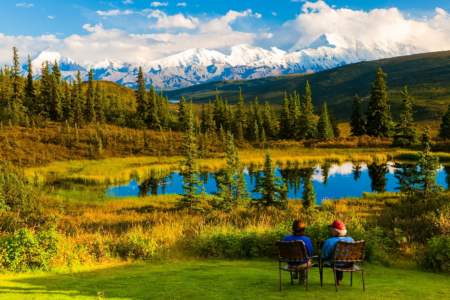 Season: June 2 - Sept 10 $1250/night + flight, all-inclusive packages 3+ nights
At Camp Denali, you'll immerse your­self in a remote back­coun­try, but with a cozy bed to set­tle into each night. Take in the qui­et of the sur­round­ing wilder­ness and enjoy the sim­ple, sus­tain­able ameni­ties for around 38 guests. Here, the bal­ance of ​"light touch on the land" and pro­vid­ing a com­fort­able stay is per­fect­ed. Refined rus­tic guest cab­ins, each of which claims a unique view of Denali, sleep from two to six people.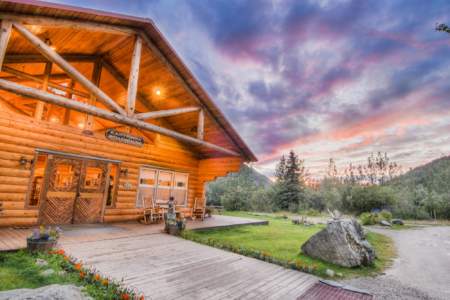 Season: Jun 06 to Sep 12 $1050+ all-inclusive packages
Kan­tish­na is a his­toric gold­min­ing dis­trict in the back­coun­try of Denali Nation­al Park. Among the most remote areas of the park, you can stay in a cozy cab­in and spend your days play­ing, explor­ing and relax­ing in the wilder­ness. Kan­tish­na Road­house is the only lodge in the area with a full-ser­vice saloon.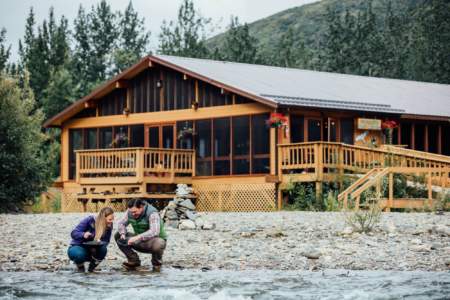 Season: June 12 - Sept 11 $1650+ per person
For a lot of trav­el­ers, explor­ing deep into Denali Nation­al Park, far from the crowds, sounds like the ide­al way to expe­ri­ence the famous park. But not every­one wants to rough it out there — which is why this lodge is the per­fect bal­ance, a com­fort­able perch in seri­ous­ly remote wilderness.