Kenai Peninsula RV Parks & Campgrounds There's noth­ing quite like camp­ing in the woods with the fam­i­ly when you're a kid. The crack­ling camp­fire and gooey s'mores. Bik­ing around the camp­ground loop. Run­ning through the for­est and gath­er­ing wood. Catch­ing (and land­ing) that first fish. Here we offer details for nine great pub­lic fam­i­ly camp­grounds with­in a 90-minute dri­ve from Anchorage.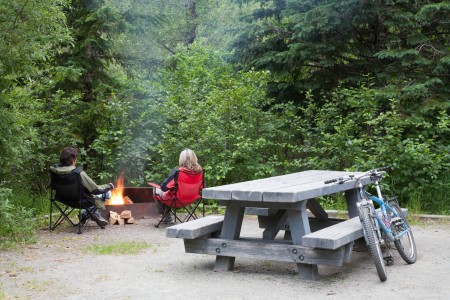 With 60 sites on paved loops, Willi­waw is suit­able for large motorhomes and offers great access to the Trail of Blue Ice — a non-motor­ized mul­ti-use trail that tra­vers­es the val­ley floor. Also near­by bik­ing, salmon view­ing, hikes, and glac­i­er viewing.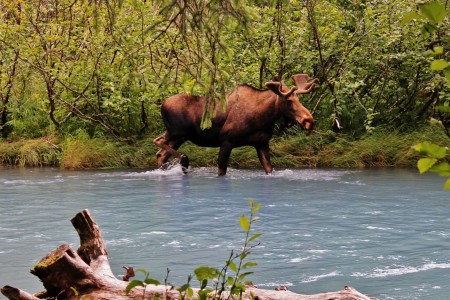 Bik­ing, fish view­ing, a nat­ur­al his­to­ry cen­ter and a flat hike to a glac­i­er are with­in easy reach of this qui­et, inti­mate camp­ground in Portage Val­ley at the head of Tur­na­gain Arm in the Chugach Nation­al For­est. The 12 sites in the grav­eled, wood­ed Black Bear are yards from the Trail of Blue Ice — a non-motor­ized mul­ti-use trail that tra­vers­es the val­ley floor.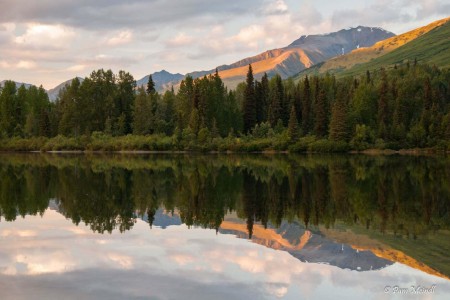 If you want to camp beside sub­alpine Upper Sum­mit Lake close to trum­peter swans and fish­ing for rain­bows, take the fam­i­ly to this camp­ground deep in the Kenai Moun­tains off Mile 46 of the Seward High­way. The 35 sites are spread along a loop in the alder, wil­low and spruce woods on the hill­side above the lake, with clear-run­ning Ten­der­foot Creek pass­ing through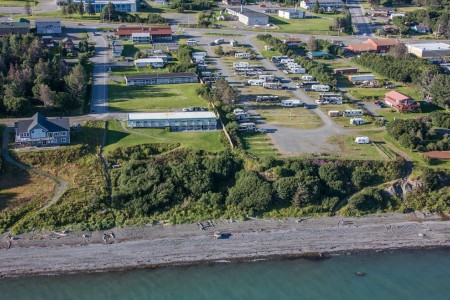 Season: May 01 to Sep 30 Tent $25, RV $65+
Ocean Shores offers amaz­ing views from all of its sites — plus, it's warmer here than on the Homer Spit, since it's not as windy. Most sites come with a pic­nic table and three shared fire rings over­look­ing the bay. You'll also find cable TV and Wi-Fi, as well as coin-oper­at­ed show­ers and laundry. Set in a hand­some birch for­est over­look­ing Tur­na­gain Arm, this camp­ground in Chugach Nation­al For­est close to the his­toric vil­lage of Hope is a fam­i­ly clas­sic. The 34 sites offer all the usu­al ameni­ties (pic­nic table, camp­fire ring, out­hous­es, water pump) and are laid out with an eye toward pri­va­cy. Just 81 miles from Anchorage.
Quartz Creek camp­ground is sit­u­at­ed on the banks of sparkling Kenai Lake. This is a great spot to cool off on a hot day. Kenai Lake has a good sandy swim­ming beach and a trail that fol­lows along near­by Quartz Creek. Cast your line for some awe­some fly-fish­ing at the creek or look for the near­by horse sta­ble for a scenic ride.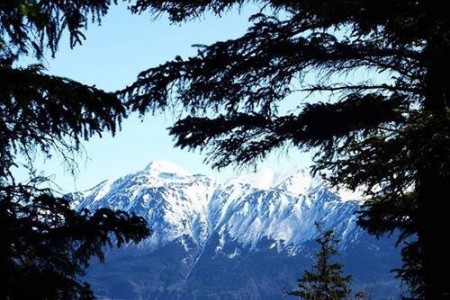 Bertha Creek Camp­ground is a great choice for a low-key cam­pout in a recre­ation­al gold-pan­ning area on a qui­et loop where the kids won't get lost. Locat­ed just south of Tur­na­gain Pass in the Kenai Moun­tains about 65 miles south of Anchor­age, the camp­ground is tucked into an open for­est beside the con­flu­ence of Bertha and Gran­ite creeks at the base of steep mountains.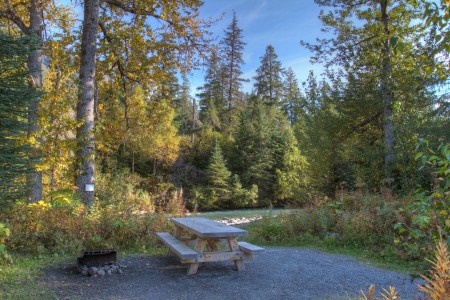 16 sites in a wood­ed set­ting. Trail to Ptarmi­gan lake departs from the campground. Glac­i­er Spit is about a 1.5 to 2 mile long spit locat­ed at the mouth of Hal­ibut Cove. Vis­i­tors and locals alike use the beach as a camp­ing spot with views of Kachemak Bay. The best camp sites can be found on the back­side of the spit, nat­u­ral­ly shel­tered from the wind.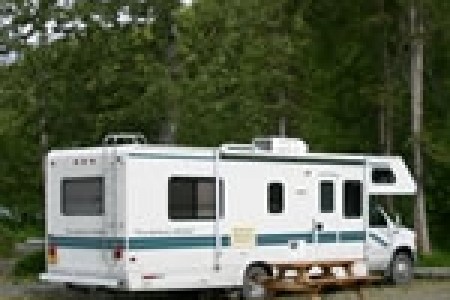 The six-room B&B, in a log build­ing, is strict­ly no-frills, but you'll find clean, com­fort­able rooms with one dou­ble bed and one twin bed. While they may be basic, you won't find more afford­able lodg­ing in the area — there's even a con­ti­nen­tal break­fast. It's the per­fect choice for hard­core fish­er­men and adven­tur­ers who want a warm, clean, afford­able room to return to in the evening.