Photo Credit: Riverboat Discovery
Rivers are the historic way of traveling in the country, so take the time to explore the heart of Alaska through these watery passageways. Watch for eagles in the trees and wildlife along the shores while the powerful waters help carry you to your destination. Water travel is certainly an experience for all of the senses, and an experience that should not be missed. Best of all it is an affordable way to get deep into the wilderness without having to hike or take a plane. In addition, most boats are covered, so even if the weather does not cooperate, you stay happy and dry.
Jetboat & Riverboat Tours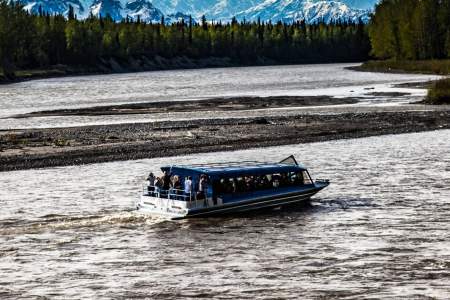 Season: May 15 to Sep 20 $75+ 2 to 5 hrs
Get hands-on and up close as you learn about local ani­mals, trap­pers, and the Dena'ina Indi­ans, with the wilder­ness as your class­room. Mahay's Jet Boat Adven­tures makes it pos­si­ble with their jet boat adven­tures on the Susit­na, Tal­keet­na and Chulit­na Rivers. For some vis­i­tors, this explo­ration will be their deep­est immer­sion into the Alaskan wilder­ness — some­thing you just can't get from a flight­see­ing tour, a cruise, or a car.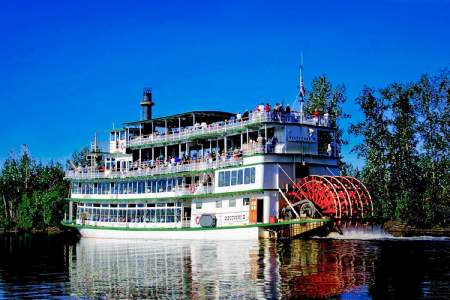 Season: May 11 to Sep 17 $75.95 3 hrs
Climb on board an authen­tic Alaskan stern­wheel­er, the River­boat Dis­cov­ery, and take a jour­ney back in time along the Chena and Tanana rivers. Stern­wheel­er boats trans­port you out into the Alaskan wilder­ness, and also back to a time when Gold Rush fever was sweep­ing across the state. The Dis­cov­ery II and Dis­cov­ery III offer ful­ly nar­rat­ed three-and-a-half-hour tour. But all your time isn't spent on the boat. You'll make an unfor­get­table one-hour ...more