Things To Do In Glacier View
1. See America's Largest Roadside Glacier
Right off the scenic Glenn Highway, the massive Matanuska Glacier extends off into the distance. Take one of the pullouts to check it out; be aware that there are fees for driving up to it (since glacier access is on private land), but if you've ever wanted to touch a glacier, this is your chance. If you want to really explore the glacier, take an unforgettable guided hiking or ice-climbing tour.
2. Amp Up the Adrenaline
The vast Matanuska Valley offers a variety of activities aimed to excite. Start with a view from above, zooming along on a zipline tour; the area features two of Alaska's longest ziplines, as well as the state's fastest! Then hit the water for a rafting journey; you'll find everything from scenic floats on placid waters to exciting whitewater rapids. You can also set foot on the Matanuska Glacier by taking a guided hike with crampons or by learning how to ice climb. Or try driving a Jeep or ATV, where you'll splash through the scenery on an exciting off-road adventure.
3. Take a Scenic Drive
The Glacier View area includes 30 spectacular miles of the National Scenic Glenn Highway. In addition to gawking at the views, you can make some fun stops along the way: visit historic Eklutna Village, take an easy hike to Thunderbird Falls, walk fun trails at the Eagle River Nature Center, and drop by the fascinating Musk Ox Farm.
4. Look for Wildlife
Glacier View area is a great place to see Dall sheep. Birders will love it here too; every spring, you can attend the April Hawk Watch to look for migrating hawks, falcons, and other birds of prey.
Glacier View Day Tours & Attractions View All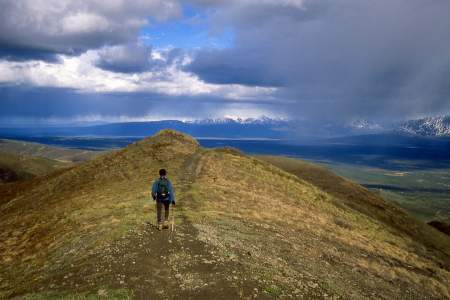 Syn­cline Moun­tain fea­tures two sum­mits— whichev­er you choose, you'll hike beneath a whole lot of sky and look out on a whole lot of country.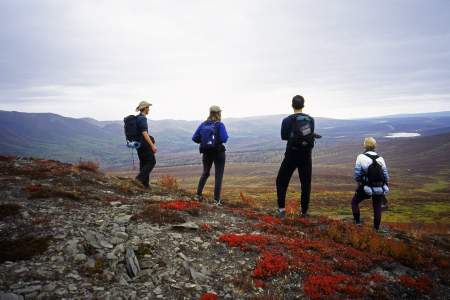 Distance: 7 miles Elevation Gain: 3300 feet
Begin­ning almost 120 miles north­east of Anchor­age on the Glenn High­way, the trail to the sum­mit of Gun­sight Moun­tain takes a while to reach. After all, it involves a 3.5‑mile, 3,300-foot climb through some very big coun­try. But the view from the top makes for an all-day excur­sion that you won't eas­i­ly forget.