There's climbing a mountain – and then there's climbing an ICE mountain.
Regardless of your climbing ability or experience, you'll end the day feeling fulfilled and inspired. MICA also offers guided glacier treks if you prefer a more leisurely exploration of the glacier and it's grandeur.
Ice, Ice baby
Don Wray, the visionary behind MICA guides, decided a long time ago that helping people enjoy adventure in Alaska was about the most satisfying career he could imagine. Most travelers coming to the 49th state want to see glaciers, but MICA goes one better – you can actually hike or climb on the Matanuska glacier with well-trained guides who are committed not only to your safety, but to helping you conquer the ice.
Climb, Trek, Hike or Zipline
MICA Guides offers a range of glacier experiences so that everyone from active adventurers to families with small children can participate. Combo deals make it easy to afford multiple activities, including the amazing 60 miles per hour G2 Zipline. Whichever adventure you choose, you'll enjoy learning from guides who are supportive, knowledgeable and adept at gauging guests skills and conditions.
Trip options:
Ice Climbing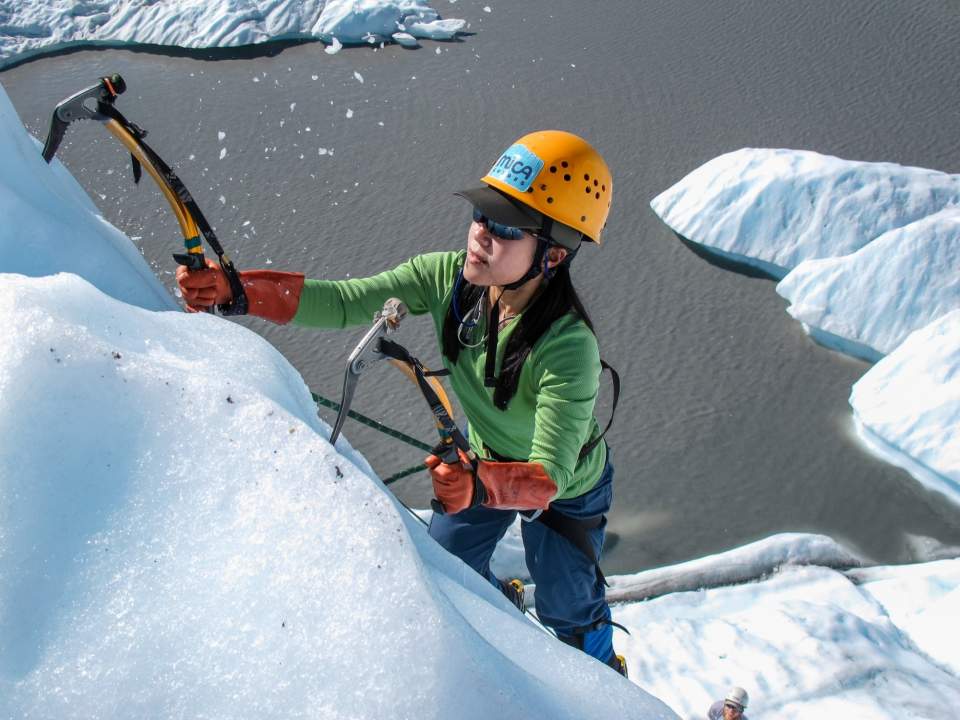 Ready to be truly impressed with yourself? If you can climb a ladder, MICA guides can teach you to climb vertical walls of ice – and they'll take your photo while you're at it so you can prove it to your friends. Better yet, bring your friends with for this exciting and unique adventure. Start on moderate slopes, learning techniques that you'll use on more challenging walls. You'll be guided and encouraged along the way to push boundaries and finish up elated and satisfied with your experience. You don't have to be a super outdoor athlete – but you'll feel like one when you're done!
Ice Fall Trek
You'll have plenty of time to explore the wonders of the glacier in this three-hour trek. Strap on your crampons and get ready to discover incredible features of the glacier, including beautiful crevasses and startingly blue ice. The glacier is constantly changing, so your route will depend on conditions of the day, as well as the abilities of your group. You'll come away with stunning photos and a deeper knowledge of glaciers and how they form.
Advanced Trek
If you want to take it up a notch, choose this four-hour trek that lets you go higher and farther on the glacier: You'll get stunning views of the top of the ice fall, and peer into bottomless crevasses. You'll use a rope-and-anchor system to safely explore the challenging terrain, but you still don't need any experience to sign up for this trek—just the ability to walk briskly and perhaps make your way over some short ice walls (that said, this trek does not qualify as actual ice climbing).
Helicopter Tours
Take off in a helicopter and fly over the stunning Matanuska Glacier. Options include a 30-minute scenic flight, a scenic flight plus a glacier hike where you'll put on your crampons and hike with a professional glacier guide, or the "Ultimate" tour which provides more time on the ice and additional flightseeing. Really want to take the adventure up a notch? Book the Matanuska Glacier Overnight trip, where you'll glamp in style at a remote outpost on the Matanuska Glacier away from the crowds. You could opt for a hike on the ice, learn to. Ice climb, or simply enjoy your surroundings and the delicious hot meals prepared for you around the campfire.
Out and Back Safely
Glaciers can be quite deceptive, and their dangers are not readily apparent to the inexperienced eye. The professionals at MICA put safety first, and are experienced at guiding visitors out and back safely. While it is possible to explore the glacier on your own, we highly recommend the support and confidence a guided tour provides.
Deciding on Your Adventure
Not sure whether to choose trekking or climbing? Both activities provide opportunities for fabulous photos, learning and adventure as you traverse ice and rock terrain. Ask for details when you make your reservation, or watch this video to get an idea of what the different experiences offer.