Photo Credit: Brent Reynolds
Matanuska Glacier Scenic Drive
Driving north from Anchorage isn't as instantly dramatic as going south, but within an hour you're immersed in stop-and-shoot scenery. The Glenn Highway runs northeast to agricultural Palmer, then twists east along the Matanuska River Valley, sandwiched between coastal and interior mountains.
The Matanuska Glacier makes for a great day trip from Anchorage, because there's lots to see and do in the area.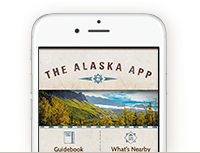 Browse all points of interest on a map and enjoy a collection of audio guides.