Photo Credit: Great Alaskan Holidays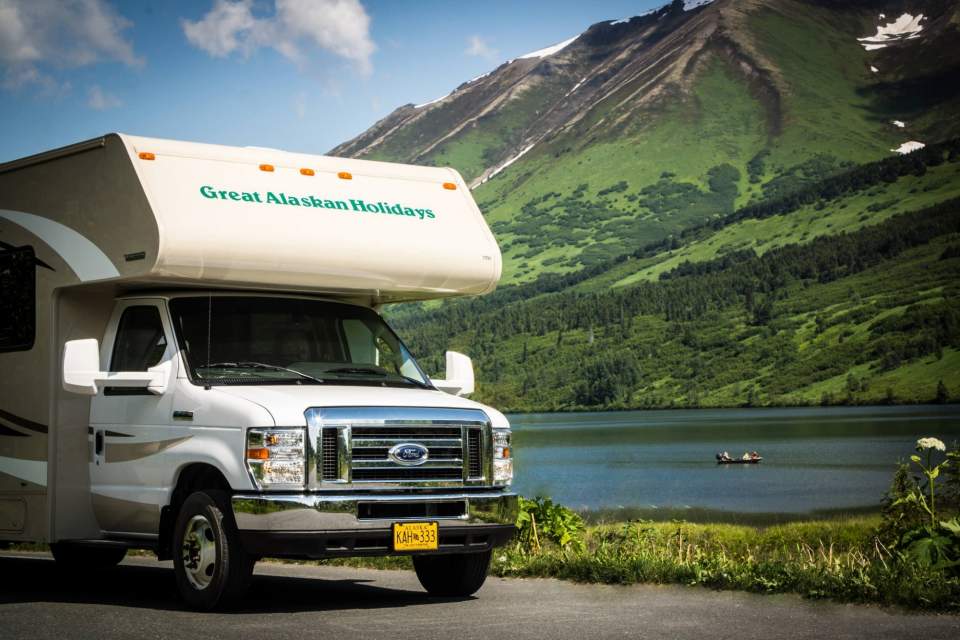 Dreaming of piloting an RV around the great state of Alaska? Many of the motorhomes or RVs you see out on Alaska roads during the summer are rentals driven by travelers up for a visit. Alaska is a very RV-friendly state: you can park for the night at public or private campgrounds, as well as state and national parks—or you can even pull over for the night on almost any public property.
A Cost-Effective Way To See Alaska
It's a pretty cost-effective way to see Alaska, too. A study by travel consulting form PKF found that a 14-day RV trip in Alaska costs less than half the price of an all-inclusive cruise, and 69 percent less than trips involving airfares, car rentals, hotels, and restaurants.
Jump to our list of Recommend RV & Camper Van Rental Companies
Freedom & Convenience
But for most people, the main reason to rent an RV is the freedom. You're in charge of where you go and how long you stay—no need to worry about booking and coordinating your hotels way ahead of time (as you usually need to do during the summer in Alaska). Plus, your drives can be punctuated by stops to actually see sights—not just searches for the closest restroom. After all, you have your own "convenience" on board, as well as a kitchen, bedroom, and TV.
Still, if you've never sat behind the wheel of an RV, putting together such a trip may sound daunting. We have a chart where you can Compare Anchorage RV rental companies, but as you make your choice, here are some things you should know: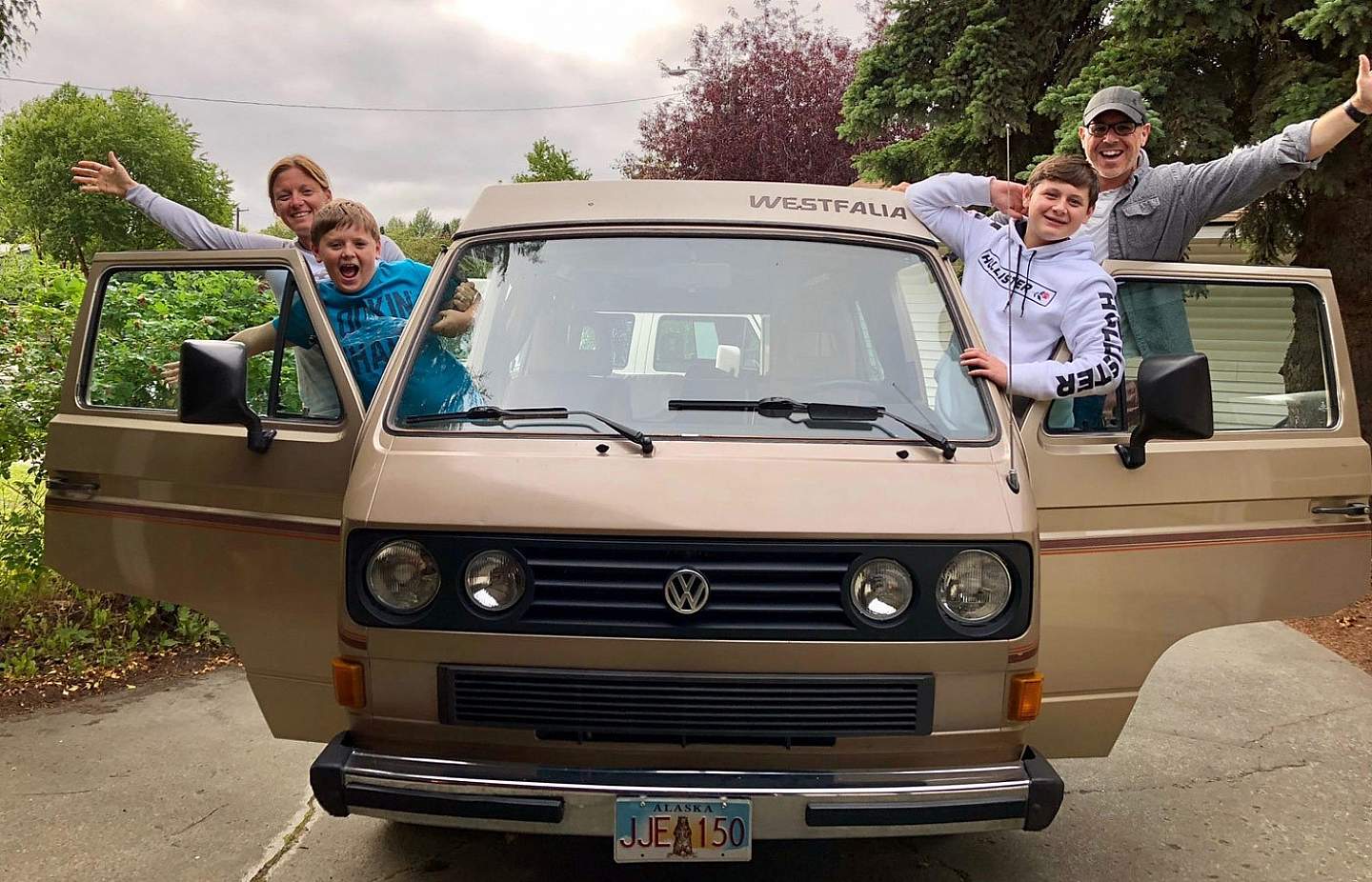 Driving an RV is Easier than You Think - Get the Owner's Manual
You don't need a special license for the typical RV, and today's vehicles come with automatic transmission, power brakes, and power steering. All that most people have to get the hang of, at first, is the length—and remembering that you can't go through some shorter clearances, such as fast-food drive-thrus. Most RVs are pretty user-friendly: Just the push of a button will indicate what onboard may need attention. Still, be sure that you have the owner's manual in hand before you head out, in case you need a cheat sheet on how to work the appliances, how to hook up the rig at a campsite, or how to fold out beds.Most rental companies will give you a thorough orientation before you drive off the lot, but make sure there's someone you can call if you run into a problem. ABC Motorhome has a 24-hour emergency call service to help.
Pick the Right Size RV
"Class C" motorhomes are popular RV rental models, usually available in sizes ranging from 22 to 29 feet. Besides beds and seating, a Class C will have a stove, refrigerator, kitchen sink, hot-water heater, furnace and bathroom with toilet and shower. The size of your party is probably the best gauge of how big an RV you'll want:
20- or 21-foot RVs are good for 2 adults
22- to 24-foot RVs are for 2 adults and 2 children
28- to 30-foot RVs are ideal for parties of 4 adults and 2 kids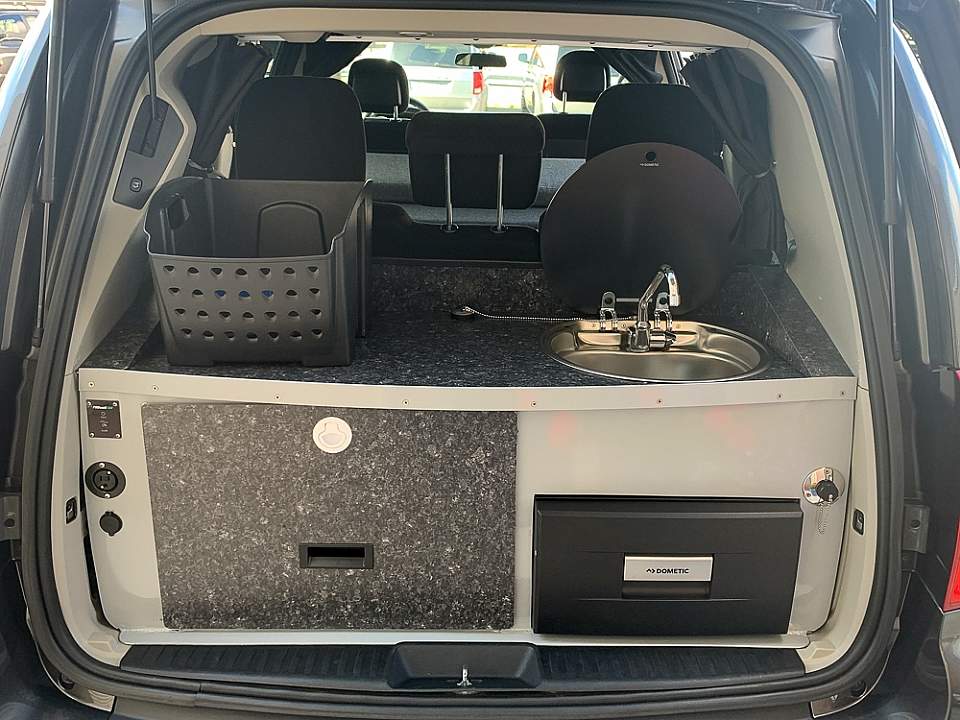 Think about Hook-Ups
When you pick your operator or vehicle, think about how often you will want to stop (or not stop) at campgrounds. If your RV doesn't have its own generator, you'll need a "hook up" at a campgrounds to make the appliances and lights work. ABC, for instance, has RVs that are powered by propane, double batteries and a generator, so that you can stop anywhere for the night and still have all of your appliances humming along.

Think About Your Route
Many RV renters start in Anchorage and then head up to Fairbanks, stopping at Denali along the way, and then heading back south to the Kenai Peninsula. But a good operator can help you plot your own course, talking about driving distances and good places to stop.
Pick the Right Pricing Model for Your Trip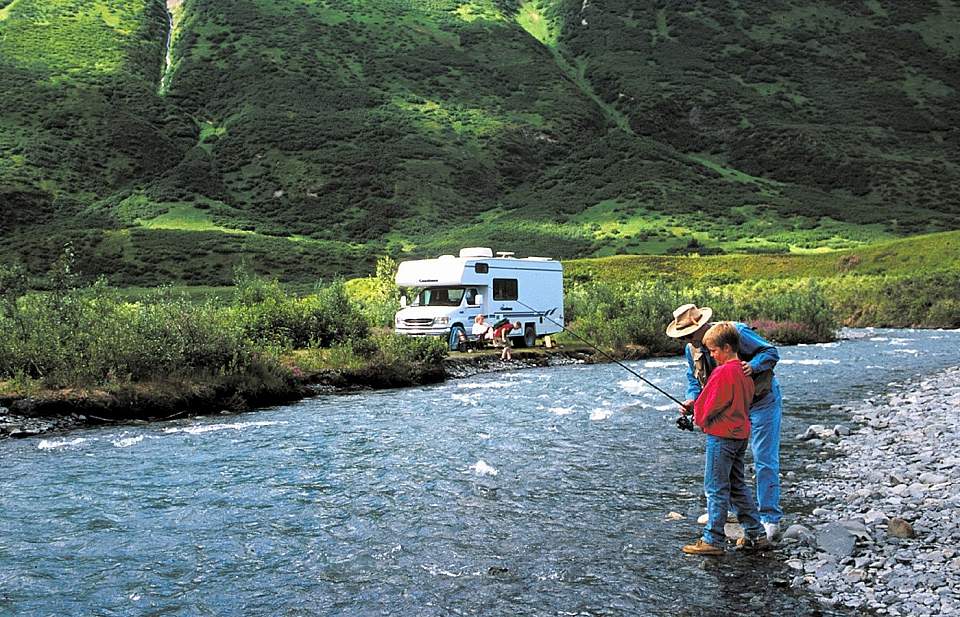 Some companies charge you based on a day rate, and some companies charge you by the mile. If you've only come to Alaska to fish in Homer and do a few detours along the way, a mileage plan might be the best deal for you. But otherwise, look for unlimited mileage plans—they may be higher, but for most people they're a better value. Paying $200 or $250 a day may sound steep, but you'd be paying that or more for any hotels during the summer, too. Remember in your budgeting, though, that you're responsible for things like gas, propane and, of course, food.

Come Early (or Late) for Discounts
Rental prices tend to increase during peak season and can decrease, perhaps by 20 percent, during the early and late part of the season—"early" meaning May (and sometimes even into June), and "late" usually being late August and early September. You can save even more during the winter, or by doing one-way trips that relocate RVs (sometimes to or from the Lower 48) for the company. February and March are usually the busy months for people to reserve their summer rentals, so book early enough, too.

Watch out for Add-On Charges & Fine Print
Some companies will rent you extras for your trip, such as lawn chairs, fishing equipment or BBQs. But look out for any extra charges for things that are basic, such as linens, towels and kitchen utensils. Some companies even charge for those per person, which can add up fast on a family trip. Two other common extras: Insurance coverage (your car coverage won't count on an RV) and cleaning up after you return the RV. Our favorite operator, ABC, bundles all those extras into their flat day rate—a big reason why we recommend them to people.Deposits—perhaps $500—are generally required to book an RV rental, but many companies have strict cancellation penalties, especially if you cancel within a month of your trip. Most companies charge for damages so before you leave the lot, so be sure to check the body, windshields, and inside conditions of the RV, so you don't get stuck paying more than you expect.