Photo Credit: Bob Kaufman
Exclusive, world-class fishing lodges are the ultimate wilderness luxury. And Alaska comes ready-made for them, with endless acres of gorgeous wilderness and enormous runs of salmon and other fish.
But these lodges aren't just cabins in the woods. In fact, fly-in fishing lodges can offer some of Alaska's most luxurious accommodations, along with gourmet cuisine and expert guides. And since you have to fly in, staying at one of these retreats isn't for the cost-conscious traveler.
For those who can afford it, though, fly-in fishing lodges are a great way to combine a retreat to the remote Alaskan wilderness with fun activities. You'll of course be casting your line in nearby waters for fish like salmon, Arctic char, and Dolly Varden. But while fishing may be the focus, you'll also find other activities like hiking and sometimes kayaking or bear-viewing. And at the end of each day, you'll return to the lodge to share the day's adventures with new friends over a delicious meal.
Fishing Lodge Itineraries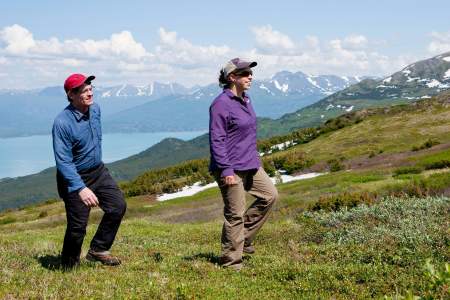 Season: Early June through early September
From $2375
5 Days
Visits: Cooper Landing, Kasilof, Anchorage
Land Package Type: Adventure Tours
The fol­low­ing is a 5 day, 4 night sam­ple itin­er­ary that seam­less­ly com­bines two nights at the Kenai River­side Lodge with two nights at Kenai Back­coun­try Lodge for a great trip that high­lights river­side and back­coun­try wild Alas­ka. Com­bi­na­tion pack­ages give guests the flex­i­bil­i­ty to choose trip dates between late May and mid-Sep­tem­ber from three to five days or more.