Photo Credit: Ocean Shores RV Park
There are two main areas to camp in Homer. For oceanside views and smells of the sea, choose a campground on the Homer Spit. Other campgrounds are closer to town, some high on the bluff overlooking Kachemak Bay below.
Looking for camping and fishing supplies, or just marshmallows to roast over the fire? Head to Ulmer's Drug & Hardware. They have a main store in downtown Homer, and another smaller location right on the Homer Spit.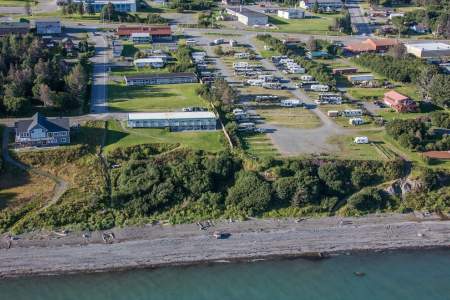 Season: May 01 to Sep 30 Tent $25+, RV $65+
Ocean Shores offers amaz­ing views from all of its sites — plus, it's warmer here than on the Homer Spit, since it's not as windy. Most sites come with a pic­nic table and three shared fire rings over­look­ing the bay. You'll also find cable TV and Wi-Fi, as well as coin-oper­at­ed show­ers and laundry.