Photo Credit: Ocean Shores RV Park
There are two main areas to camp in Homer. For oceanside views and smells of the sea, choose a campground on the Homer Spit. Other campgrounds are closer to town, some high on the bluff overlooking Kachemak Bay below.
Looking for camping and fishing supplies, or just marshmallows to roast over the fire? Head to Ulmer's Drug & Hardware. They have a main store in downtown Homer, and another smaller location right on the Homer Spit.
Rentals & Guided Camping
See our list of recommended RV and campervan companies in Alaska. Or, reach out to Alaska Outdoor Gear Outfitter & Rentals! They'll hook you up with complete rental packages for car camping, backpacking, or even accessories to put in your RV.
If you like the idea of camping, but aren't sure where to start, Join a guided camping trip with Infinite Adventures! They offer 9, 12, and 20-day itineraries covering the highlights of Southcentral, Alaska. Visit Kenai Fjords National Park, Denali National Park, and hidden gems in between.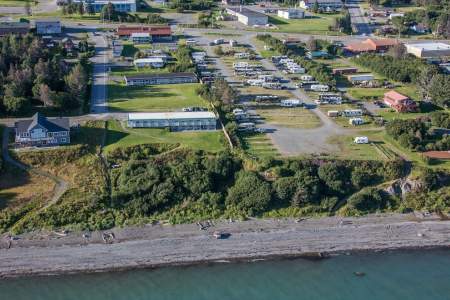 Season: May 1 - Sept 30 Tent $30+, RV $70+
Ocean Shores offers amaz­ing views from all of its sites — plus, it's warmer here than on the Homer Spit, since it's not as windy. All sites have a pic­nic table and the side sites have fire pits. You'll also find DirectTV, Wi-Fi, free show­ers as well as coin-oper­at­ed laundry.