Photo Credit: Alaska 4x4 Rentals
You can rent a car in Alaska from all the major brands: Hertz, Avis, Thrifty, Dollar, Budget, Enterprise, Alamo, National. There are also local operators like Alaska 4x4 Rentals, Alaska Auto Rental, Arctic Outfitters - Dalton Highway Car Rentals, Alaska Overlander, or Denali Highway Jeep. And you'll find rental offices in every major city and some smaller towns; you don't have to rent your car in Anchorage.
Here are the upsides to renting a car in Alaska: Roads are safe and easy to navigate, cars are every bit as modern as those you'll find in the Lower 48, driving is cheaper and faster than the train (and more reliable than the bus), and you can travel at your own pace.
Here's the one downside: Rentals are expensive: from $100–$150 per day.
But there are ways to save money. Here's how:
Visit Alaska in May or September. Midsize cars can cost as low as $30–$50 per day.
Reserve in advance. Rates usually go up as you get closer to your travel dates, especially during peak season. If you see a rate you, book it. You can always cancel it later.
If you have a corporate discount, use it during the peak season. It'll be cheaper than most regular rates, and franchisees are required to honor it except on minivans or large SUVs. But in the off-season, don't use it; regular rates can be $25 per day or lower.
Check back often if you're renting last minute. Rates change several times per day.
Ignore "percentage-off" specials. Instead, check for the lowest base rate. In Anchorage, you'll usually find it at Thrifty Car Rental.
Avoid airport fees by using city locations. Don't pay the airport surcharge. Instead, look for the companies' city offices, which often aren't far away. In Anchorage, for example, you can rent from Thrifty's Spenard location by taking a $15, 7-minute cab ride. Or just go to your hotel and have Thrifty's courtesy shuttle pick you up.

How To Save 20–25% with Thrifty
Renting off-airport saves roughly 12–15%. You can save another 8–10% by using the following discount/promo codes:
Book Online: Book on the Thrifty.com site and use 101063 receive an 8% discount off base rate at both Anchorage Airport and Spenard Road locations, on all vehicle classes. Just click here to use the discount!
By Phone: Call Thrifty's direct number at 907-261-0217 and request the "Alaska Channel discount" for 10% off.
One Way Rentals
Most people rent a car to do a fly/drive vacation. The most popular itineraries stick to the Seward and Parks Highways and cover Seward, Anchorage, Talkeetna, Denali, Fairbanks, and Homer. More off-the-beaten path itineraries use the Glenn and Richardson Highways to Valdez and McCarthy, and use the marine highway to return to Anchorage.
One-way rentals are available, but expensive. Examples:
Seward: Alaska Auto Rental and Hertz of Seward offer one-way rentals to Anchorage for roughly $275/day. Renting a car out of Seward is a great option for people getting off a cruise, or if you want to take the train one-way from Anchorage and then drive back up at your leisure. You can also take the train down to Seward, rent a car, and continue south to explore the Kenai Peninsula and Homer.
Between Anchorage and Fairbanks: Alaska 4x4 Rentals, Alaska Auto Rental, Avis, and Budget offer one-way rentals between Anchorage and Fairbanks. From Anchorage to Fairbanks, you generally won't pay extra since they need cars in Fairbanks. That's because most people pick up in Fairbanks and drive to Anchorage. So expect to pay $300 for a one-day one-way rental to Anchorage, $350 per day for a 2-day, and less for more days.
Driving Rental Cars on Gravel Highways
Most Alaska car rental companies don't allow their vehicles on non-paved roads. If you do, you're responsible for any damage, and any car insurance is voided because you broke the contract. You can avoid the risk altogether rent a car from a company that specializes in renting SUV's and Trucks to explore Alaska's gravel roads, like Alaska 4x4 Rentals, Alaska Overlander, or Alaska Auto Rental. The most popular gravel highways include:
The Denali Highway (Hwy 8), an east-west highway between Cantwell and Paxson. The gravel surface is smooth and fast. (Note: Many people think the "Denali Hwy" is the route from Anchorage to Denali. It's not. That route is Hwy 3, the Parks Hwy, paved and fast.)
The road from Chitina to McCarthy. The gravel surface is slow—it takes up to 3 hours to travel 60 miles. For $200 per person round-trip, you can fly from Chitina to McCarthy with Wrangell Mt. Air. They offer 3 daily scheduled flights in summer.
Is Renting a Car Safe?
The short answer is Yes.
Major highways have good road surfaces. Grades are mild with very few sharp bends.
Roadways are clear. Snow is not a factor; roads are open and passable year-round (except winter-only roads: Denali Highway, Denali Park Road, McCarthy Road).
You'll find ample gas stations, rest facilities, lodging, and other services along each road.
Cell phones work most places (AT&T, Verizon, Sprint, T-Mobile, GCI, ACS). 911 calls work on any network.
There are plenty of pullouts to turn around an RV, and you'll find camping spots even during popular periods.
Towing and emergency help is available everywhere. If you happen to break down where there is no cell coverage, people generally stop to help.

Here's how you can make it even safer:
Keep your headlights on at all times. Most roads are two-lane.
Pull over if five or more cars are trailing you; it's the law.
Don't drive fast. If you're like me, a wide-open road can tempt you to put the pedal to the floor. I seldom do, for reasons you may not have thought of:
You never know when a caribou or moose will wander into the road, and you do NOT want a 1,200-pound moose coming through your windshield at 75 mph.
You may encounter jarring dips and bumps known as frost heaves. Hit them at high speeds and your head will slam into the ceiling.
What's the Speed Limit?
65 mph maximum—Alaska highways aren't part of the federal interstate system. However, for calculating travel times, figure on these average speeds: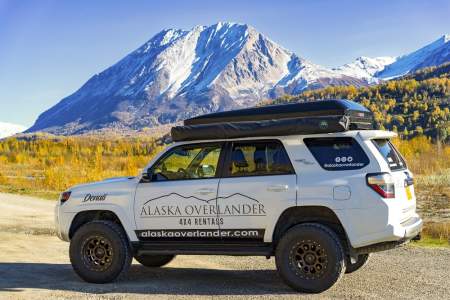 Season: April to Mid-October Summer $289+ per night | Spring & Fall $199+ per night 3+ days
Com­plete with rooftop tents that set up in min­utes, camp stove, and refrig­er­a­tor, Over­lan­ders are per­fect for explor­ing Alas­ka. Explore the Denali High­way, McCarthy Road, or Dal­ton High­way just as eas­i­ly as you can zip into towns like Homer, Tal­keet­na, or Fairbanks.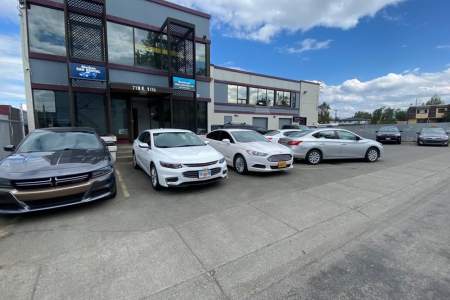 Season: Year Round $99+ per day
Rent a car from Alaskan Car Rental in Anchor­age for your Alaskan adven­ture. Great val­ue, wide selec­tion, 24⁄7 sup­port, and local advice make this the per­fect choice.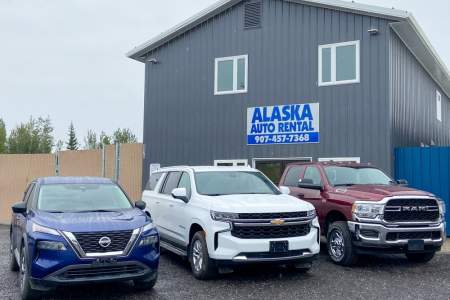 Season: Year Round Call for Rates
The team at Alas­ka Auto Rental offers rental cars for the most unique itin­er­ary: over grav­el high­ways, through win­ter weath­er, on one-way legs, or start­ing out from unusu­al loca­tions. It's local­ly-owned, with employ­ees who know Alaska's roads and their chal­lenges. You'll get help­ful trav­el advice, a can-do atti­tude, and reli­able wheels.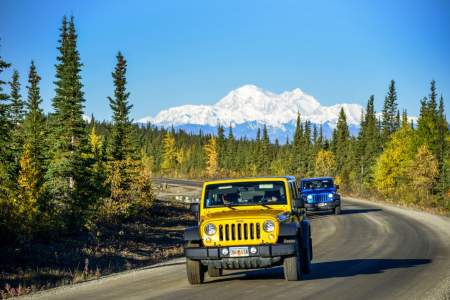 Season: May 15 - Sept 15 $179 Jeep Tour | $229+ Jeep Rentals 4-8 hrs
This is your chance to expe­ri­ence the spec­tac­u­lar scenery along the Denali High­way, a road recent­ly ranked #2 world­wide as a ​'Dri­ve of a Life­time' by Nation­al Geo­graph­ic Trav­el­er Mag­a­zine. You'll be giv­en the oppor­tu­ni­ty to take the wheel, or if you pre­fer, just sit back and enjoy stun­ning views of the peaks and glac­i­ers of the cen­tral Alas­ka Range. There is a guide in the Jeep up front, but you can stop wher­ev­er, when­ev­er, and as often as you ...more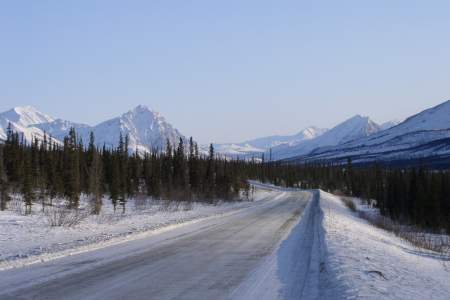 Season: Year Round $169+
The folks at Arc­tic Out­fit­ters are trav­el spe­cial­ists, and they'll work hard to help you plan a trip to fit your needs. Arc­tic Out­fit­ters rents reli­able, sta­ble vehi­cles that are spe­cial­ly equipped for remote travel.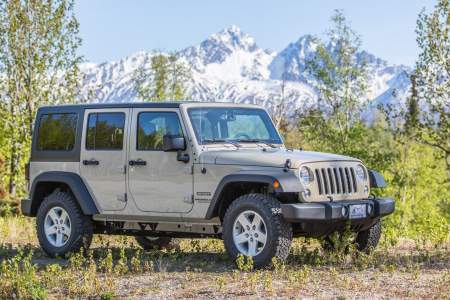 Season: Year Round $147+
Some of Alaska's most allur­ing des­ti­na­tions are along its grav­el roads, through tim­ber, tun­dra and quaint towns. Alas­ka 4×4 Rental's 4‑wheel dri­ve vehi­cles are per­fect for nav­i­gat­ing these rugged roads. Choose a new mod­el Jeep, SUV, pick­up or van for your own cus­tom road trip – and you can dri­ve all the way to the Arc­tic Circle!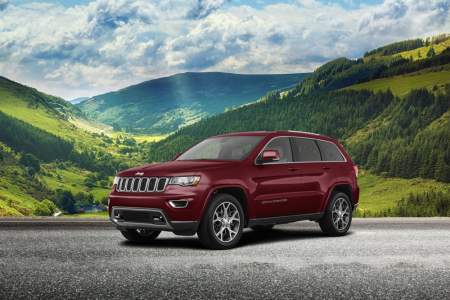 Need a car for your next Alaskan adven­ture? Find the wheels you need, plus great ser­vice and afford­able prices, at Thrifty, which has two con­ve­nient loca­tions: one at the Anchor­age air­port and a sec­ond just south of down­town on Spe­nard Road.