This is your chance to experience the spectacular scenery along the Denali Highway, a road recently ranked #2 worldwide as a 'Drive of a Lifetime' by National Geographic Traveler Magazine. You'll be given the opportunity to take the wheel, or if you prefer, just sit back and enjoy stunning views of the peaks and glaciers of the central Alaska Range. With just a handful of other groups in Jeeps of their own, you'll drive along this gravel road that rental-car companies forbid you to drive on and tour buses don't dare go. That keeps things quiet. There is a guide in the Jeep up front, but you can stop wherever, whenever, and as often as you want to take photos, look for moose, wolves, caribou, and bears, and take in the sweeping views of regal mountains in all directions.
Do the Denali
This five-hour adventure is new to Denali. You'll first drive 20 scenic miles from the Denali National Park entrance to Cantwell, then take a left onto the Denali Highway, a remnant of days gone by and one of the few unpaved highways left in Alaska. The 134-mile, mostly gavel road cuts across high alpine terrain and glacier outwash plains to connect Cantwell to Paxton, and once provided the only road access to the park.
See Where Alaskans Play
After the Parks Highway opened in 1972, the Denali Highway was virtually abandoned. Since it's still maintained during summer season, Alaskans now use it to access the backcountry for hunting, fishing, camping, rafting, and other recreation, and as a reminder of the way all of Alaska used to be, wild in every direction. Once snow closes the road in the fall, it transforms into a winter wonderland for skiers, snowmachiners and sled-dog drivers.
Lightly-Guided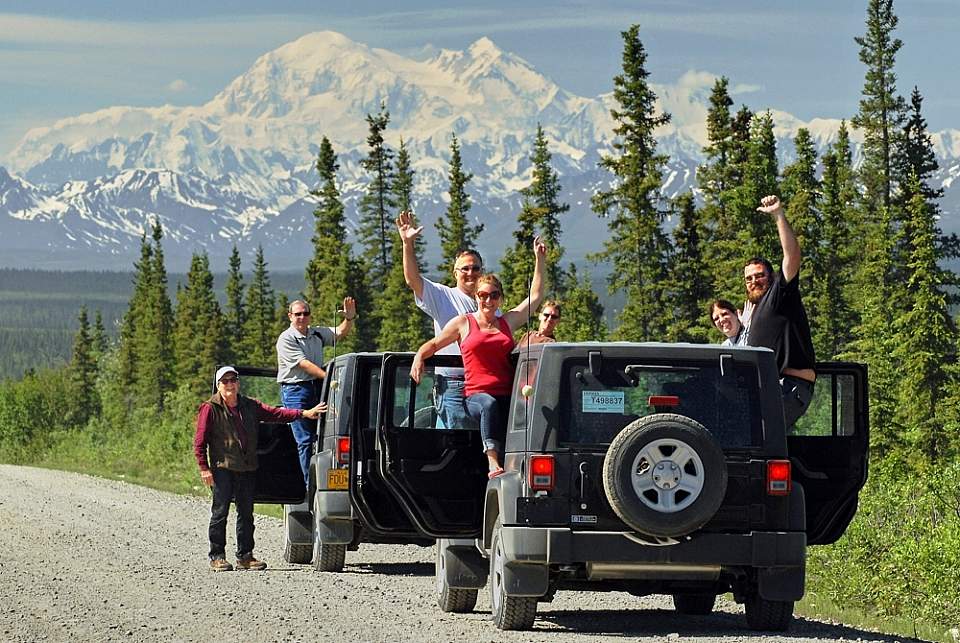 You'll be able to communicate with your guide ahead by CB radio. Your guide will pull over for highlights along the way, and will provide spotting scopes, binoculars, and stories behind what you're seeing. The turnaround point is about 50 miles in, but if you don't get that far, it's probably because Denali is out, and so is the wildlife, and you just have to keep pulling over. You'll love that freedom of going your own pace and getting out of the vehicle whenever the urge hits.
The Particulars
The four-wheel-drive, four-door Jeep Wranglers are comfortable for four adults, although three can fit in the backseat, especially children. Car seats and boosters are available if requested when making your reservation. Snacks, soda, and water are included. Each vehicle carries a cooler so you may bring your own food if desired. Weather can change dramatically so be prepared for whatever the skies throw at you. Mosquito repellent is always a good idea to have along.