Photo Credit: Between Beaches Alaska
The beach town of Homer is a favorite getaway spot for many Alaskans. With a 4.5-hour drive or quick, 1-hour flight from Anchorage, you can be standing on the shore of Kachemak Bay, looking for critters in tidepools and listening to water washing over the rocky beach. And it's not only beautiful—Homer's also famous for being a thriving artist community, having fantastic deepwater fishing for halibut, and offering fly-out excursions to see bears in nearby Lake Clark and Katmai national parks.
With so much to do and see, it's not surprising that Homer boasts many great places to stay. Here are some can't-miss options.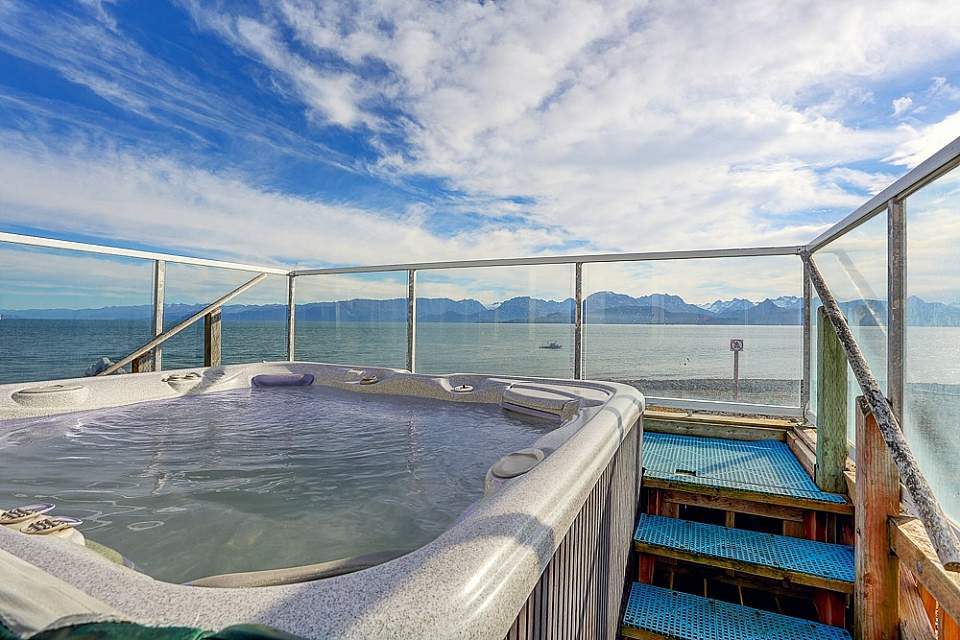 Stay on The Spit
The longstanding Land's End Hotel sits dramatically at the end of the Homer Spit. Take a walk along the beach, visit nearby shops, bars, and restau­rants, and keep the gorgeous views insight while enjoying a meal at the hotel's Chart Room restau­rant.
In Town, or Just Beyond
Wilderness Lodges Across The Bay
If you want to unplug and immerse yourself in Alaska, a wilderness lodge is a perfect choice. These are boat-in or fly-in only—completely disconnected from Alaska's road system. But disconnected doesn't mean rustic. In fact, these lodges are far from it.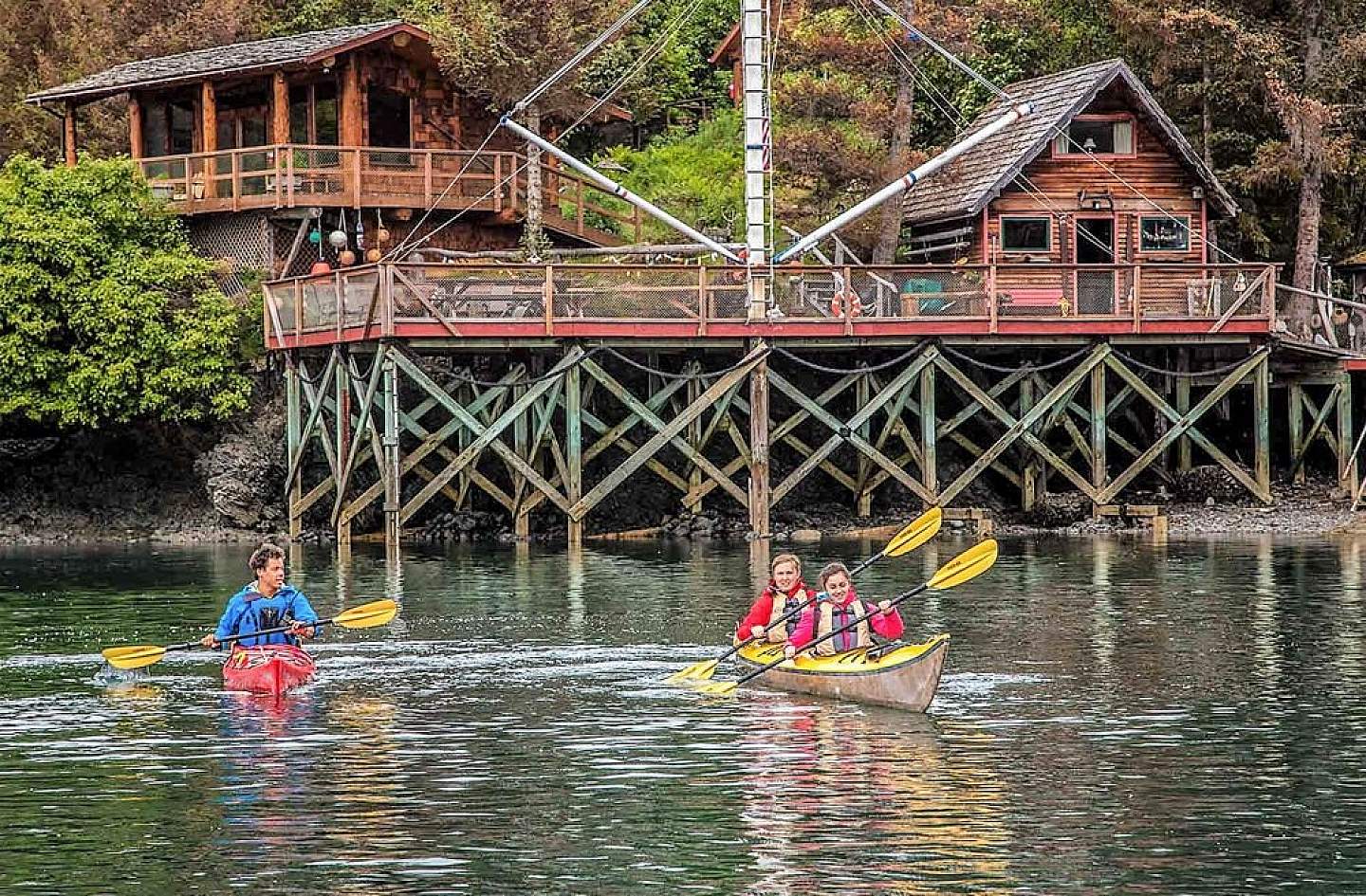 Seldovia
Seldovia is a charming, small town with a population of just 300 that sits across Kachemak Bay from Homer. There's great hiking, fishing, and a picturesque boardwalk.
The Seldovia Boardwalk Hotel is the only hotel in town, and it's a charmer—an 11-room waterfront property that's open year-round. Stay a few days and you'll get into the Seldovia state of mind. In summer, the on-site Boardwalk Pub & Grill serves lunches and weekend dinners. Take a seat on the patio and dig into fresh local seafood, mouth-watering family recipes, and much more. Weekends usually bring live music to the outdoor patio.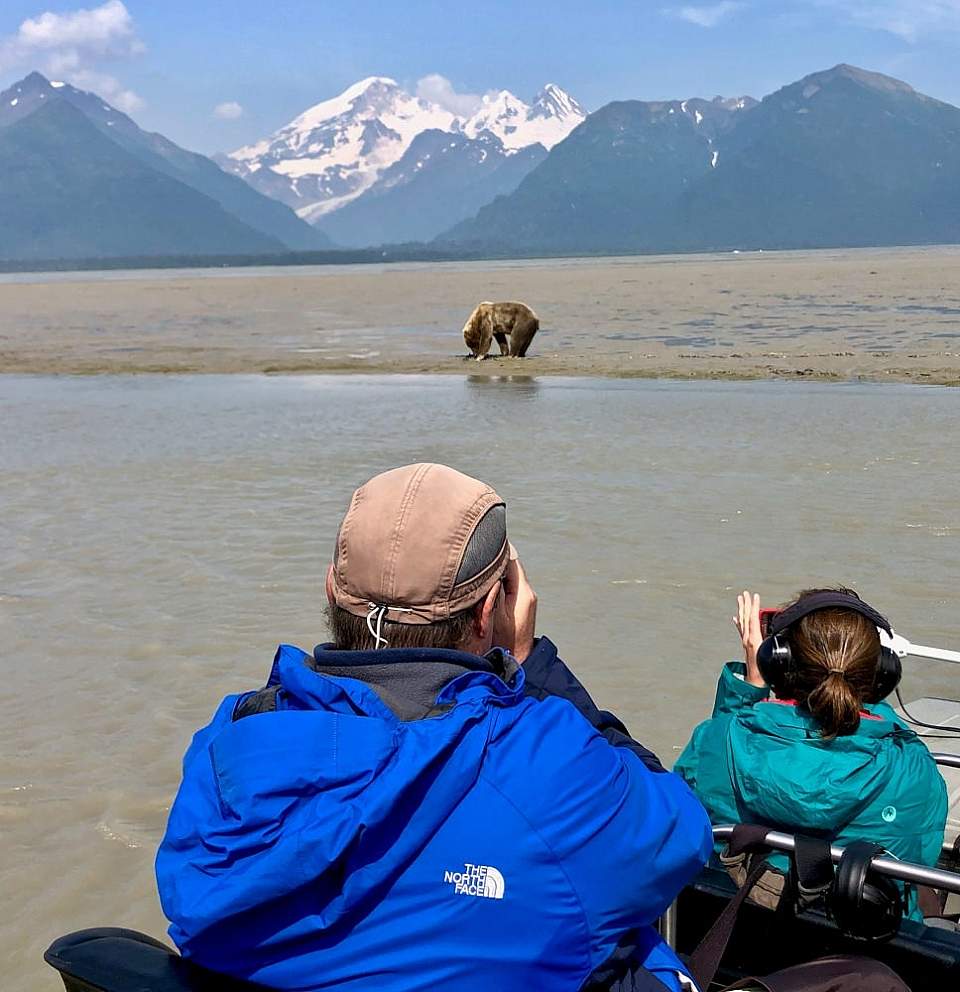 Farther from town is Between Beaches, with six luxury cabins and a Beach House set between two beaches on MacDonald Spit. Both beaches—just steps from each other—offer private seating and campfire areas, along with abundant wildlife and views of majestic, snow-capped mountains rising in the distance. Enjoy complimentary use of the hot tub, sauna, kayaks, and rowboat.
See the Bears
Homer is a popular jumping-off point for the quintessentially Alaskan experience of bear viewing, in Katmai and Lake Clark national parks.
Alaska Bear Adventures offers a multi-day experience that pairs bear viewing with the convenience of a "home base" aboard a 65-foot expedition trawler, the Alaska Dawn. Spend your days watching the ins and outs of bear behavior, then return to the boat for dinner before settling into a comfortable berth.
Alaska Ultimate Safaris Adventure Lodge is located in a remote spot on the Alaska Peninsula—at the apex of 15-mile-long Chinitna Bay, the southern edge of Lake Clark National Park, and 30 miles from Katmai National Park. In other words, this is bear-viewing central. Cabins here are a unique blend of back-to-nature bliss and high-tech comfort, with 12-foot-high dome units set on wooden platforms with private decks and bay windows. You may see bears right out your front door, wandering through the meadow or fishing in the river. Or take guided excursions with your hosts to see even more of the magnificent creatures.