Photo Credit: Jeffrey Cobble
Haines may not be the first place that springs to mind when you think of Alaska, but this small town (population: 2,500) serves up one of the state's most Alaskan experiences. Casual and quirky, Haines offers history, nature, and native culture and combines it with heaps of Alaskan charm.
A U.S. Army fort gives historic significance to the town, artists bring their own sense of beauty and whimsy, and a melding of Tlingit culture rounds out the experience. Haines is Alaska at its most authentic—so much so that some visitors return to buy property and join the community.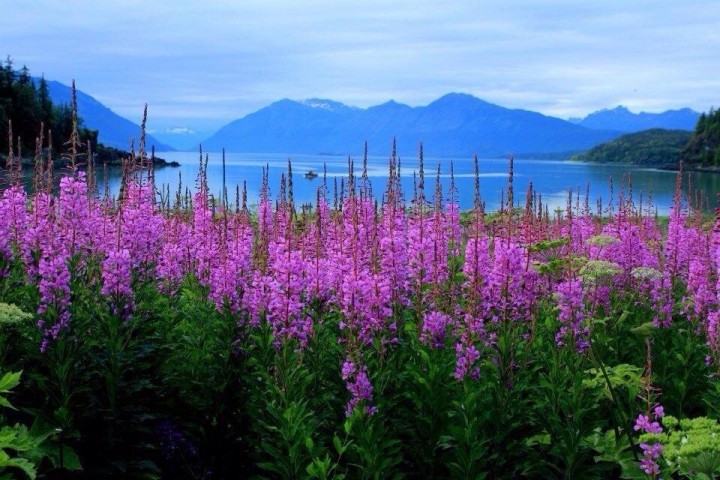 An interesting note: The mountainous spine of the peninsula divides the valley into its two halves, Chilkat and Chilkoot. These like-sound names might confuse you. After all, there are Chilkat Mountains and Chilkoot Mountains, Chilkat River and Chilkoot River, Chilkat Lake and Chilkoot Lake, Chilkat Pass and Chilkoot Pass…..you get the idea. But remember one thing and it becomes easy to understand: everything on the east side of the Peninsula is on the Chilkoot side, and everything on the west side of the Peninsula is on the Chilkat side. Both sides are worth exploring.
Favorite Activities
You'll also find wildlife and outdoor adventures in Haines—and more of it than in many towns. There are hiking trails right in town, hanging glaciers and other dramatic wilderness, and tons of marine wildlife. But here are the top draws:
Getting Here
From Skagway, the closest town, board the Fast ferry for the 35-minute ride to Haines.
If flying, begin by taking a major carrier to Juneau. Then hop a 45-minute commuter flight to Haines.
If driving, Haines is just 45-minutes from the Canadian Border. Click here for a driving itinerary that includes Haines.
Alaska Marine Highway State Ferry service is irregular—reserve in advance, especially if you have a vehicle.