Best Things To Do In Talkeetna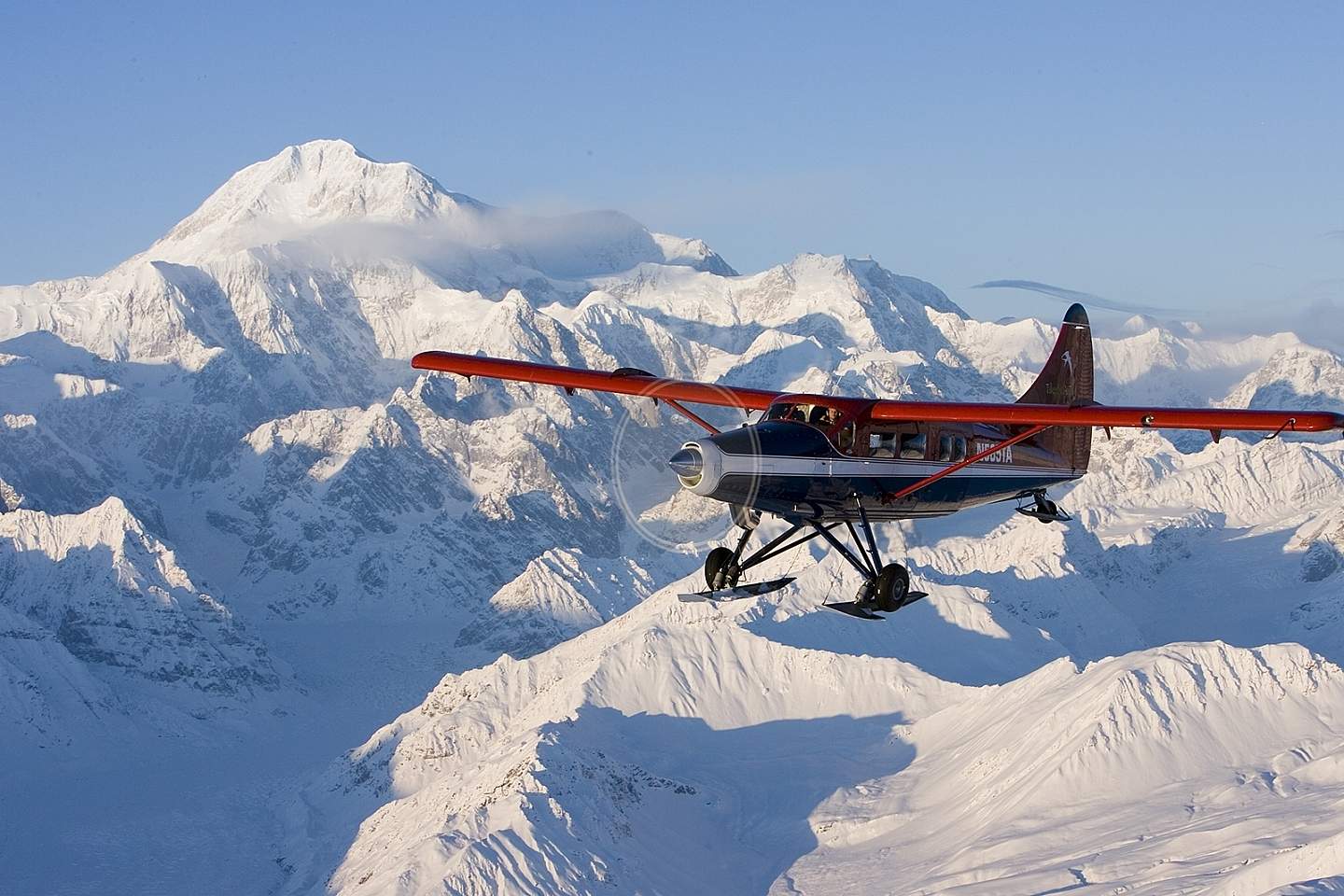 1. Flightsee Denali (Mt. McKinley)
Stunning views, glacier landings, helicopter or fixed-wing aircraft
Talkeetna is so close to Denali that mountaineers have used it as an operations base for decades. Getting to the mountain by small plane or helicopter is a lot easier though, with the same incredible views and options to fly all the way to the summit in just a little over an hour. On these tours you can see both the north and south faces of Denali, along with other peaks and natural wonders formed by powerful geological forces: Ruth Gorge is deeper than the Grand Canyon, Kahiltna Glacier is 45-miles long and Wickersham Wall is a 14,000 foot continuous wall of rock and ice. Flightseeing Denali is the fastest, most incredible way to gain perspective on the vastness of Alaska. Flights are available year-round, with glacier landings a popular summertime option. View tour options.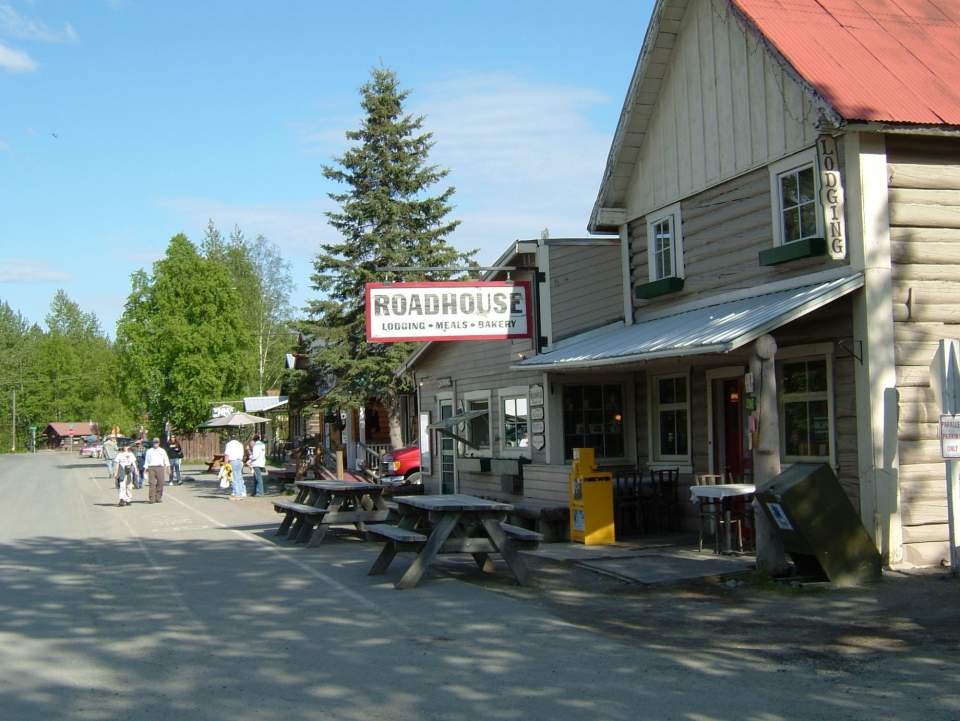 2. Stroll Main Street
Stunning views, glacier landings, helicopter or fixed-wing aircraft
Capture the feeling of bustling small-town Alaska in a stroll down Talkeetna's Main Street, a 2-block journey through historic buildings, art shops, restaurants, coffee shops, ice cream stops and a micro-brewery. Make sure to stop at Fairview Inn, opened in 1923 to serve railroad passengers, and which also famously served President Warren G. Harding just days before his death. Talkeetna Roadhouse is also steeped in history, which you can literally eat up (their pancakes are made with a sourdough starter from 1902!). Rub elbows with locals and mountaineers alike at large round tables, browse newspaper clippings adorning the walls and don't leave without a piece of homemade pie or a cinnamon roll. Once you've browsed the shops filled with local art, Alaskana, and colorful characters, end at Talkeetna Riverfront Park, at the confluence of three wild rivers. On a clear day, the views of Denali are superb.
3. Get on the River
Summertime rafting or jet boat tours, rail options, natural history, wildlife viewing
Talkeetna grew up at the confluence of three wild rivers, so it's no surprise that on-the-water adventures are popular here. River travel was essential before cars and planes, and it's still a fantastic way to get a perspective of Alaska's wild spaces away from civilization. Hop on a leisurely raft float or choose a jet boat adventure along area waterways, each with its own charms. You might travel up a braided river, through picturesque canyons, view glacial moraines, boulder fields and sparkling beaches. The backdrop is Denali and the Alaska Range, but cast your eyes lower as well for potential wildlife sightings of eagles, bear, fox, wolf, lynx, beavers, porcupines, and moose. Some tours mix in a ride on the Hurricane Turn train, a stop at an historic resort town, or even some whitewater excitement.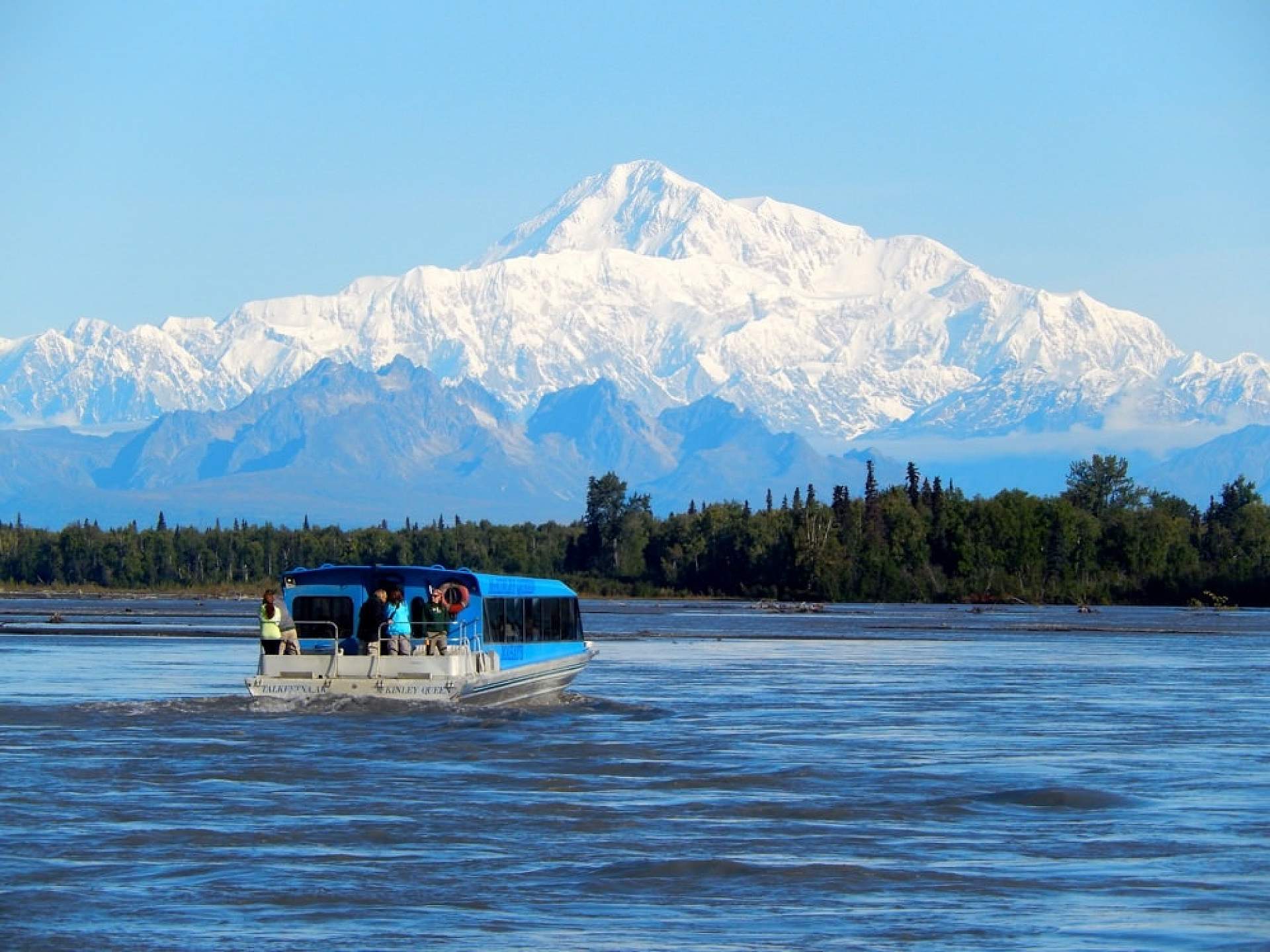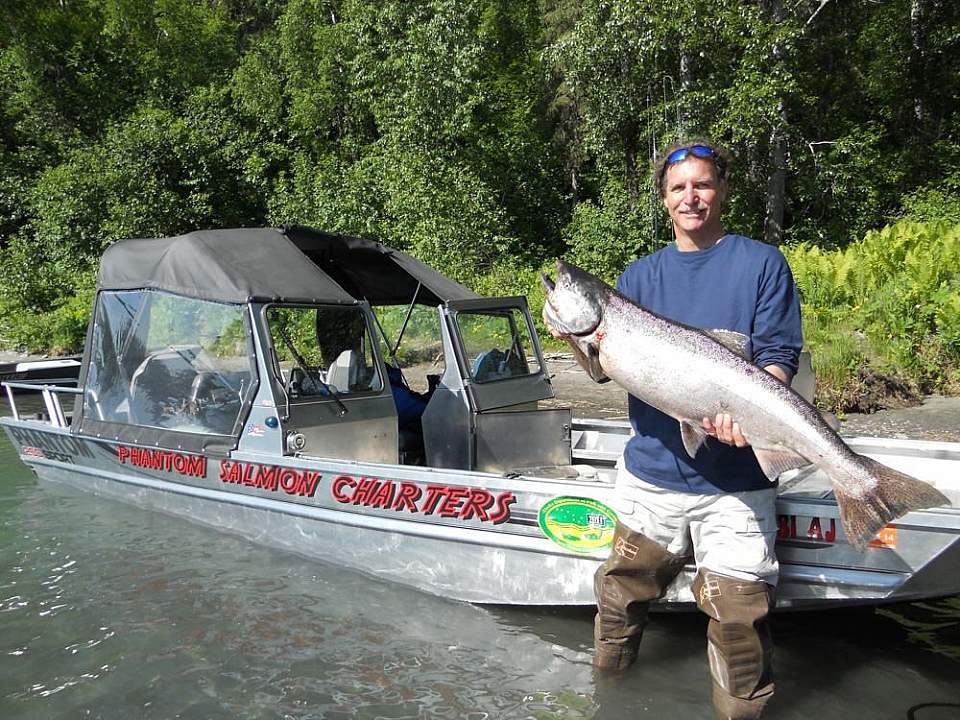 4. Fishing
Half-day or full-day charters, resident species and salmon
Alaska is a mecca for sport fishing, and thousands of anglers visit each year to throw a line into cold, clear waters. Talkeetna fishing is lesser known than other locales, which makes it a bit of an insider's secret. Between mid-May and October, you can head out with a local fishing charter for an experience akin to the old days, with fewer crowds and quiet riverbanks. This area is home to resident species (rainbows, Arctic grayling and Dolly Varden), and all five species of salmon return as well. Depending on when you visit, you can try for a King, or enjoy the chase of reds, silvers, pinks or chums. Phantom Charters operates out of a 21- to 26-foot covered jet boat, plying along the Big Susitna, Talkeetna, and Chulitna rivers. Hell Bent Fishing Charters offers a laid-back float along Willow Creek. Both charters can get you into prime fishing holes and productive shorelines for an authentic Alaskan fishing experience.
5. Hike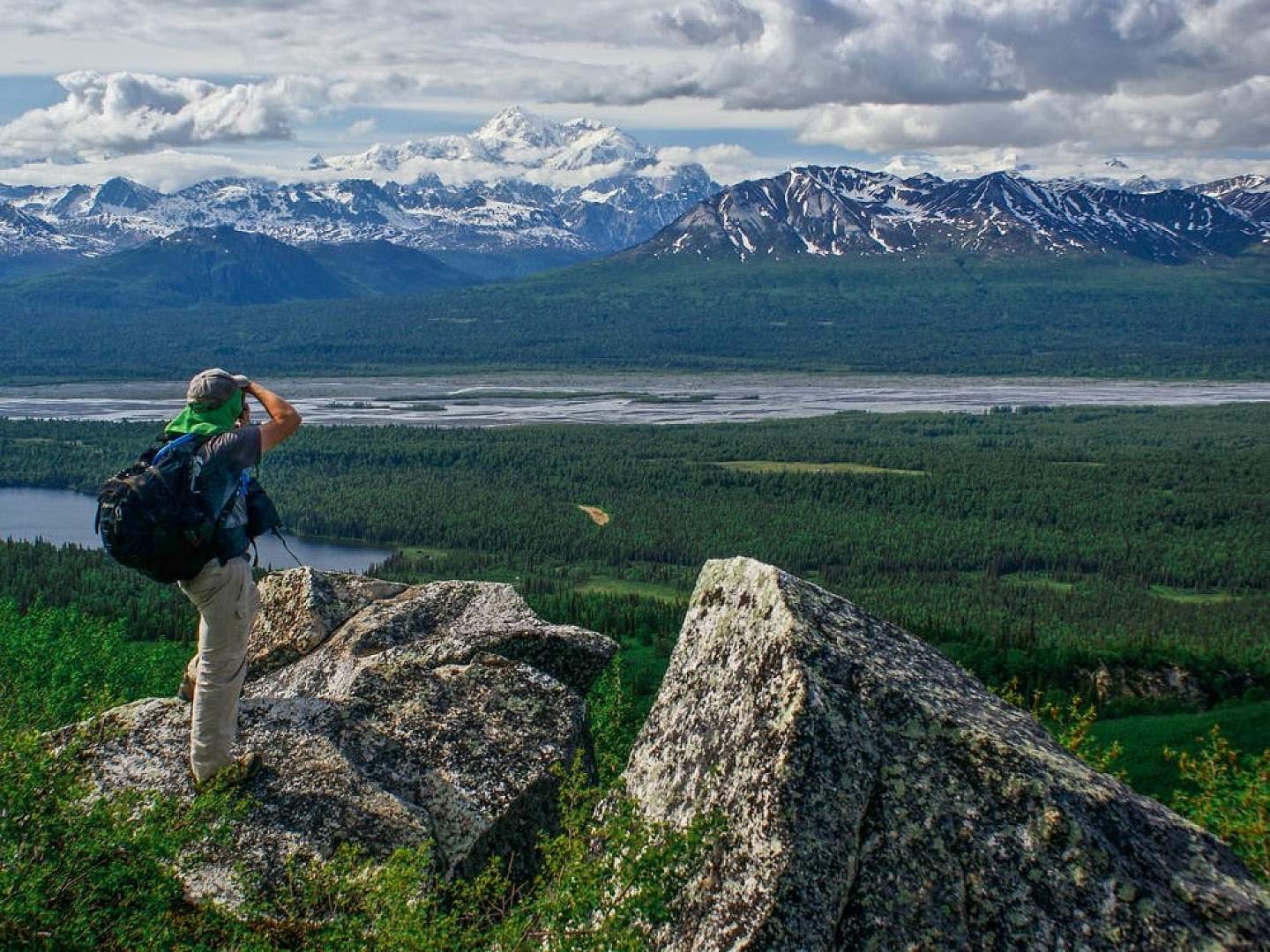 Guided and self-guided hiking, Denali views, boreal forest, salmon streams
Hiking around Talkeetna is varied, with options in town, along lowland trails, across an historic railroad bridge or high up on Kesugi Ridge. Explore at your own pace, discovering lush old-growth forest, clear waters and gorgeous views. If your schedule is packed, you can do a simple loop around town starting at Talkeetna Riverfront Park, or check out other short walks nearby. Just outside town, Talkeetna Lakes Park gets you into the woods and along beautiful lakes, with more frequent wildlife sightings.

Explore on your own, or go with Alaska Nature Guides, local naturalists who will help you find incredible vistas while describing the flora and fauna you're seeing. Their offerings also include a phenomenal trail system an hour north at Denali State Park. It's lesser known than Denali National Park, but boasts amazing views, easy access to the wilderness and no crowds. Take a leisurely walk around Byers Lake or enjoy the challenge of ridge climbing for a panoramic view of Denali and the Alaska Range.

Or, if you're looking for a quick way into the wilderness, Caribou Lodge Alaska offers an adventure that begins with a scenic flight to the lodge (by floatplane or helicopter). You'll meet the lodge owners and get a behind-the-scenes look at life in the Alaskan wilderness. Then it's time for a hike! Keep an eye out for moose, caribou, and bear as your guide fills you in on the unique flora and fauna of the region. You may even have time for a trip around the lake in a kayak or canoe before your departing flight back to Talkeetna. Opt to do a 4-hour trip or a full-day, 7-hour excursion.
6. Hurricane Turn Train
Alaska Railroad, history, meet locals, scenic views
Along a remote stretch of the Indian River Valley, residents depend on the Hurricane Turn Train for access to the outside world. These "off-gridders" hang out a flag when they want to be picked up – and the train conductor obliges. You can get a glimpse into this unique Alaskan lifestyle with round-trip fare on the Hurricane Turn, which has seven set stops between Talkeetna and Hurricane. Scenic views along the way include forested expanses, the nearly 300-foot tall bridge over Hurricane Creek, the braided Indian River, and (on a clear day) Denali rising above the Alaska Range. It's all narrated by your friendly railroad crew, who will even stop for wildlife sightings that can include moose and bear. Ride the entire way, or get off and explore or plan a camping adventure anywhere on route. Just flag down the train again on its return! Operates Thursday-Monday, mid-May-mid-September, and once a month during winter.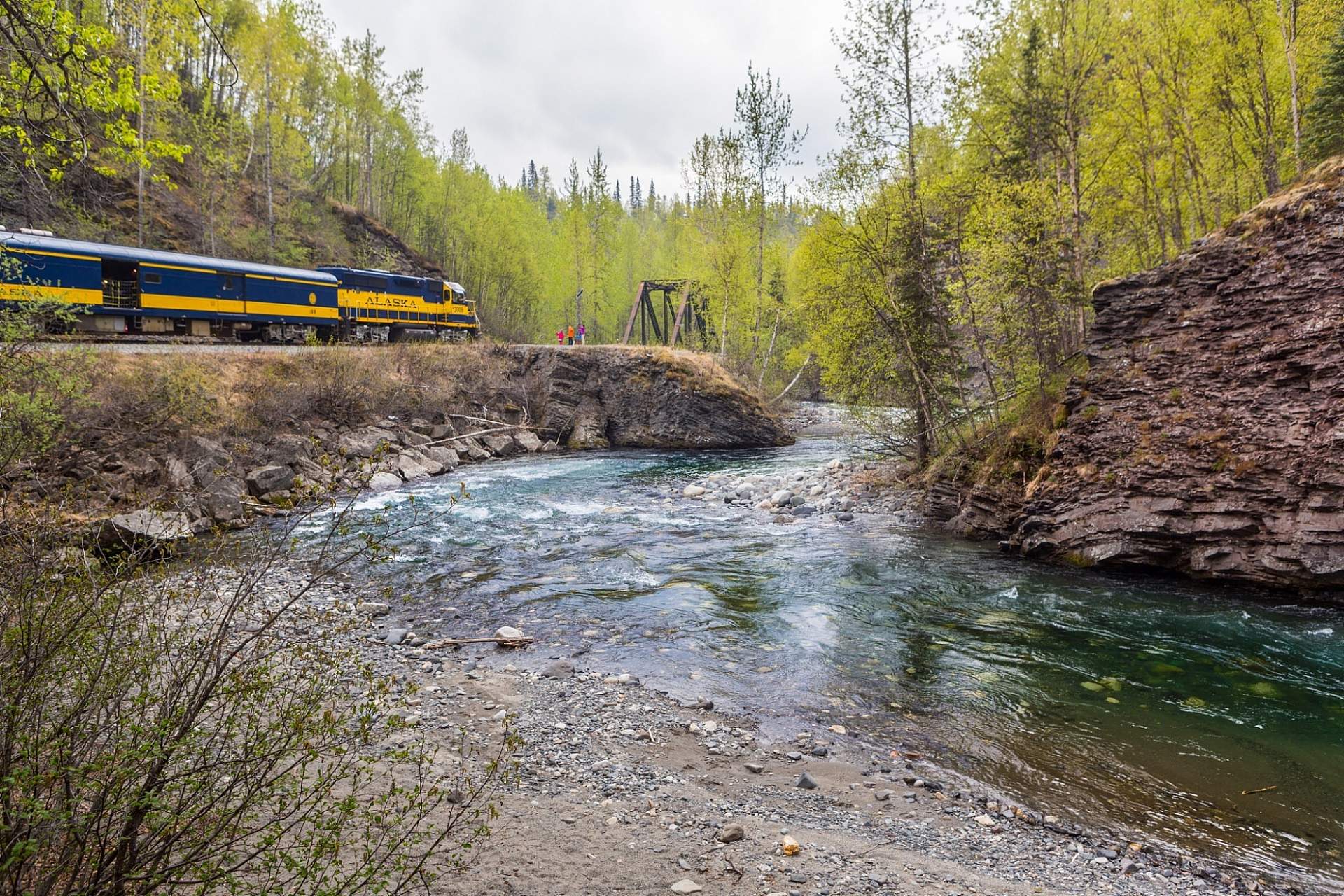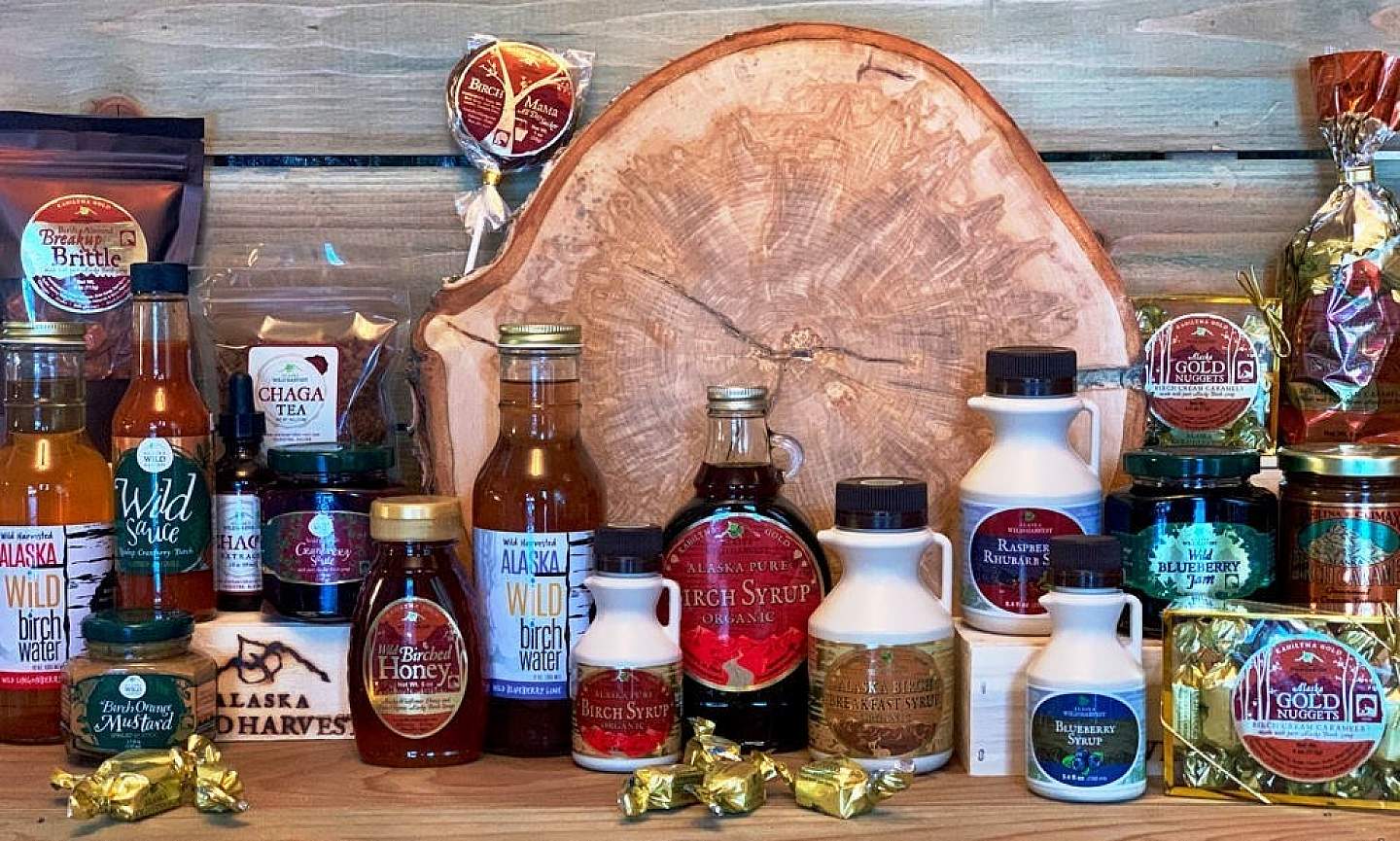 7. Local Food & Drink
Behind-the-scenes tours, local flavors
Alaskans have always lived off the land, using the resources around them for inspiration and sustenance. Learn how Talkeetna businesses thrive by creating food and drink from the forests, fields, and clear waters near Talkeetna. Visit Kahiltna Birchworks, where beverages, candy, syrup, and sauces are made from locally-harvested birch sap. Or try your preferred "sauce" – beer, cider, mead, or spirits – at Denali Brewing Company, the second largest brewery in Alaska. Get a glimpse of local farm life with Alaska Farm Tours, where you'll learn exactly how veggies here can grow so huge, and so sweet. Alaska Farm Tours also includes a stop at Kahiltna Birchworks and Denali Brewing Company, for a busy and tasty 4-5 hour excursion.
8. Zipline
Forest canopy zipline course, Denali views
Fly through the Alaskan wilderness, where nine individual zips make up the 3-hour Denali Zipline Tours course. Local guides take small groups through the treetops of a dense boreal forest of spruce, cottonwood and birch. They provide encouragement and information along the way, for a fun, educational and exciting adventure. The course also features three suspension bridges, a spiral staircase, and a rappel. As you zip along, you'll get views of the Alaska Range, Denali, and the Ruth Glacier, plus vistas of the Susitna and Chulitna River Valleys.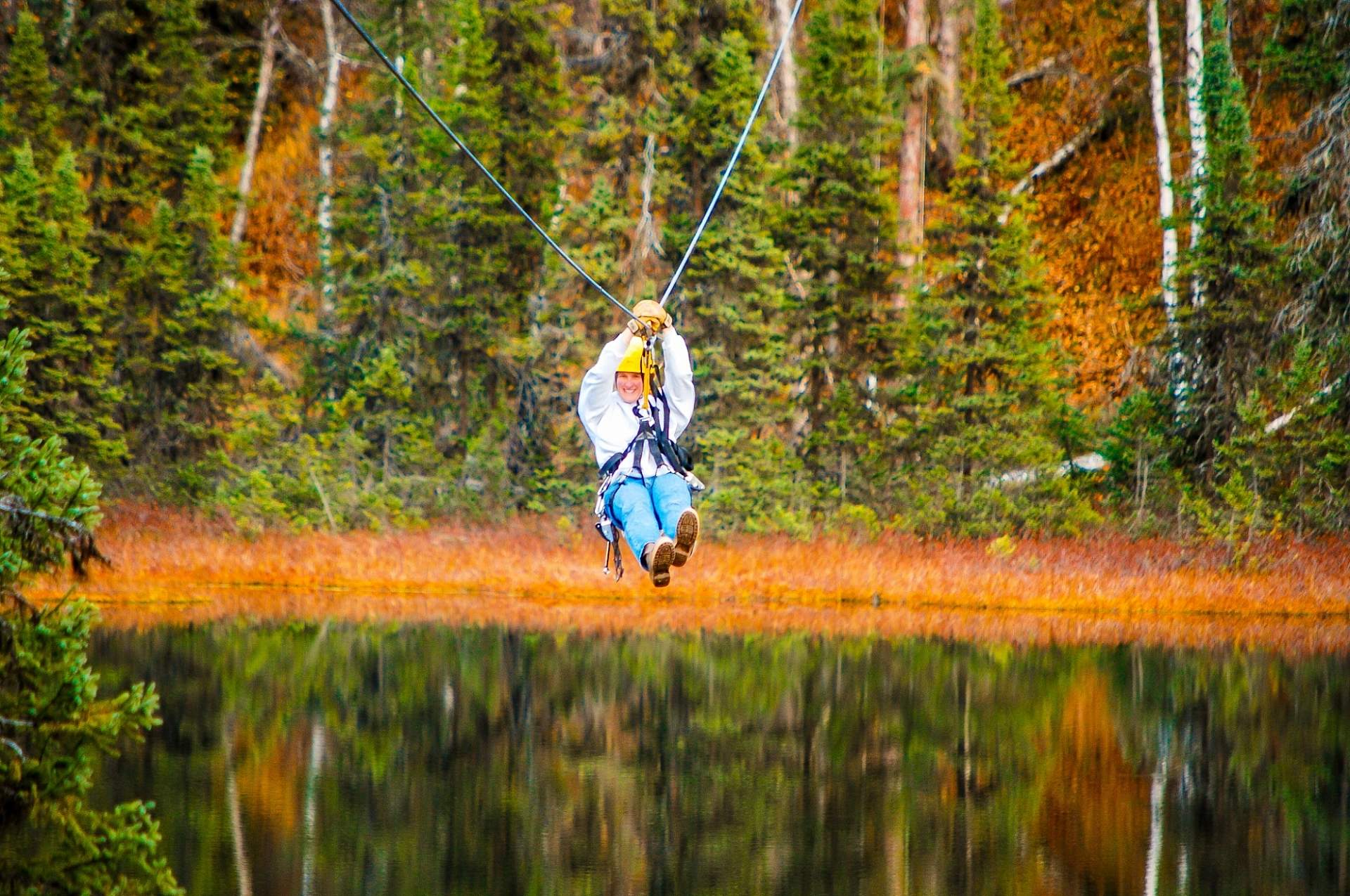 You'll find even more play­grounds that take advan­tage of the unique assets of their loca­tions. Here's a list of our top picks!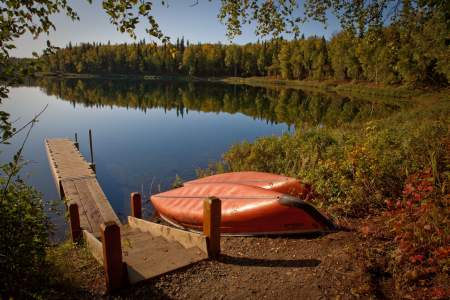 This recre­ation area is just a mile and a half from town, but it feels like wilder­ness — with deep woods and sev­er­al lakes, it's a great place to hike, run, canoe, fish, or look for wildlife. Watch for otters, beavers, bears, fox­es, moose, and more than 100 species of birds, includ­ing rap­tors and loons. The park's best fea­ture is a nice­ly groomed 3.5‑mile walk­ing trail around X Lake through lush old-growth for­est. Cus­tom log bench­es are a nice… ...more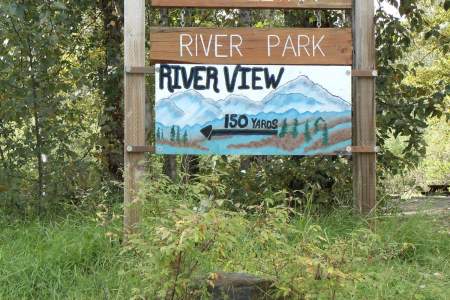 Where else can you walk to the end of Main Street and find your­self at the con­flu­ence of three wild rivers, over­look­ing a 20,000-foot peak? Close to down­town, this large, riv­er-cen­tered park offers wide open, untouched spaces, along with great panoram­ic view of the Alas­ka Range.