About 1,200 mountaineers attempt to climb Denali, North America's tallest peak, each year, and only half that number ever reaches the summit. While you may never join the ranks of these intrepid climbers, this flightseeing operator make its so that an up-close view of Denali and the alpine glaciers and rugged peaks of the Alaska Range can still be yours.
K2 Aviation offers a number of once-in-a-lifetime flightseeing tours among and above these spectacular mountains. Add a glacier landing (weather permitting) to step out on the snow where only climbers go, and you'll really get a gut sense of how immense these peaks are.
K2 Aviation was founded in 1980, with its primary focus being to bring mountaineers to Denali. When renowned flightseeing operator Rust's Flying Service bought K2 in 1996, they increased K2's emphasis on flightseeing tours, as well as introducing quieter planes and reducing their carbon footprint in the Denali National Park area. You can choose from four main tours:
Glaciers and the Gorge
On the Denali Experience Tour, you'll enter a world of jagged mountains and wide, glacier-filled valleys within minutes of departing Talkeetna. Your pilot will narrate via headset how the last ice age shaped the land. From your window seat, you'll see a collection of superlative sights: Ruth Glacier and its Great Gorge, whose depth and height combine for an abyss that is deeper than the Grand Canyon; and the Don Sheldon Amphitheater, where a pioneering bush pilot built a mountain shelter surrounded by ice and granite, just a few feet from the edge of a steep cliff. The tour takes you within six miles of Denali's summit. Glacier landing can be added for additional price.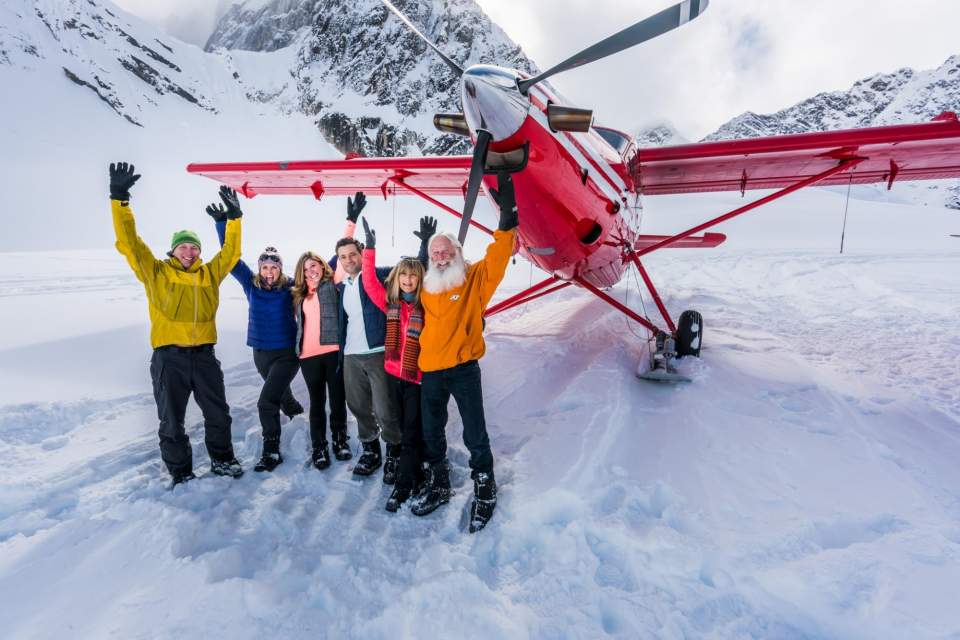 Three Mountains, Plus a View of Base Camp
The Denali Flyer Tour extends your trip onward to the remote western end of Denali National Park. Explore the south side of Denali, Mt. Foraker, and Mt. Hunter. Fly over winding Kahiltna Glacier, the longest in the park (45 miles), and above base camp, where climbers traverse the glacier and make their way to the West Buttress, the classic route up The Mountain.
A Complete Circle Around the Mountain
For the most-inclusive and most-popular Denali flightseeing tour, choose K2's Denali Grand Tour. It's seriously thorough: Not only does it view both the north and south sides of Denali, but it also circles the mountain entirely. After covering the Denali Flyer route, your pilot will head to Wickersham Wall, a 14,000-foot continuous rise of rock and ice, and make a complete circle around the mountain itself.
Bird's-Eye View of Climbers
For a unique view of the Alaska Range, take the Denali Climber/Summit Tour. Your oxygen-equipped aircraft will climb to 20,000 feet for a breathtaking, bird's-eye view of both the north and south sides of the mountain. On a clear day, you'll see all of the highlights included on the other three tours—but from above the peaks instead of among them. Only the mountaineers who've summited Denali have ever experienced a view like this. In fact, you can often actually see some of those intrepid mountaineers, too.
Weather plays a big role on a daily basis—sometimes, clouds obscure the mountains views. That's why K2 monitors the weather constantly to make sure conditions are appropriate for flying. They always offer a pre-flight weather briefing—and will work with guests to reschedule or provide alternate routes if conditions dictate it.