Photo Credit: Kerry Williams
Girdwood is not your average resort town. While it draws a good number of visitors, largely thanks to Hotel Alyeska, a luxury resort at the base of Mount Alyeska, it is a small, tight-knit community where you can find a range of characters, from ski bums to senators, all with a great love for the outdoors. Just an hour's drive from Anchorage, or a short ride on the Alaska Railroad, this eclectic town is a favorite stop for visitors and locals.

Glacier City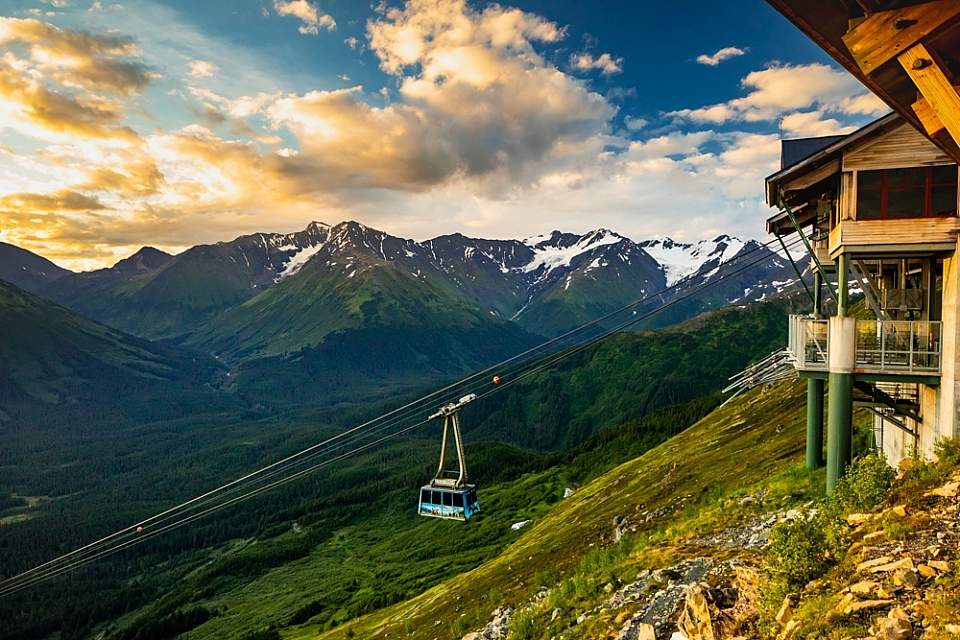 Originally called "Glacier City" for the icy behemoths that rim the surrounding mountains, it's no surprise that touring a glacier is so easily accessible. You can go on a guided hike over Alaska's glaciers or kayak right up to one. If you want to strike it rich, you can go on a gold panning tour. Flightsee over glaciers and take in the amazing Prince William Sound. Enjoy the views from a raft, or take the wheel with an ATV. And if you're in the mood to mush, you can go dog sledding across a glacier. If you want to see wildlife up close, check out the 140-acre Alaska Wildlife Conservation Center just 11 miles past the Girdwood turnoff.
Girdwood has a some one-of-a-kind fairs and festivals, like Slush Cup the second weekend of April and Forest Fair July 4th weekend. And if you're planning to explore the area on your own, be sure to check out Girdwood's top trails in summer and winter. Two favorites are the Winner Creek Trail that winds through the northernmost rainforest in the US to a thundering waterfall or the North Face Trail up Mt. Alyeska. See all things to do.
Winter Recreation
For many, winter in Girdwood is a non-stop holiday. Skiers, snowboarders, and outdoor enthusiasts revel in the trails and slopes that the town has to offer. Looking for new gear to hit the slopes? Be sure to stop in at the local ski shop. Or, opt for a snowmobile ride through the mountains or up to the face of a glacier. See all winter excursions.
Where to Stay
The Hotel Alyeska is the largest lodge in Girdwood, anchored at the base of Mt. Alyeska. In winter, it's a bustling ski resort. In Summer, it's a launching pad for nearby hiking trails and all sorts of activities. But there are also smaller, locally owned accommodations in Downtown Girdwood.
Great Local Restaurants
After a day of exploring Girdwood, take a tram ride up to Seven Glaciers Restaurant, perched on Mount Alyeska. With large windows and gorgeous views of the Chugach Mountains and Turnagain Arm, you will be in awe of Alaska's little "resort town".
Getting Here
Drive: The drive between Anchorage and Girdwood follows the scenic Turnagain Arm. You can enjoy the same scenery, and let someone else do the driving if you opt for a bus transfer with Alaska Bus Company.
Train: The Alaska Railroad has two trains that stop in Girdwood, the Coastal Classic which runs between Anchorage and Seward, and the Glacier Discovery which stops in Whittier, Portage, and nearby Spencer Glacier.
Private Transfer: AK Tripping offers private transportation with an experienced local driver to and from Girdwood for groups of up to 3 in comfortable Subaru Foresters.