Photo Credit: Sarah Fullilove
Getting There
Juneau

1

20

Anchorage

4.5
How Long to Spend
Trip Ideas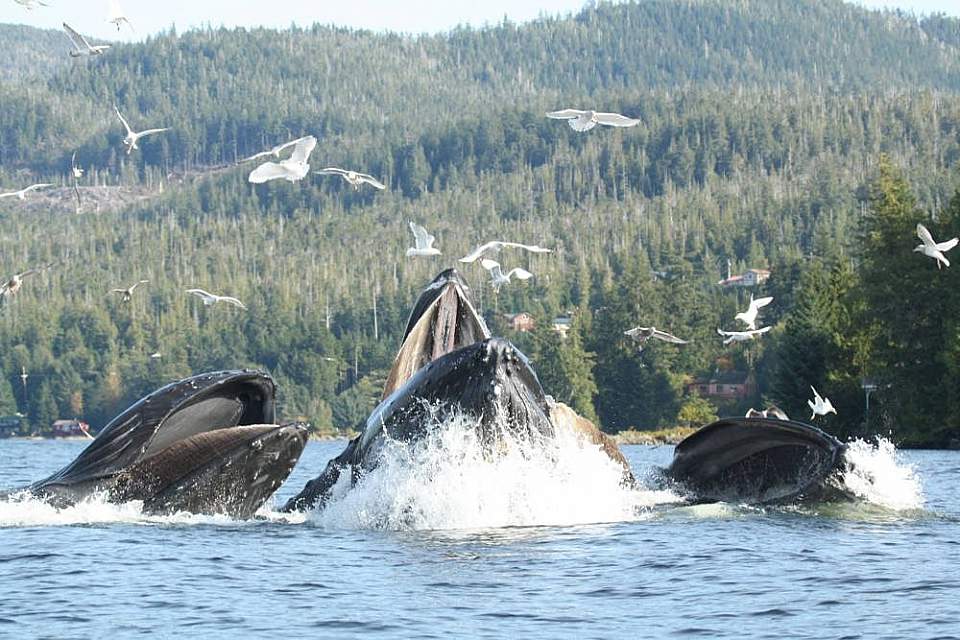 Ketchikan does not offer Alaska's biggest glaciers or tallest mountains—and it doesn't have to. There's a certain charm to Ketchikan, due to its wealth of native culture, colorfully displayed in an amazing collection of totem poles, and its diverse attractions and activities.
The history of maritime exploration, fishing, logging and mining is woven into the local seascape, surrounded by a backdrop of lush rain forest. It was the area's abundant fish and timber resources that first attracted non-natives to Ketchikan, where Tlingit Indians had operated a fish camp. The township began with Mike Martin's purchase of 160 acres from Chief Kyan in 1885. The first cannery opened the next year, and by 1936, Ketchikan claimed seven canneries, producing 1.5 million cases of salmon.
Favorite Attractions
Totem poles: Totem Heritage Center has the largest collection of original 19th-century totem poles anywhere. You can see more at Totem Bight State Park, located on the ocean front 9 miles north of town, and at Saxman native village, located 3 miles south.
Fish for Salmon: Besides the wealth of totems, Ketchikan is the site of a major salmon fishery. And if you're looking to catch some salmon to take home with you, Ketchikan offers one of the best opportunities along the Southeast coast to reel in the big one.
Bald Eagles, Raptors, Bears & More: The resident salmon also attract an abundant year-round American Bald Eagle population—with so many nests in the area it's sometimes called "the eagle capital of America." Just outside Ketchikan, the Rainforest Sanctuary promises a close-up view of old-growth forest, salmon habitat, an historic lumber mill, totem carving, raptor exhibits, and chances to see black bear and other wildlife. Or, do a fly-in bear viewing trip to Neets Bay.
Peruse the Shops: Ketchikan has an eclectic mix of stores: local craftsmen and artists, candy stores, souvenir shops and galleries. Be sure to stop at Tongass Trading, the oldest continually operating business in the state – since 1898.
ATV: Explore old logging roads in the Tongass National Forest.
Guard Island Lighthouse: History buffs will seek out this century-old lighthouse in the Tongass Narrows, easily viewed from N. Tongass Highway or charter boat.
Creek Street boardwalk: Lined with great shops, this is a fun stroll—and it was home to the red-light district until the 1950s.
Misty Fjords National Monument: Take a flightseeing tour of this A 2.2-million-acre wilderness. It begins just east of Ketchikan, and the vast Tongass National Forest (the nation's largest) stretches north.
Attend a Festival or Event: It's a great way to get a feel for the local culture. See if there's a festival while you're in town.
Zip!: Ketchikan Aerial Zip & Rainforest Courses offers two exciting zips through the lush rainforest.
Getting Here
It's a popular cruise stop; you can also reach it by Alaska Marine Highway, or by plane.
Things to Do in Ketchikan