Whether you travel by train, car, or bus, the scenery will be spectacular: river valleys, forests, and mountains fill the landscape, with Denali (Mt. McKinley) towering above them all.
By Car
You could take another mode of transportation to Denali, but driving yourself is the quickest way there. Of course, it also gives you maximum flexibility to take side trips or stop at fishing holes. At the park, a car also gives you the option of staying in the town of Healy, which is quieter and less touristy than the park entrance. But a car won't help much in touring the park, since most of it is closed to private vehicles.
By Bus
Private motorcoaches take the same road as cars, but you'll have to make a stop in Talkeetna, which adds about an hour to the trip. Still, someone else is doing the driving, which means you can kick back and enjoy the scenery. And you will be able to enjoy the ride: motorcoaches are comfortable and spacious, with oversized windows.
By Train
The train takes three hours longer than the bus and is expensive, but onboard dining and dome cars mean that you'll travel in style. You'll make stops in Talkeetna and Wasilla, and you'll pass through wilderness accessed only by the train, like the historic Susitna River and Hurricane Gulch, a massive gorge spanned by a spectacular 1,000-foot-long railroad bridge. You can also take the train one-way and return via motorcoach.
For all rail options North of Anchorage, see our Alaska Railroad page.
By Plane
If you're really strapped for time, you can choose to fly! Contact Kantishna Air Taxi for a scenic flight directly from downtown Anchorage (Merrill Field) to the Denali National Park Entrance. Flight time is 1.5 hours.
Combination
Many travelers like to see different scenery traveling to and from the park. You can opt to take the train one way, and the bus the other.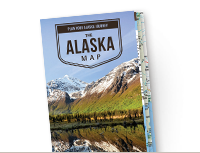 This state map includes top destinations and attractions, driving guides, & more!