Best Things To Do In Fairbanks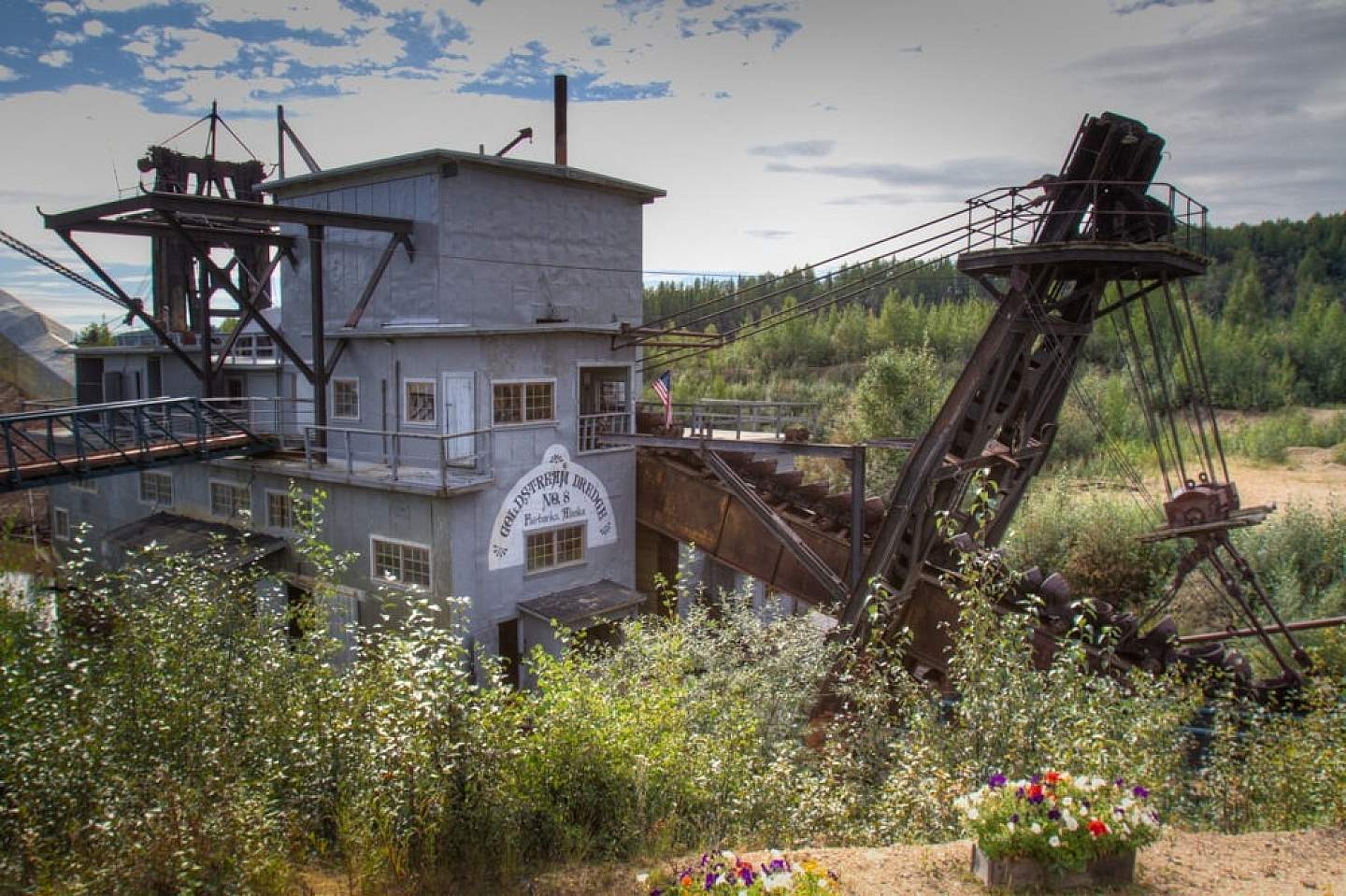 1. Gold Panning Tours & Gold Rush History
Fairbanks owes its existence to the gold fever that descended on the Tanana Valley. The city is proud of its gold rush history, which you can learn about on a visit to the authentic Gold Dredge 8.
Head off to the goldfields of Interior Alaska on an open-air train car as you listen to lore and legend of the day. Listed on the National Register of Historic Places, Gold Dredge 8 is a mechanical wonder, a huge machine that "walked" across the land, scooping up pay dirt. You can scoop up your own pay dirt by learning to pan for gold.
Gold Dredge 8, Gold Daughters, and Chena Outdoor Collective offer panning experiences with guaranteed gold, along with the thrill of a potential nugget. Try your luck, and you'll capture gold fever and an understanding of what it was like to be an early pioneer in this remote environment.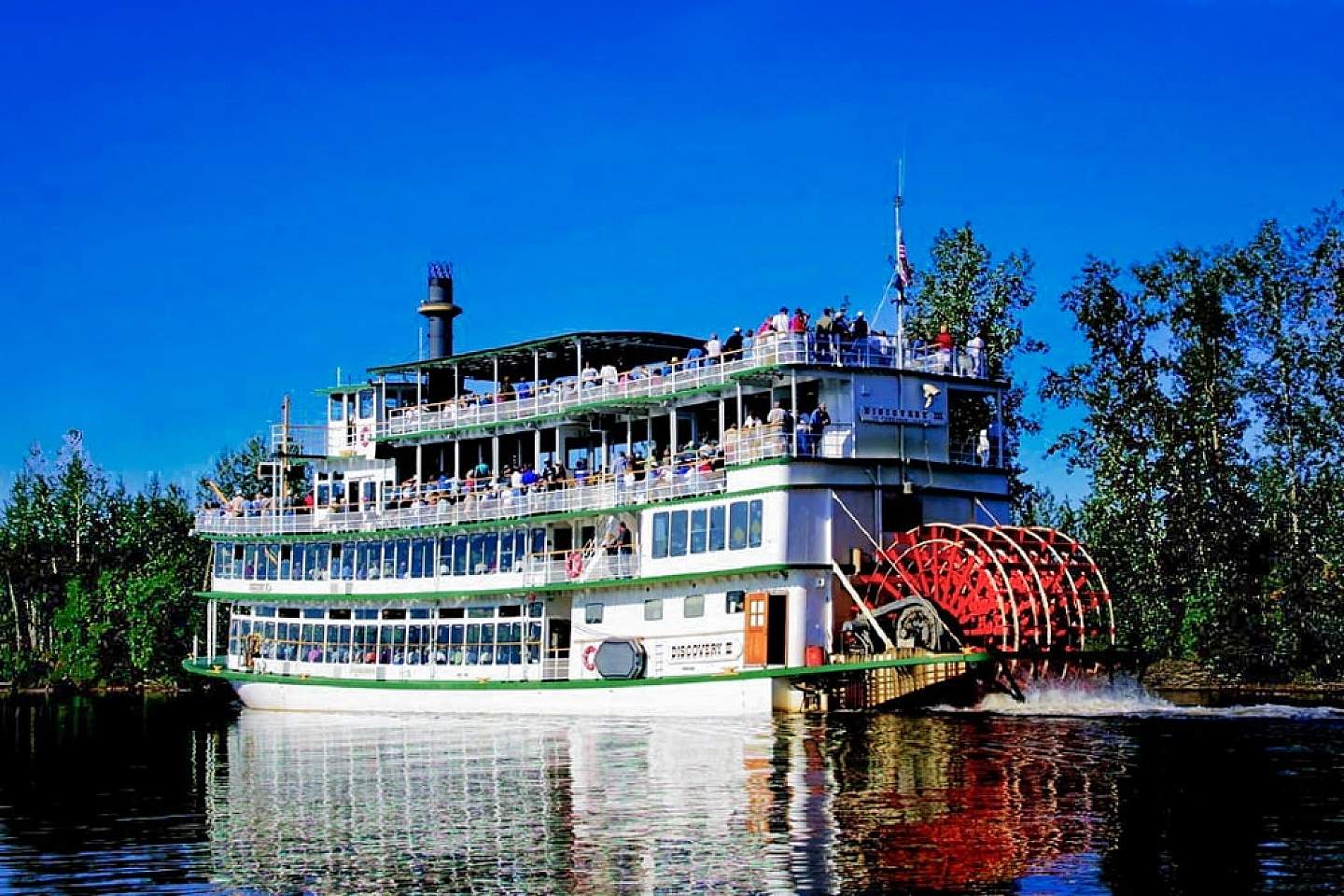 2. On the Water: Chena River, Riverboat Discovery & Fishing
The Chena River winds through Fairbanks, creating opportunities for an easily-accessible stroll or paddle. Take a self-guided tour along the Chena Riverwalk's 3.5- mile stretch, taking you past parks, museums, and historic districts. You can also find local canoe, kayak or stand-up paddleboard rentals for a leisurely paddle along the Chena's twists and turns.
From mid-May to mid-September, the Riverboat Discovery offers an historic option for getting out on the Chena as a passenger on an authentic sternwheeler. The 3.5-hour tour includes engaging stops where you'll learn about dog mushing, bush pilots, and Alaska Native culture. You'll also voyage to the confluence of the Chena and Tanana rivers, where the currents collide in epic fashion.
Fairbanks, and its surrounding lakes offer the great winter option of Ice Fishing. Ice fishing runs from November - March and if you opt for the nighttime fishing option you will have the chance to catch the Northern Lights! You'll fish, catch and release, for trout, arctic char, burbot, and more.
3. Museums & History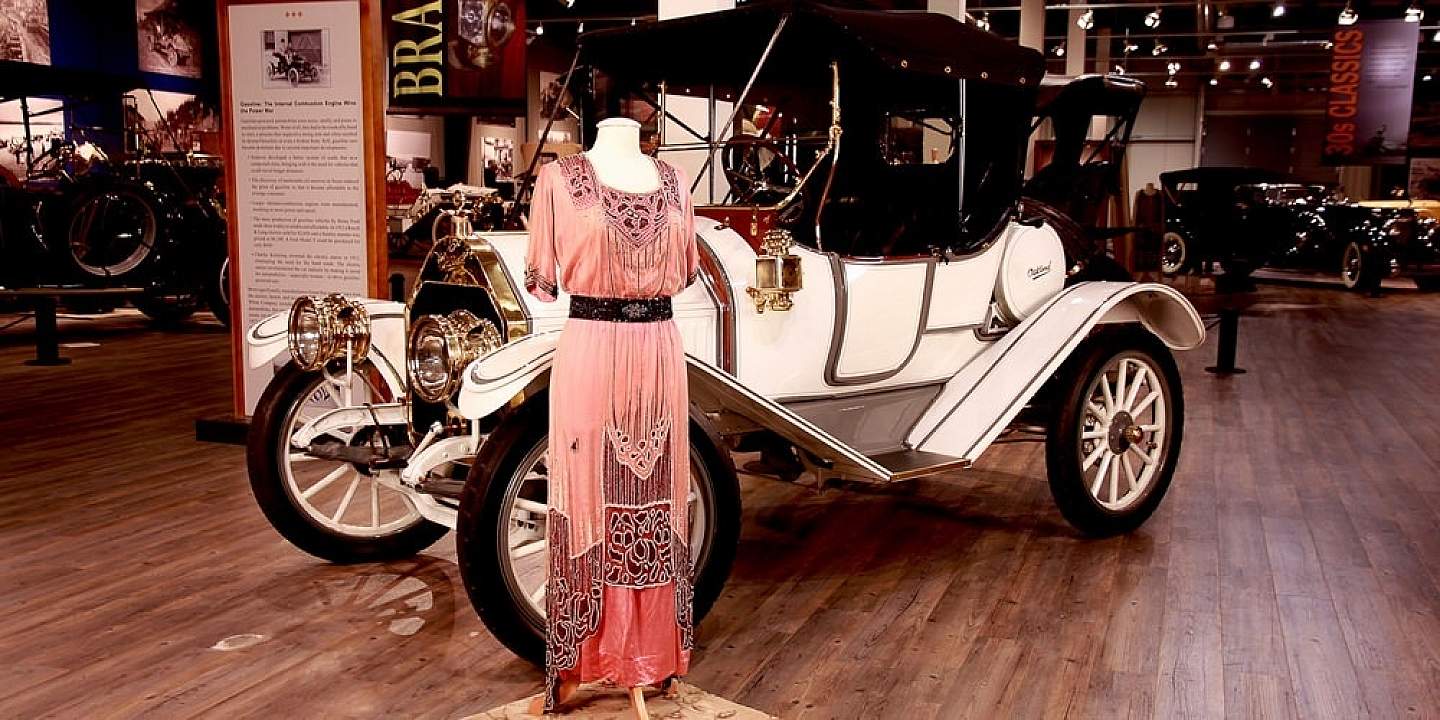 Learn about the influences that have shaped modern day Fairbanks, including its fascinating gold rush history, pioneering spirit and rich Alaska Native culture. The Morris Thompson Cultural and Visitors Center is a good place to start. It's open year-round and offers visitor and public lands info, films, and Athabascan cultural programming. Pioneer Park has museums and displays dedicated to the gold rush and early pioneers, as well as industry and transportation. Most are closed in winter, but you can still stroll through the park and find pioneer homes that have been relocated here, along with a sternwheeler riverboat and railcar. You'll marvel at the vintage fashions and still-operable antique cars at Fountainhead Antique Auto Museum, open year-round. More than 80 cars showcase the evolution of the automobile from 1898 to 1936.
Finally, the UA Museum of the North offers natural/cultural galleries from 5 distinct regions of Alaska and Alaska's largest public display of gold.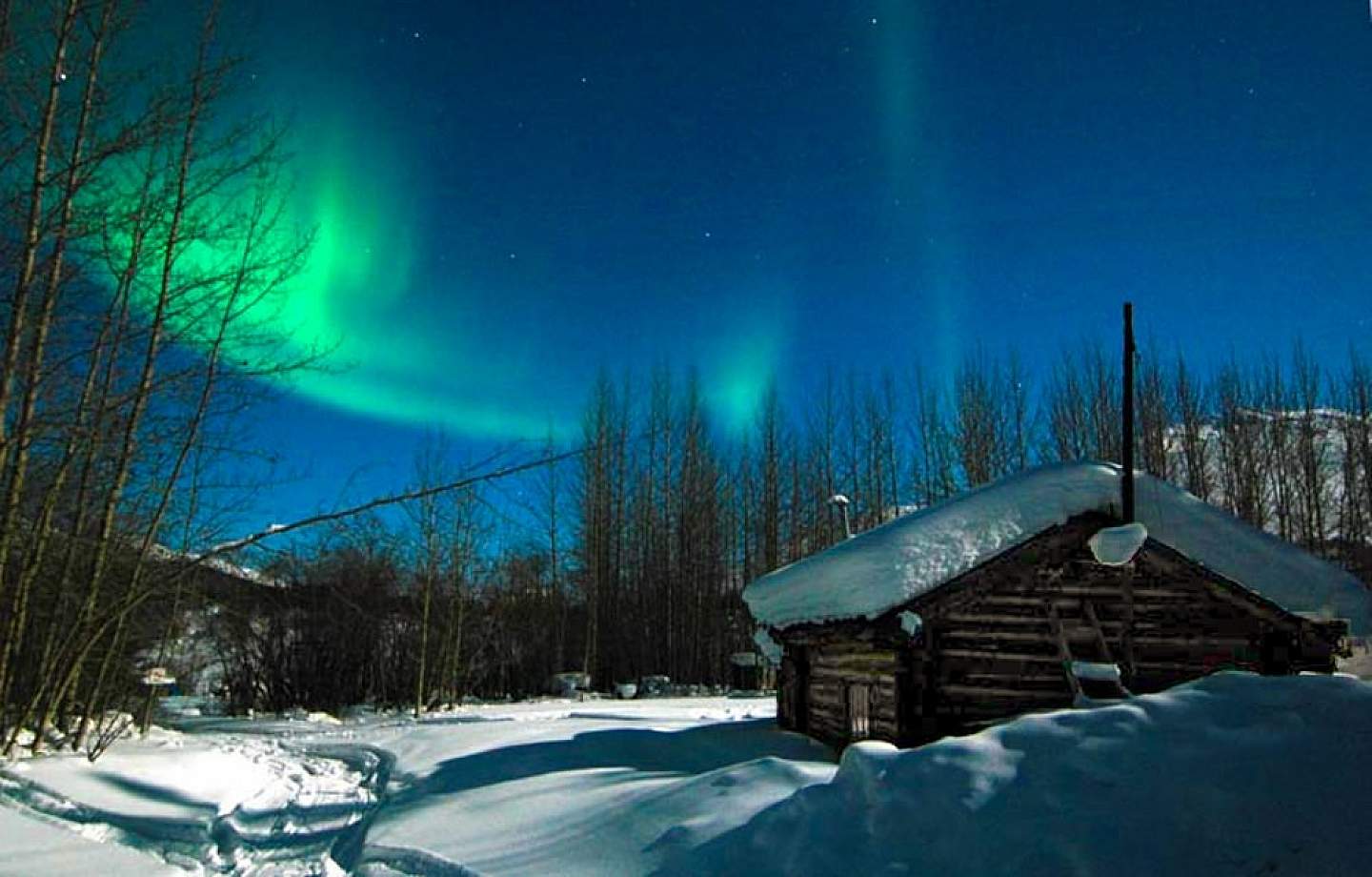 4. Northern Lights
Fairbanks is one of the premier destinations for seeing the Northern Lights, due to its location under the "Aurora Oval," the zone over the far north with concentrated aurora activity. Weather does affect viewing conditions, so plan to stay at least three nights to get the best chance for a mesmerizing display. Formal aurora viewing tours offer info, photography tips and a chance to get away from city lights for optimum viewing. Relax at the Aurora Pointe Activity Center just outside Fairbanks, where you can step in and out at your leisure, enjoy the fire, and warm up with hot drinks. Or soak in natural hot springs while viewing the northern lights at local favorite Chena Hot Springs Resort. Combine a quintessential Alaska experience – fishing – with northern lights viewing on the Aurora Ice Fishing tour. Stay at a remote wilderness lodge or a clear-roofed dome. Or, you can fly or drive to remote Coldfoot, above the Arctic Circle, where crisp, clear weather makes for truly spectacular aurora displays. Michael DeYoung offers 6-day / 5-night Aurora Winter Landscapes Tours with the chance of capturing the lights.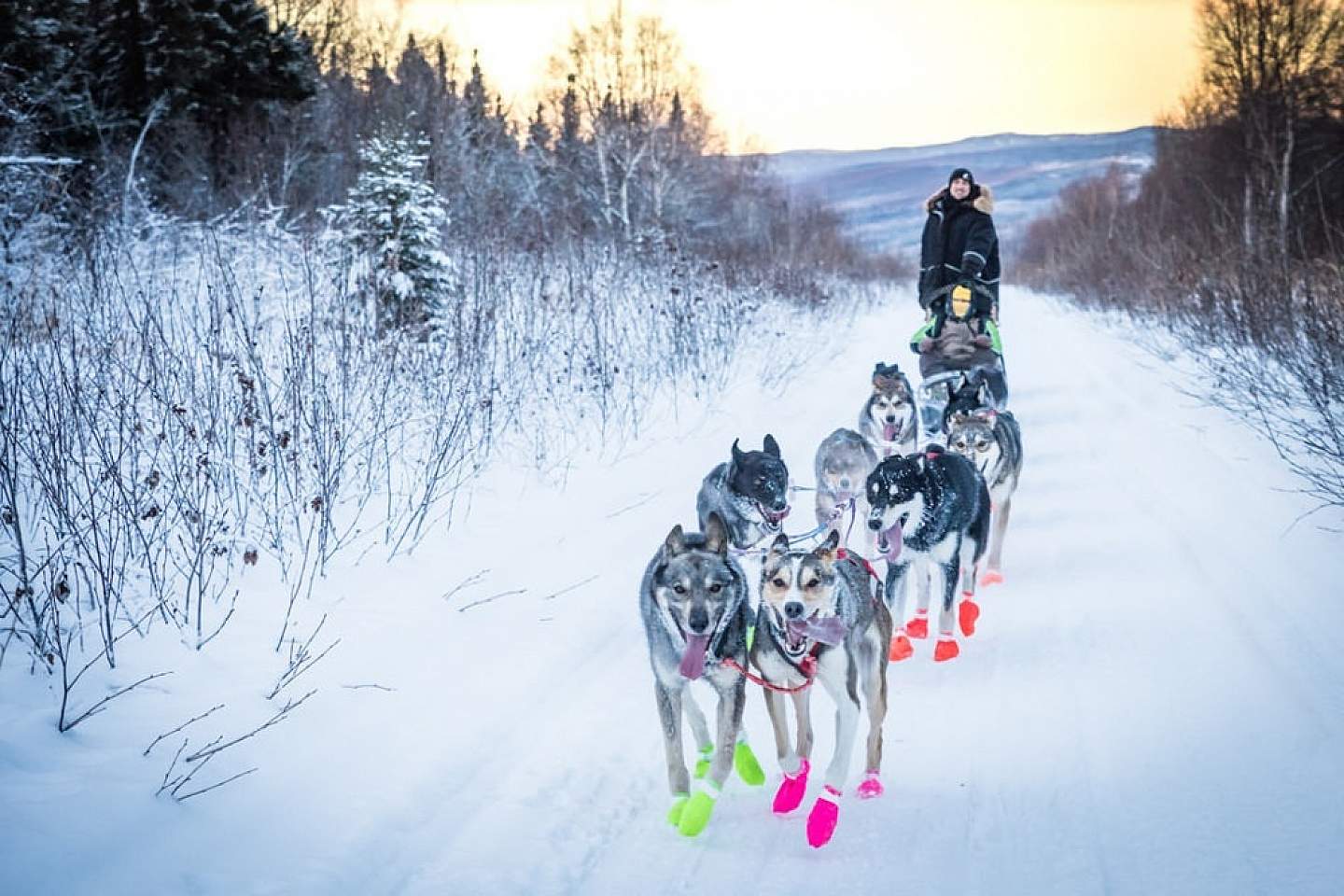 5. Dog Sledding
Dog teams were essential to wintertime travel in Alaska's early days, and the mushing tradition is still strong. Hop on a sled yourself to capture the excitement of working dogs eager to hit the trails. Tour guides are active mushers who love the lifestyle and the sport of dog mushing. Black Spruce Dog Sledding is based about 45 minutes from Fairbanks and offers tours from 1-3 hours long. In summer, the dogs will pull you on a five-passenger utility terrain vehicle. In winter, enjoy picturesque trails through a dense black spruce forest. Ride along, or even take a hand at driving the sled!

From November-March, Rod's Alaska Guide Service offers dog sledding experiences through the Alaska wilderness, from a ½ hour ride up to 5-hour tours that can be combined with aurora viewing, ice fishing or both! Many of Rod's team have completed the Iditarod or Yukon Quest, so you'll get a deeper understanding of this unique sport.
Paws for Adventure, owned by musher Leslie Goodwin-Williams, is one of the longest-running dog tour companies in the area. She offers day tours, but specializes in mushing school tours, as well as overnight and multi-day dogsled adventures based from the historic Tolovana Roadhouse, or camping along the trail!
Arctic Dog Adventure Co. offers the opportunity to hike with the pups in summer. In winter, they specialize in overnight and multi-day mushing adventures, from aurora viewing trips glamping in heated tents, to hot springs, to hut-to-hut- experiences.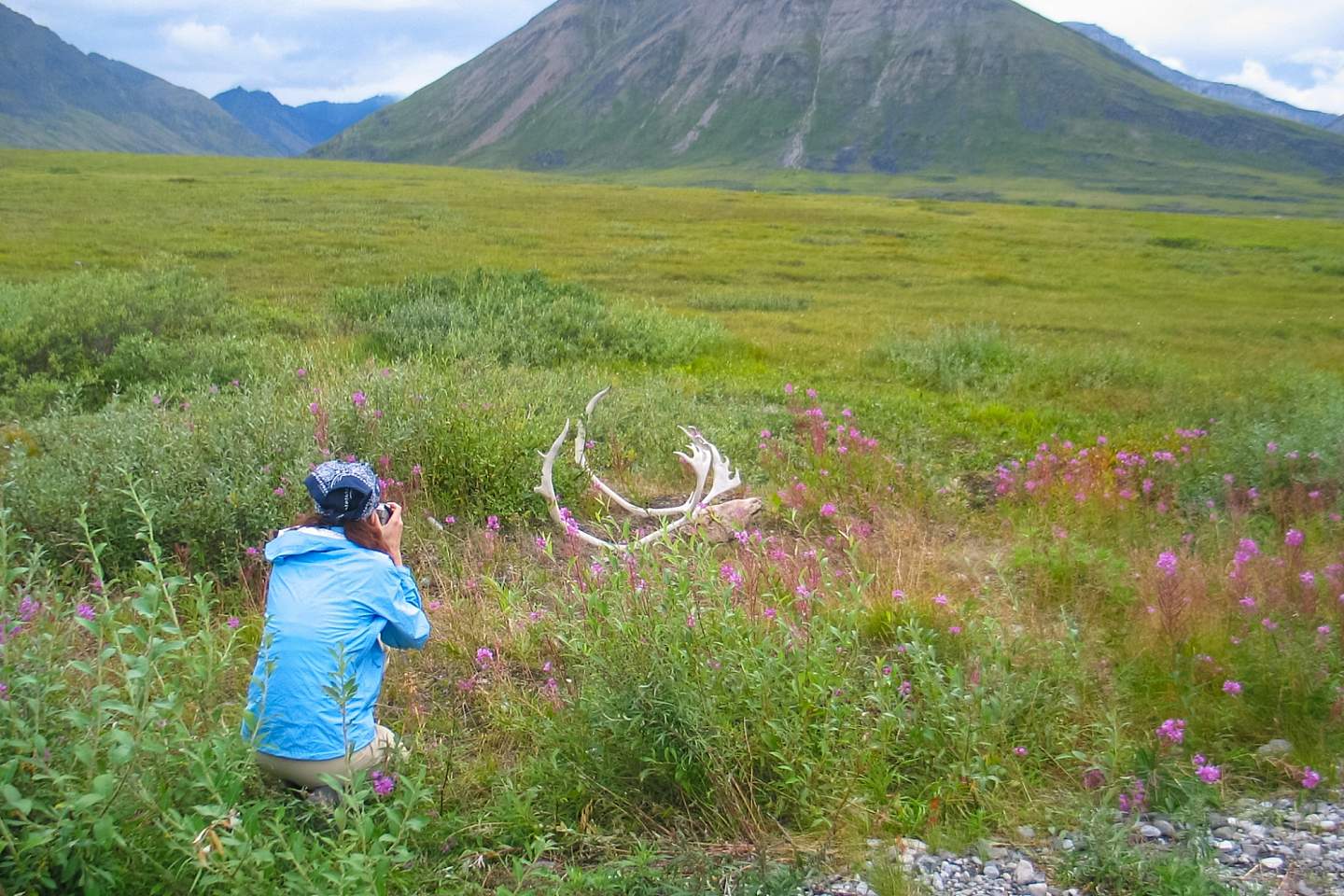 6. Arctic Tours
Fairbanks is an ideal jumping-off point to venture north of the Arctic Circle and take in the landscapes and lifestyles of the far north. To explore on your own, rent an SUV and travel the Dalton highway all the way north to Deadhorse/Prudhoe Bay, on the shores of the Arctic Ocean. This northernmost route promises amazing vistas, limited services and unlimited adventure! (Plan for a 3-4 day rental for the entire journey). For those with shorter time frames, Northern Alaska Tour Company offers several options for exploring the Arctic, including bus tours, flights, guided hikes, scenic floats and overnight trips. Fly to communities like Anaktuvak Pass, where you'll learn about the village lifestyle in rural Alaska. Or fly to Coldfoot, Gates of the Arctic National Park, or the Arctic Ocean.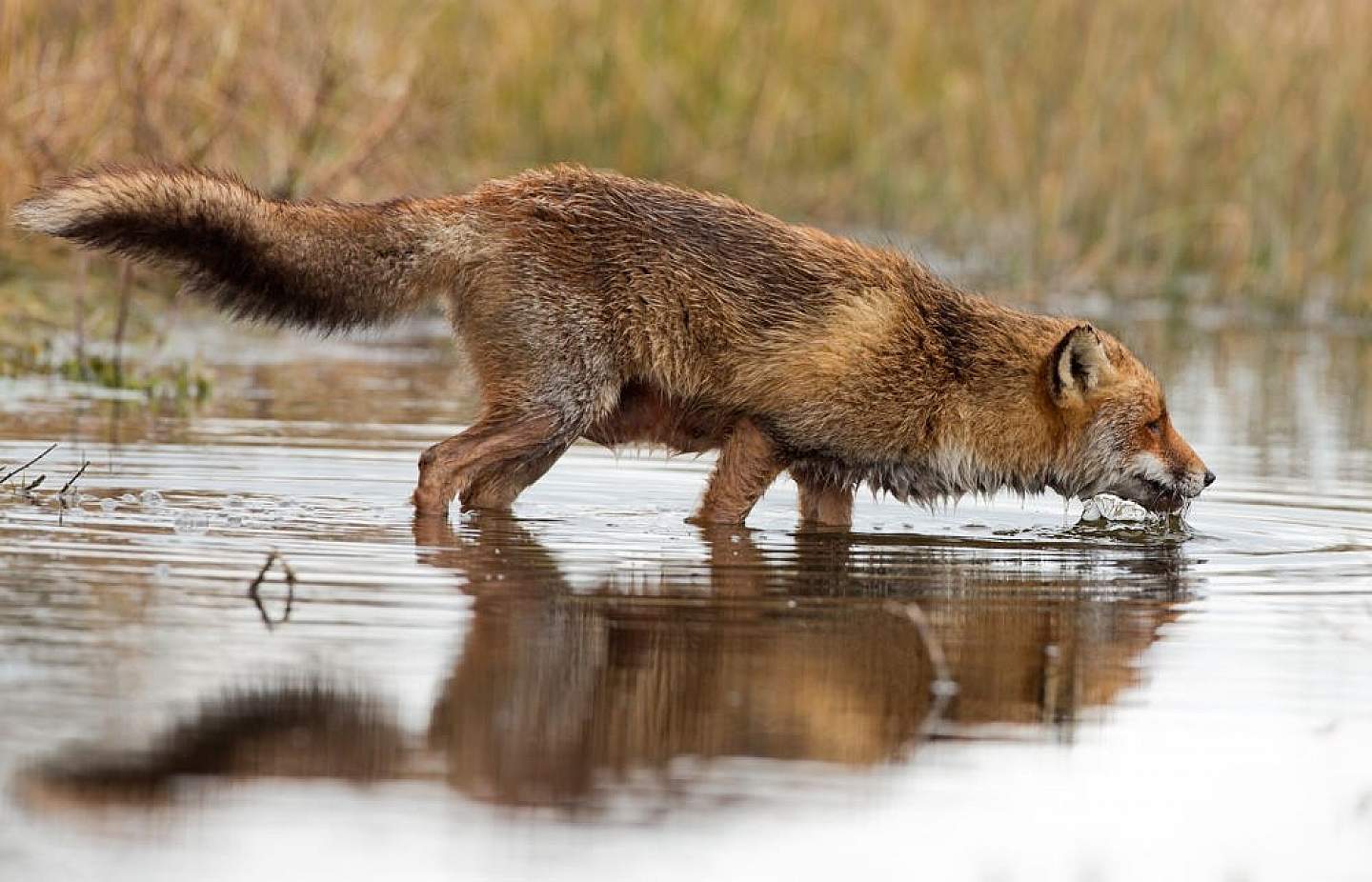 7. Wildlife
Interior Alaska has abundant wildlife, with several viewing opportunities Fairbanks. Learn about muskoxen and reindeer at the University of Alaska's Large Animal Research Station (LARS), offering daily tours year-round.
Learn about reindeer from the knowledgeable and passionate owners of Running Reindeer Ranch. A one-hour tour gives you time to walk with, pet and take pictures with a small reindeer herd.
Chena Outdoor Collective, in the community of Two Rivers just beyond Fairbanks, also offers reindeer encounters. Mingle with the reindeer on a short 45-minute tour, or partake in the longer Taste of Two Rivers tour that includes the reindeer visit, gold panning, and a husky dog sled demonstration. Want more reindeer time? Opt for a reindeer hike!
Explore the Fountainhead Wedgewood Wildlife Sanctuary or Creamer's Field where more than 100 species of mammals and birds have been identified. The two are joined by miles of trails that take you through a variety of habitats. Watch for foxes, beavers, flying squirrels, snowshoe hare, and moose. Bird lovers enjoy spotting sandhill cranes, tundra swans, kingfishers, owls, mallards and many more.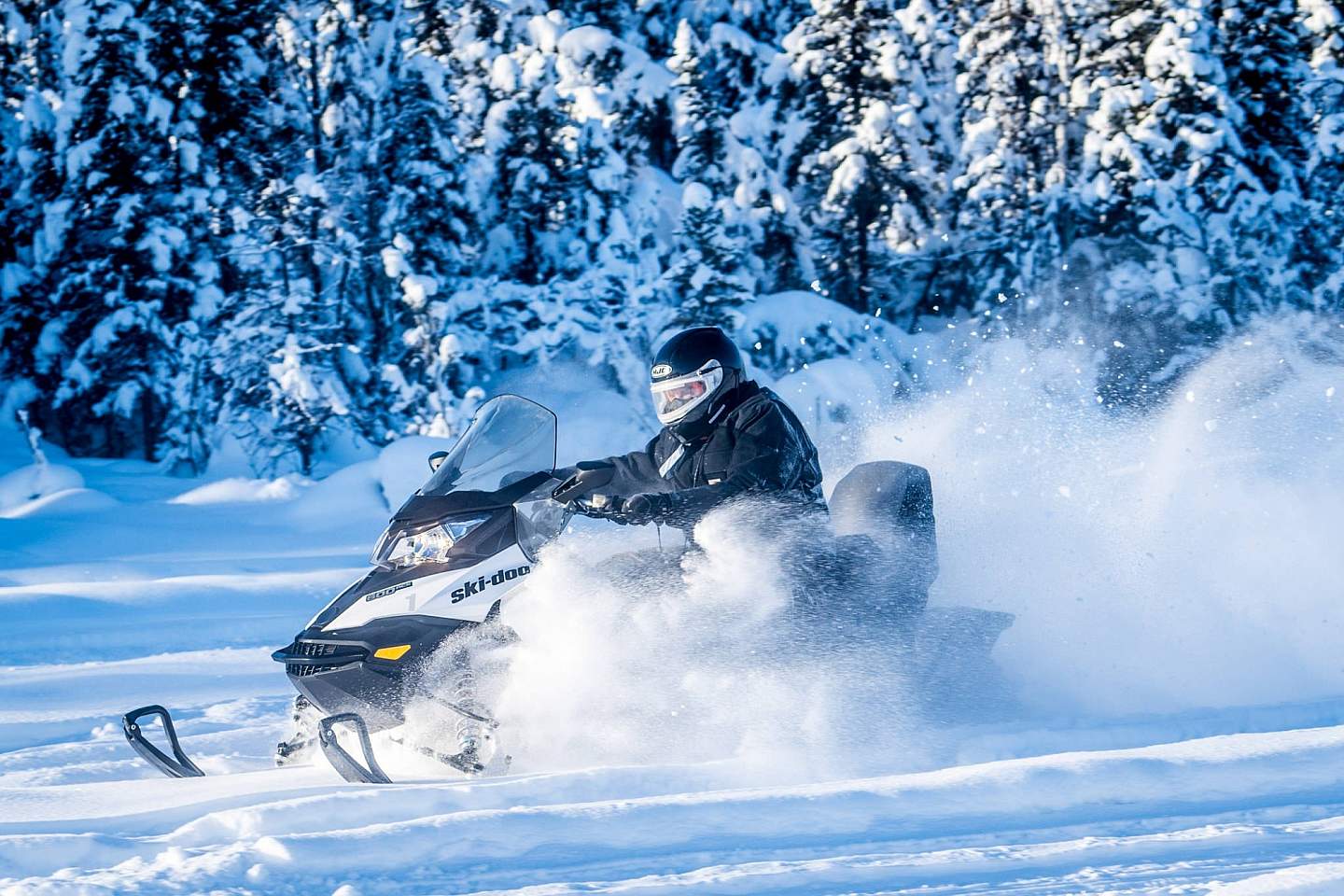 8. Winter Wonderland
Staying active outside in the winter is a way of life for Alaskans – and it's fun! Several winter tours get you out in the snow and the crisp, refreshing air for an invigorating Alaska adventure. Riding along in a dogsled is a fun way to experience the excitement that Alaska sled dogs bring to every excursion. Their happiness to be out on the trail is infectious!
Or opt for more modern winter transport, and book a thrilling snowmobile tour that puts you in the driver seat and exploring forests trails and frozen lakes. If you want a quiet explore of the woods on your own power, cross-country skiing is a popular local winter activity that is also a great workout. (There are a few local stores that will rent equipment.)
And if you're like a lot of visitors to Alaska, fishing is a big draw. Ice fishing is completely different than standing along the shore of a river – and it's a lot of fun! Go with the pros and you'll fish for King salmon, grayling, rainbow trout and more from a custom-built ice fishing shelter.
9. Midnight Sun and Summer Festivals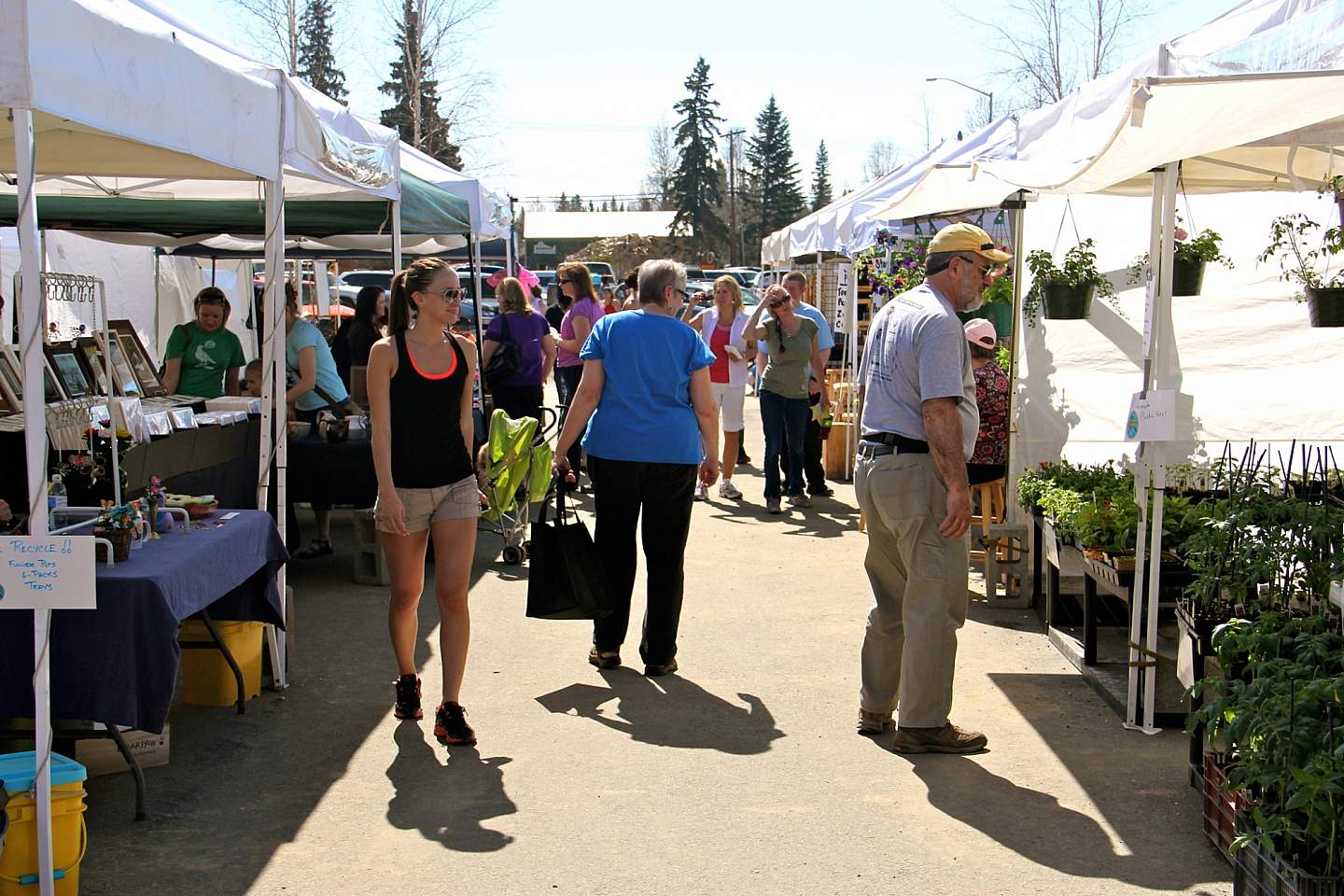 Located in the Interior region of Alaska, Fairbanks gets hotter, more "summer-like" conditions than other Alaska destinations. After cold winters, summer is a time to celebrate long hours of daylight, enjoy the outdoors! Midnight Sun ATV Tours has an incredible ride to do just that. Their evening tour doesn't return until about 11:30 at night -- and it's still light out at that time of night until mid-August.
Flowers and veggies grow to epic proportions under the long days! Stroll through the Georgeson Botanical Garden or area farmers markets and you'll see many of these wonders, especially in late summer. The garden is located on the University of Alaska Fairbanks campus and is a lovely sanctuary of alpine flowers, trees, shrubs, and herbs. Explore farmers markets for local veggies, reindeer sausage, locally-made art, and gawk-worthy giant produce.
If you're in town for summer solstice, you can't escape the daylight, or the massive Midnight Sun Festival, which boasts crowds up to 30,000. The 12-hour celebration is packed with live music, performances, and hundreds of food and souvenirs. Try your hand at gold panning, pet some sled dog puppies, and cheer for the BBQ cook-off contestants.