Learn about the concept of "pay dirt" at this gold-panning site in Fairbanks that offers a few prospecting skills as well the chance to hit—well, pay dirt.
Golden Upbringing
Gold was first found in Fairbanks in 1902, and its rush lasted about 8 years. About two decades after the initial discovery, dredges—or water-powered mining machines—came into the area and stayed until the 1950's.
Sisters Jordan and Ilaura Reeves grew up panning themselves. For years they lived at Gold Dredge No. 8, in Fairbanks, and helped other people learn how to pan. As teens (and competitive softball players), the girls still panned as a hobby—and even appeared on the National Geographic Channel series, Goldfathers, prospecting with their family.
Staking Their Own Claim
The daughters set up their summer-season business in 2014 in a gift shop, set in an old mining bunk house from the 1920s, made of metal and wood. Out back, you'll find hundreds of gold dredge buckets and 12 troughs filled with water, as well as piles of raw pay dirt. Those piles have had no human intervention, having come straight from the family's Fairbanks Gold Company mining claims. Since the dirt hasn't been sifted, though, the gold in those piles is harder to find.
Trying Your Luck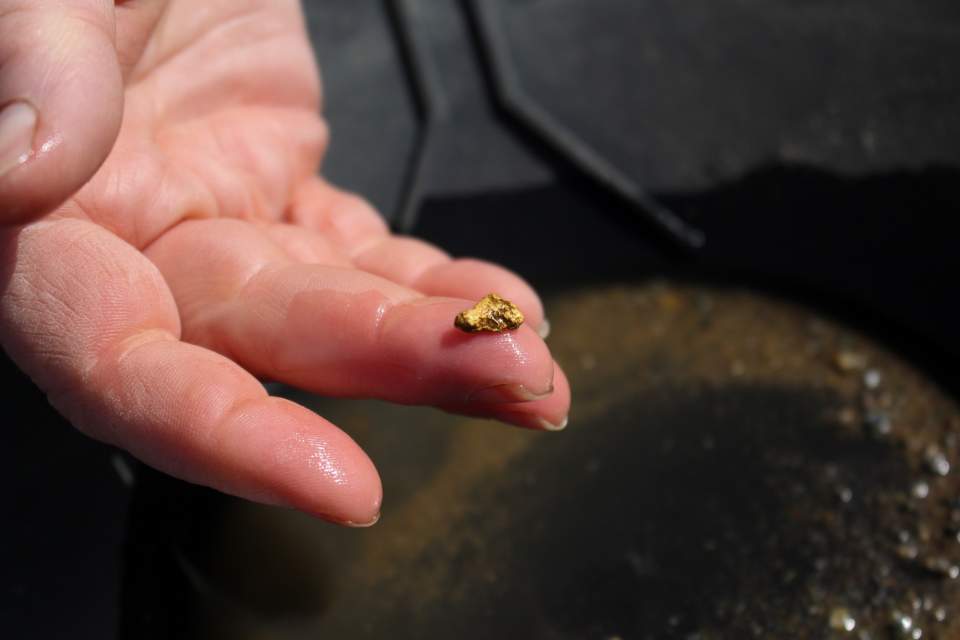 That's where you come in. Your $20 entrance fee provides you with a poke of paydirt with guaranteed gold and lets you pan all day if you like. Take a little time to learn the proper technique by practicing on the raw "pay dirt" piles. Then you can start sifting your own "poke." If you're feeling lucky, you can upgrade from the $20 poke to a higher-grade bag, to look for gold nuggets, ranging from $60, $100, $200, $500, and even $1,000 bags.

Working with your pile, you'll get a sense of how prospectors worked with different kinds of dirt. The dirt from Goldstream, for instance, has a lot of clay in it, while samples from Pedro Creek tends to have more schist and mica. The sisters are always there to offer guidance and answer questions as you learn the ropes.
And when you find something —from a nugget to garnets or woolly mammoth ivory—it's yours to keep. Either way, visitors find this to be a fun, hands-on way to learn about Fairbanks' gold rush history, and get a glimpse of the same thrill that brought so many people to Alaska in the first place.