Photo Credit: Parkside Guest House
Want to get a fuller picture of Alaska during your visit? Stay with Alaskans. Local bed & breakfasts put authentic Alaska experts—your hosts—at your service: They're happy to share insider tips about the local attractions, as well as their favorite recommendations for hikes, fishing spots or little-known gems. They also give you an in-depth feel for what life is like here for regular folks.
Alaska B&Bs can appeal to all tastes, too: accommodations range from luxurious to rustic, and from quaint homes to guest apartments or even cabins. Each B&B has its own personality: some cater well to business travelers, or have fun activities for families, while others specialize in romance or active, outdoors pursuits.
Breakfast styles also run the gamut, from a stocked kitchen in your private cabin to a communal table where you meet travelers from around the world. Feel free to ask about that breakfast before you book: Will it include classic muffins and fruit, or Alaskan specialties such as salmon quiche, reindeer sausage and wild blueberry pancakes with fireweed syrup? Either way, you can count on a comfortable setting, friendly service, and a great breakfast to kick off your daily adventures.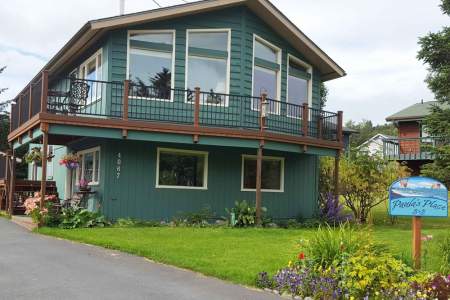 At this year-round B&B just out­side the heart of Homer, the notion of being a guest takes on a new mean­ing. In her sun­ny two-sto­ry home, innkeep­er Paula caters to just one par­ty at a time — whether you are trav­el­ing on your own, or have up to six in your group. That means the B&B caters entire­ly to your needs dur­ing your stay — and you have easy access to quaint Homer, just out­side the doorstep.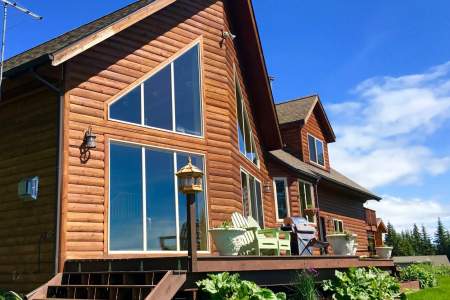 Guests who come to this sun­ny, com­fort­able inn just out­side the main hub of Homer might be for­giv­en for doing a spin on the front-yard mead­ow and break­ing into ​"The Sound of Music." After all, own­er Mar­cel­la Suy­dam says that guests often tell her that this spot reminds them of the Alps — and no doubt, the hills here feel pret­ty alive.