The logo for the Soldotna B&B Lodge says it all: a guest who's lounging in bed—while also fishing. This family-run fishing lodge directly on the Kenai River offers a relaxing place to soak up the sights and sounds of nature, while also delivering a front-row opportunity to do some of Alaska's most famous, exciting fishing. Although this might be an exaggeration, with a little effort, it might actually be possible to catch a fish here while lying in bed! This Lodge is that close to the river!
Two Families, Two Generations
The main building of the B&B dates back to the late 1960s, when it was the home of Bill and Charlotte Ischi, a Swiss couple who had moved to Alaska and raised their family of three children in this home. Once they had an empty nest, they turned their home into a B&B, and added on more rooms as Soldotna B&B became more and more successful. In the late 1990s, the Ischis retired and sold to Steve and Monika Anderson (he's from New Jersey, she's from Germany). The Andersons met in the parking lot of Yosemite National Park, and after much international courting they were married. While living in Japan, they heard about the for-sale B&B from a family member who had stayed here. In a happy kind of continuity, the widowed Charlotte Ischi still comes to visit Steve and Monika at the lodge on a regular basis.
Also carrying on a tradition of multilinguality, Steve and Monika each speak English, German and Japanese. They can each even throw in a LITTLE French. This is truly a place that you can have an opportunity to meet people from all over the world.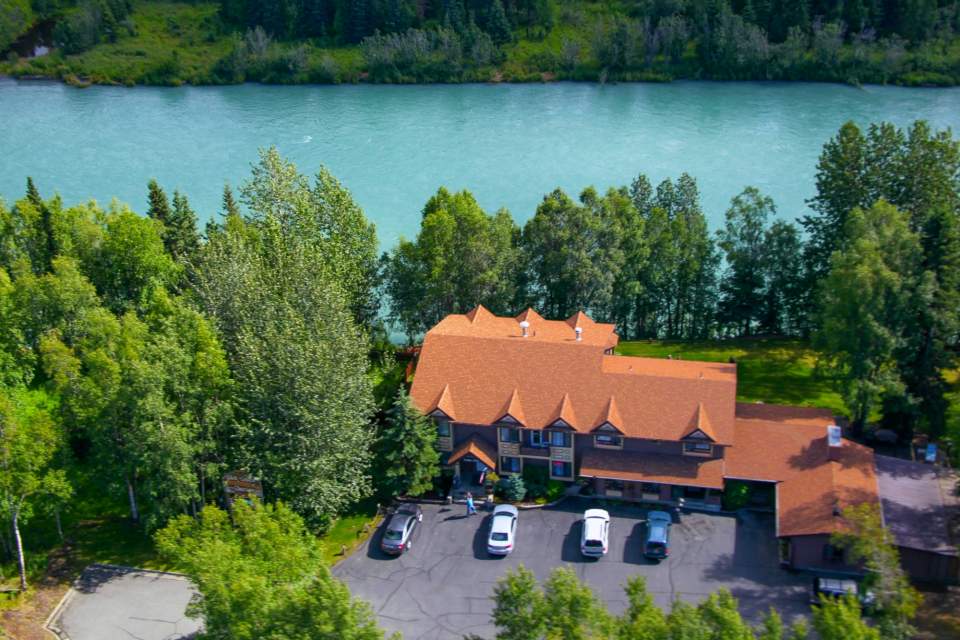 Riverside Bliss
After all, it feels blissfully homey, and has a lot of elbow room. Set at the edge of a cul-de-sac, right on the Kenai River, the lodge sits on 1.4 wooded acres of riverfront land. You can always hear the river murmuring in the background, whether you're actually fishing off one of the lodge's three docks, relaxing in one of the big yard's numerous decks, or eating breakfast in the sunroom which overlooks the Kenai. Inside, choose from among 16 cozy rooms—each with its own personality. Some have private balconies overlooking the Kenai, and they all have different quilts and artwork. All of the rooms, meanwhile, also have LCD flat-screen TVs with cable and free Wi-Fi.
Friendly Setting, Inclusive Packages
Each stay also includes breakfast served by either one of the owners or by one of the staff —an all-you-can-eat, home-cooked full breakfast of eggs (even eggs Benedict), French Toast, fruit filled pancakes, German pastries, fresh fruit and even Swiss muesli, as a nod to the original owners—in the sunroom with a view of the River. If you book one of the lodge's activity packages, a box lunch is included every day as well. For dinner there are several restaurants (and a Safeway) either within walking distance or a short drive from the lodge, and the lodge has on-site grills that you can use for creating your own evening cookout. Many guests take advantage of the beauty of the property to enjoy a dinner eating outside and enjoying the view of the river.
All stays carry a two-night minimum, but most guests stay longer (an average of 5-7 days), which is easy to do given the setting and the number of activities available —like freshwater and saltwater fishing charters, mountain biking, kayaking whale watching, bear-viewing/fishing float-plane fly outs —even golfing , mushroom hunting, berry picking, or clamming. All packages include: lodging, breakfast, lunch, a welcome gift, fishing licenses/King stamps as necessary, professional/experienced guides, raingear/hipboots as necessary, fish shipping boxes and on-site filleting/commercial grade vacuum packing/blast freezing of your catch. For fish processing, Soldotna B&B Lodge has it all including three commercial vacuum packers and a 12' x 16' walk in freezer. They strive to make it as easy/pleasant for their guests as possible.
In addition to their standard all-inclusive offerings (over 20 described on their website), the owners gladly customize any kind of package that their guests would like. Below are some examples of their popular all-inclusive packages.
Everything But Kenai Sink
Also known as the Father (or Mother) and Son package, this 7-night stay includes four full days of dedicated fishing, and then days devoted to canoeing, bear-viewing, whale-watching, flightseeing over glaciers…or just more fishing. The charters range from a salmon charter on the Kenai to a Halibut/Rockfish Combo out of Homer.
River, Sea and Air
This 6-night package has five full days of fishing including a float-plane flyout for fishing and bear-viewing, with a spectacular scenic glacier flyover.
Guys and Gals
This 7-night package is designed for couples who like some quality time together —and a little time to do their own thing, too. There are "together" days of fishing/wildlife viewing and a float-plane flyout for bearviewing and fishing for the happy couple. There are also "together" days of whale watching/glacier viewing and either canoeing, dogsled riding or horseback riding. Then there are two additional days of fishing for the "guy". During this time the "gal" has a memorable day at a well-known local day spa and one free day for sightseeing/shopping/relaxing.
Quickie But Goodie
This three-night package includes two solid days of fishing: a Salmon charter on the Kenai or Kasilof river and the Halibut/Salmon or Halibut/Rockfish Combo out of Homer.
If you don't choose or package—or just add some solo days to your stay —you can always go beachcombing in the area, check out historical sights (like the several Russian Orthodox churches in the area) or go browsing through the shops, museums in galleries of Homer, Seward and beyond. So even if you fully intend to live out the lodge's lounge-friendly logo, you'll find plenty to keep you happily on your feet. This is a place that has it all to offer!