Just south of Anchorage, the Seward Highway hugs the dramatic shorelines of Turnagain Arm, arguably one of the most beautiful stretches of highway in America. Chugach State Park's 3000-foot mountains jut up on your left.
On the right, the sprawling, sometimes four-mile-wide flats of Turnagain Arm seem to stretch like a plain to the opposite shores of Cook Inlet, where mammoth sloping mountains abruptly stop their flat expanse. Each turn reveals another scenic wonder. Take in a few of them in about two hours-plus, or make a day of it.
Other popular Anchorage Scenic Drives include the Hatcher Pass Drive and the Matanuska Glacier Drive which lead you north of Anchorage. Or, tack on the Portage Valley & Whittier Tunnel Drive to the end of your Turnagain Arm Scenic Drive to visit the small town of Whittier.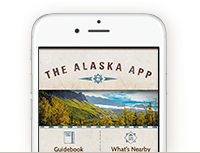 Browse all points of interest on a map and enjoy a collection of audio guides.