At the 200-acre Alaska Wildlife Conservation Center, jaws drop in awe-even those of longtime Alaskans who've studied grizzlies and other animals up close. AWCC's mission is to preserve Alaska's wildlife through conservation, research, education and quality animal care. The center, which opened to the public in 1993, also educates visitors about Alaska's wildlife. Coyotes peer out from behind the brush while a bald eagle swoops in on the salmon remains left by a grizzly bear. Wood Bison plod through 65 acres of tidal flat terrain, as part of a program that have restored the species to the Alaskan wilderness. Animals that cannot be released into the wild are given a permanent home at the center. Come be a part of these exciting programs and watch these animals display their natural, "wild", behavior.
The Center's Setting
Set on the shores of Turnagain Arm, surrounded by mountains and hanging glaciers, the center is the perfect setting to learn about Alaskan wildlife. The animals are located in different areas grouped around several road loops. Perhaps the best way to view the facility is to first drive around to get your bearings, then park by the gift shop and walk. Each habitat area has a sign explaining the history and habits of the particular animals.
Stars of the Show
Hugo steals the show. She was found as a young grizzly bear by hunters near Kotzebue, in the northwest corner of the state. Orphaned and starving, she had almost 150 porcupine quills stuck in her paws and was unable to find food. The cub got a ride to Kotzebue on a snowmachine with the hunters, then a trip to Anchorage on an airplane. The Alaska Wildlife Conservation Center, formerly known as Big Game Alaska, cared for Hugo after she was brought to their facility. She was placed on antibiotics and fed a high-fat diet.
Now Hugo has matured, and while she will never be released into the wild, she struts around her spacious 20-acre, fenced-in habitat like the queen she is. Viewers can see her pigeon-toed walk up close-she passes just feet from the fence. She might even climb up to the roof of a small cabin to snack on a piece of salmon she finds there. Seeing a bear eating salmon on the roof of a cabin is quite a sight.
Winter Wildlife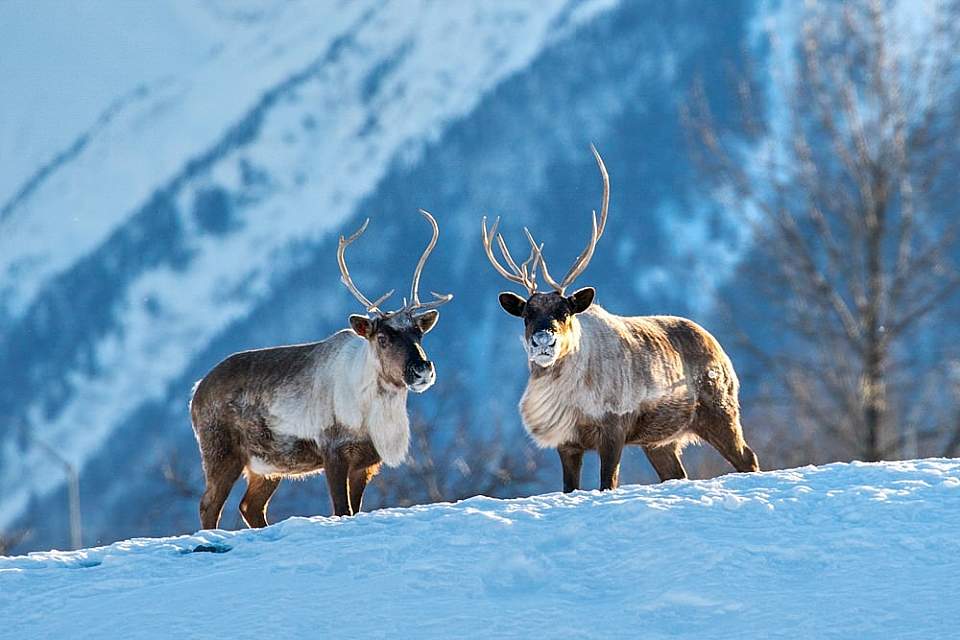 Come in the winter season (from October through April) for a different view of the wildlife, like the moose, wood bison, reindeer, wolves, deer, muskox and foxes (keep in mind, the black and brown bears keep a low profile this time of year, as they can be hibernating). Come for one of the daily keeper chats (starting in November) to hear about the animals' diets and social patterns, or take one of the Walk on the Wild Side Tours (starting in October, and set up by phone or email), a behind-the-scenes-style look at the AWCC where you can get up-close looks at a porcupine (safely!) and even help feed some of the animals. Or, sign up for one of the monthly Animal Enrichment workshops—where you can help create enrichment items (like toys) for our resident animals—and events like the Fat Bike ride in January and the Bison Run in April.
Hours
Operating Hours, Open Rain or Shine:
Guests have one hour to enjoy the center if they come at the advertised closing time.
January: 10 am to 3 pm (4 day operations: Friday, Saturday, Sunday and Monday)
February: 10 am to 4 pm
March & April: 12 pm to 5 pm
May 1 - October 31: 10 am to 5 pm
November: 10 am to 4 pm (4 day operations: Friday, Saturday, Sunday and Monday)
December: 10 am to 3 pm (4 day operations: Friday, Saturday, Sunday and Monday)
For Holiday Break we will be open 7 days a week from December 20 to December 31; we will be closed December 24, December 25 and January 1.
CLOSED: Thanksgiving, Christmas Eve, Christmas Day and New Year's Day.
OPEN: All other holidays.
Note: Hours are subject to change without notice due to unforeseen circumstances.