The Best Things to Do in Juneau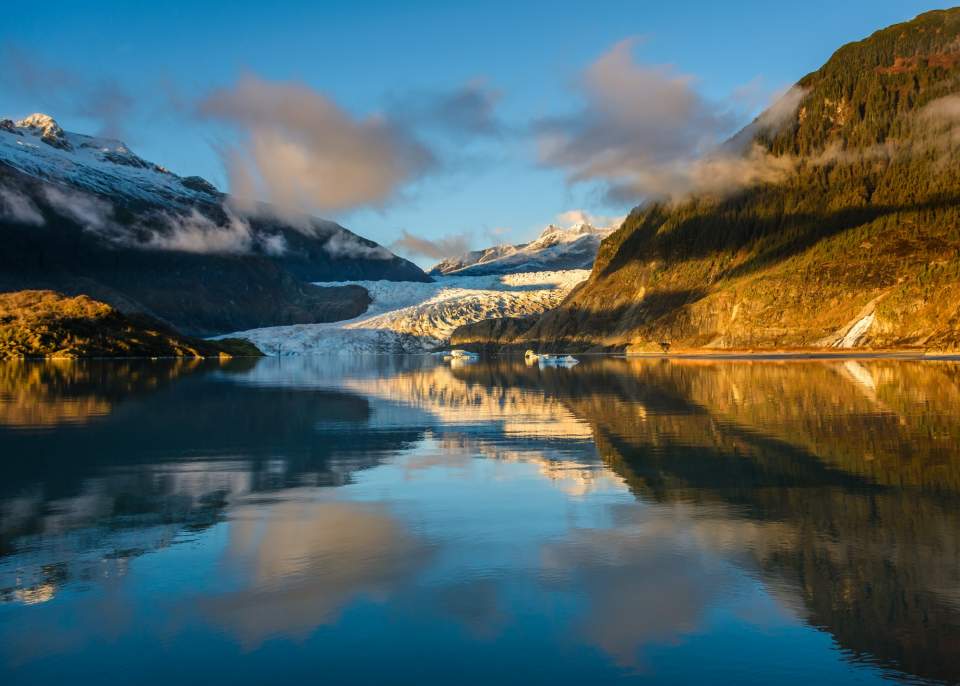 1. Mendenhall Glacier
Glacier views, trails, waterfall, visitor center, rafting/kayaking
Jutting out of the massive Juneau Icefield, the Mendenhall Glacier is one of the city's biggest attractions.
Start at the Visitor Center for info about the glacier, a short video and overlook. Several nearby trails provide additional viewpoints, from a short jaunt to Photo Point to the challenging 3.5-mile East Glacier loop. The popular Nugget Falls Trail (2 miles round trip) brings you to the base of a roaring high volume waterfall.
For a quieter view of Mendenhall Glacier, join a guided float trip or canoe tour on Mendenhall Lake or go sea kayaking on Auke Bay.
Or, take in the glacier and icefield from above on a flightseeing tour. Look out on alpine lakes, moraines, and crevasses.
Still not close enough? Touch down on the glacier on a guided glacier trek or dogsled ride.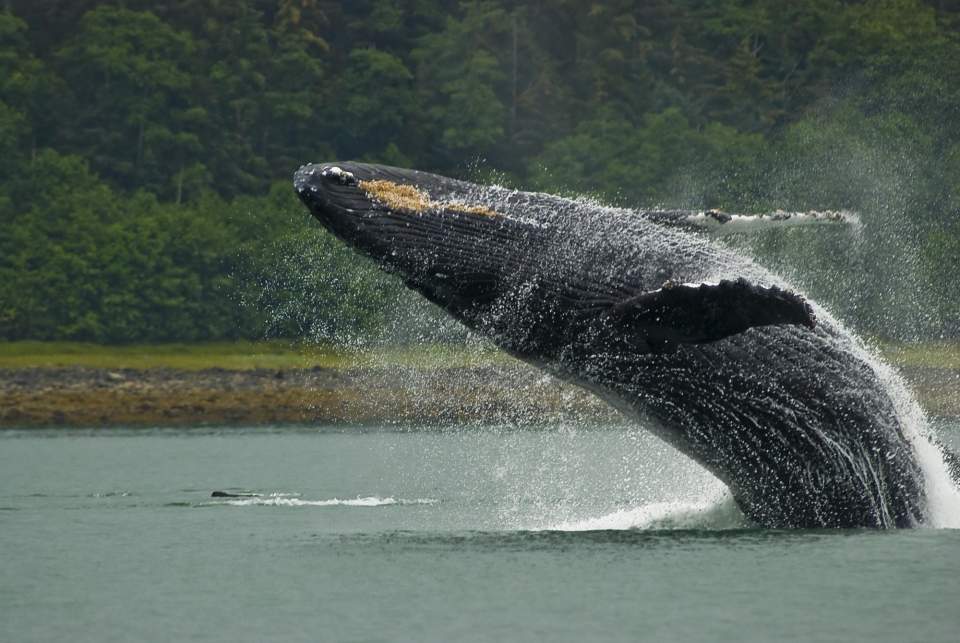 2. Whale Watching
Jet boat ride, onboard naturalist, whales, seabirds
Southeast Alaska is one of the main summer feeding grounds for humpback and orca whales. Thousands of whales migrate here after wintering in Hawai'i.
From Juneau, a 3 - 4 hour boat ride brings you to the action. With a naturalist on board, you'll learn all about these amazing cetaceans. Catch the excitement of spotting a fluke (tail) or several humpbacks surrounding their meal before rising up at once to "bubble feed."
On some trips, you're guaranteed a whale sighting – or your money back!
3. Mount Juneau and Mount Roberts
Mountain views, nature trail, tram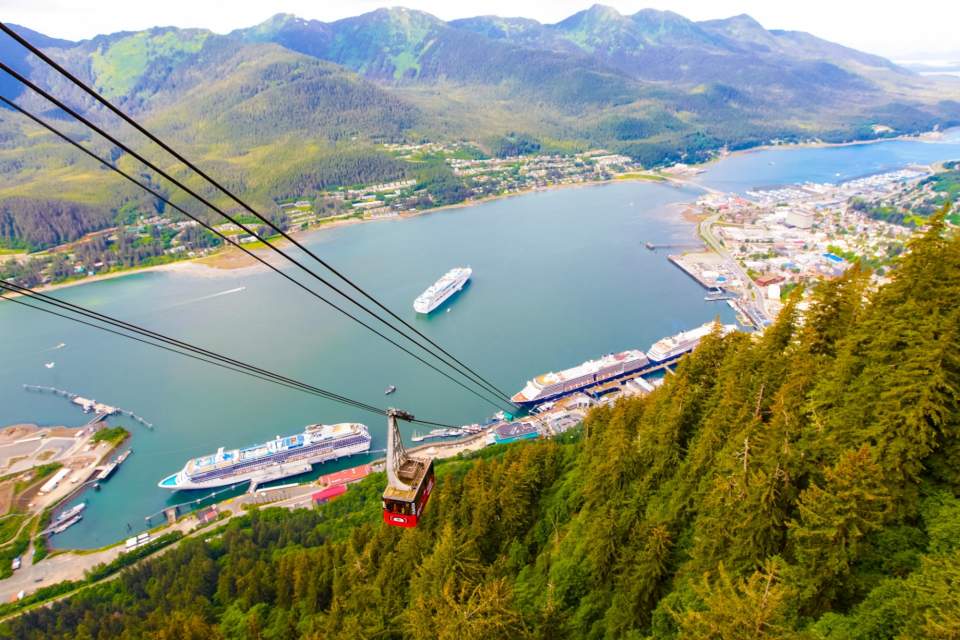 Enjoy impressive views of Juneau and Gastineau Channel from atop Mount Juneau or Mount Roberts.
The three-mile out and back Mount Juneau climb is a local favorite, with steep slopes and multiple creek crossings. A similar trail takes you 4.5 miles (and a 3800-foot elevation gain) to the summit of Mount Roberts. Watch for grouse, marmots, and black bear on the way.
Or you can take the Mount Roberts Tramway, a 5-minute ride ending with a fantastic view and a shorter optional hike (Alpine Loop Trail) at 1,760 feet.
4. Trek or Dogsled on a Glacier
Glacier views, ice climbing, dogsledding, flightseeing
Glaciers are an iconic part of the Alaska experience, and Juneau's proximity to the Juneau Icefield offers many ways to interact with a 3,000 year-old attraction that's larger than the state of Rhode Island!
For magnificent views, take a flightseeing trip (as short as 40 minutes) that can be paired with a glacier landing/walk.
Get in real trekking mode with a guided walk or climb, or helicopter to a glacier for an exhilarating dogsled ride, one of the best ways to experience authentic Alaska dog sledding in the summer.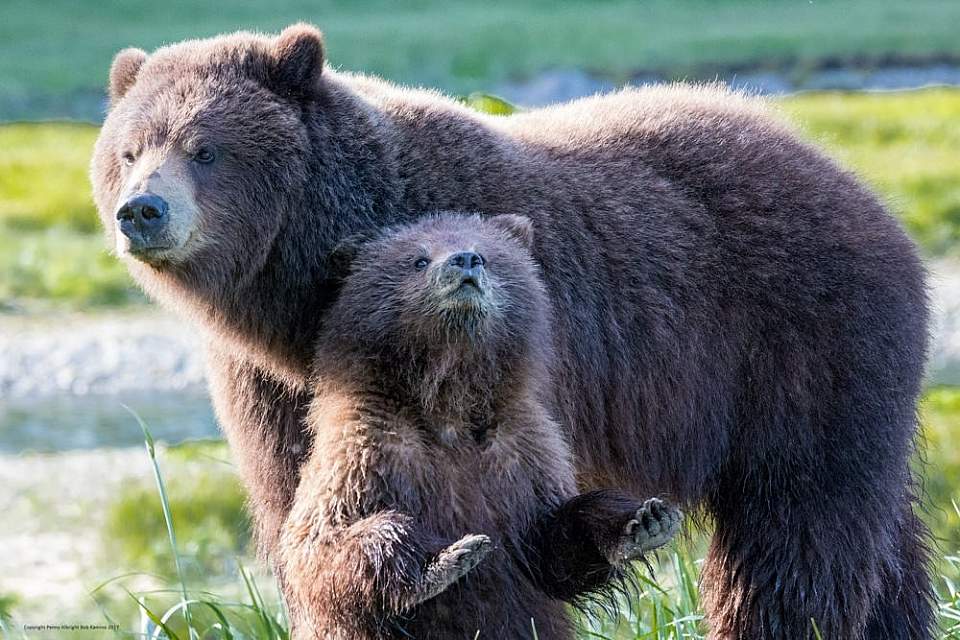 5. Bear Viewing
Scenic flight, salmon, brown bear
Southeast Alaska islands boast large populations of brown bears, and a 30-minute scenic floatplane ride from Juneau will take you to the heart of bear country.
This is a fantastic opportunity to watch these massive creatures foraging along the shoreline or fishing in creeks for rich and tasty salmon.
You'll travel in a small group of five, which ensures an uncrowded bear viewing experience. Veteran guides will take you to Pack Creek bear viewing area on nearby Admiralty Island, or Waterfall Creek on Chichagof Island, where you'll walk about a quarter-mile on gravel beaches and trails, spending between 3-6 hours in bear habitat, depending on which trip you choose.
6. Gold history tours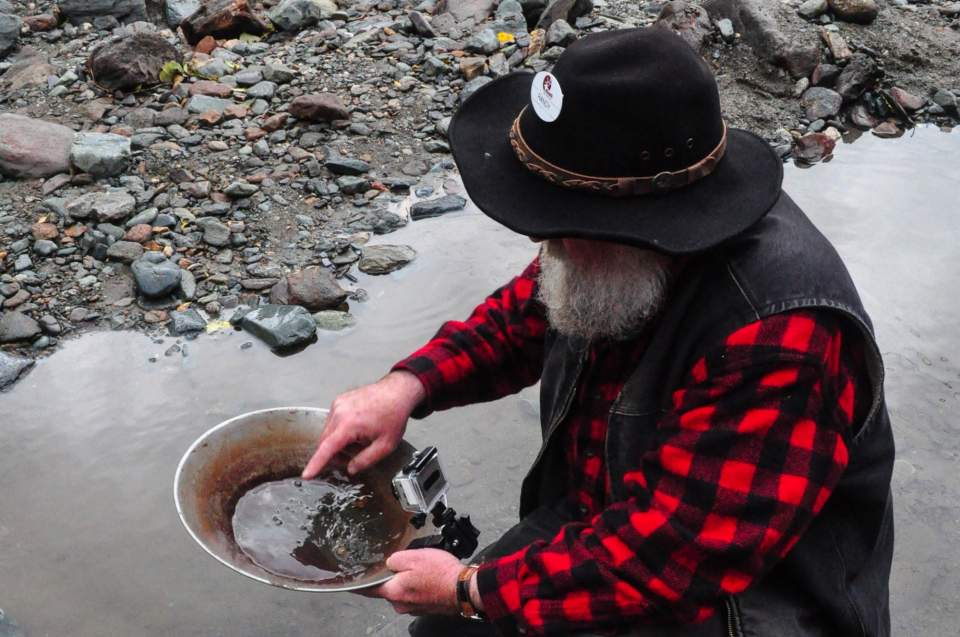 Goldpanning, history, rainforest, salmon dinner
Gold spurred the founding of Juneau in 1880, with Joe Juneau and other prospectors flocking to Gold Creek in search of fortune.
Tours are set within the lush rainforest, where all the action took place in Juneau's early days. Feel the icy chill of the creek as you perfect gold panning techniques.
Be sure to pair the adventure with a satisfying salmon bake – which is likely the type of meal gold miners enjoyed too.
7. The Alaska State Museum
Alaska history, natural history, fine art
For more than a century, the Alaska State Museum has collected and displayed artifacts that weave a picture of Alaska's history.

Stroll through the cleverly displayed exhibits (redesigned in 2016), which take you through different eras of this history. Learn about the clothing, weapons, tools, and ceremonial objects from distinct Alaska Native populations, as well as icons and other memorabilia from Russian-American days.
Other features include the discovery room, with a climb-aboard replica of a sailing ship, fine art gallery, gift shop, and café.
8. Garden tours
Rainforest/botanical garden tour
Learn about the flora of Alaska's lush Tongass National Forest on the fascinating Glacier Gardens Rainforest Adventure, located just a mile from the airport. Covered vehicles transport you through the temperate rainforest, leading to excellent views of Juneau. The narrated tour highlights the diverse plant life, well-developed botanical gardens, and frequent eagle sightings. Not to be missed: uniquely designed flower "towers": showy and colorful displays cascade down 15-foot-tall upside-down trees.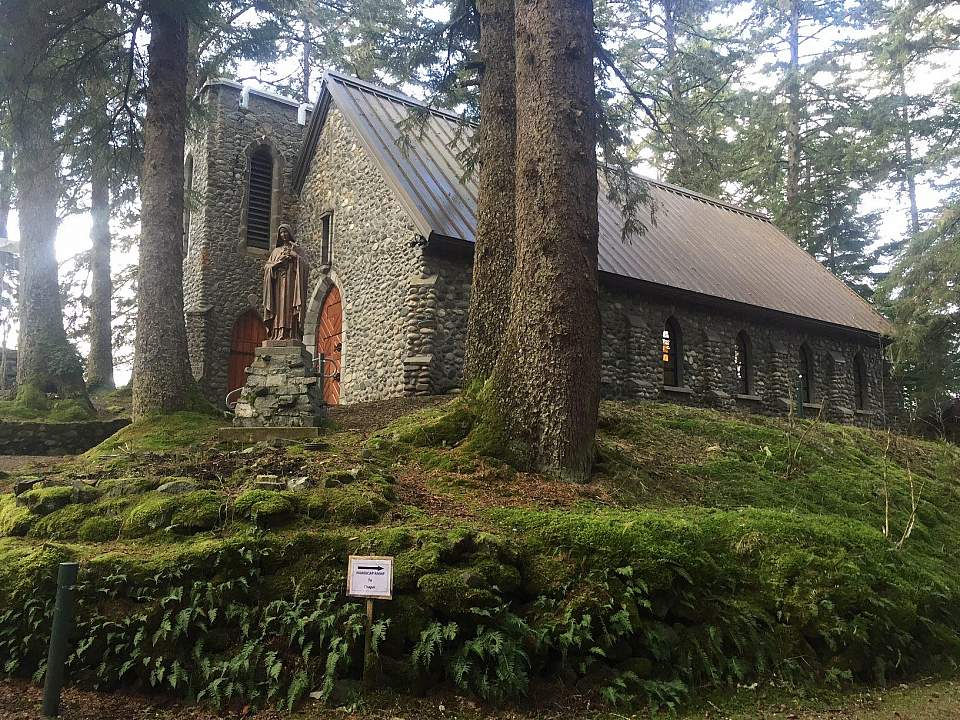 9. Old Glacier Highway & Shrine of St. Therese
Hiking, holy shrine, kayaking, beach walks
Drive north of Juneau on the Old Glacier Highway, where about 40 miles of paved road, lead to beaches, coves, gardens, hiking trails and the peaceful Shrine of St. Therese (22 miles north). Visit the chapel, stroll tranquil paths and even enjoy a longer stay at one of the Shrine's rental cabins. Just up the road, the 14-acre Jenson-Olson Arboretum showcases sky blue poppies growing 4 feet tall, more than 200 species of primroses, and a century-old vegetable garden. With native and non-native plants, there's something to admire year round. Find great views (and eagles!) at Eagle Beach, 28 miles north. At the end of Old Glacier Road, Echo Cove leads out to Berner's Bay and can be explored by kayak.
10. Winter Fun
Skiing, snowboarding, ice skating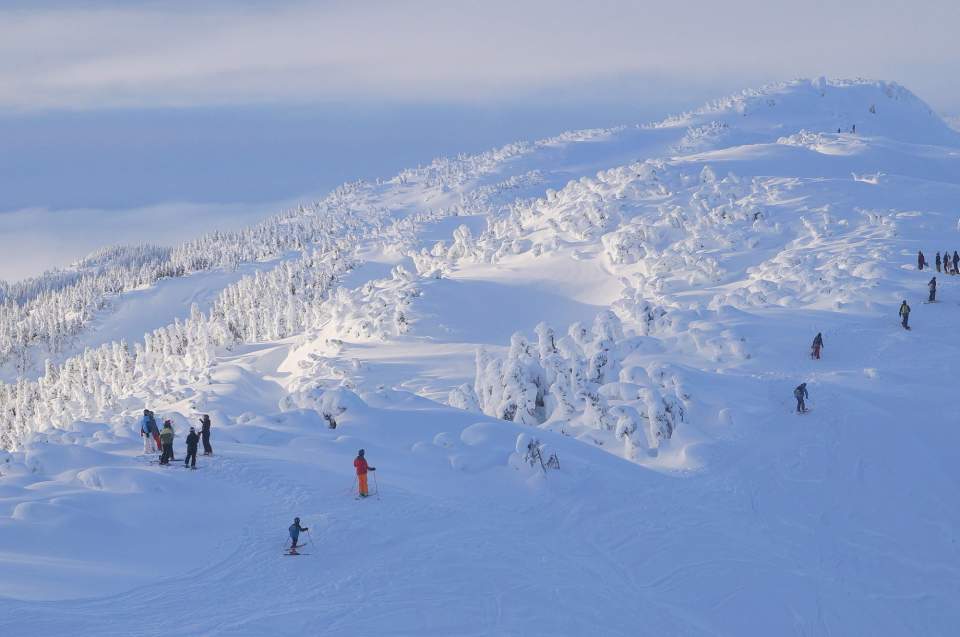 Hit the slopes at Eaglecrest Ski Area, located on Douglas Island, across Gastineau Channel from Juneau. Downhill aficionados will find several levels of difficulty for downhill skiing and snowboarding, with a vertical drop up to 1620 feet. Nordic fans can explore 9 km of groomed trails for classic and skate skiing, with features for both beginners and advanced skiiers.
Locals also enjoy winter's frozen beauty while ice skating on lakes or walking/skiing/sledding across Mendenhall Lake to get a view of the half-frozen Nugget Falls.