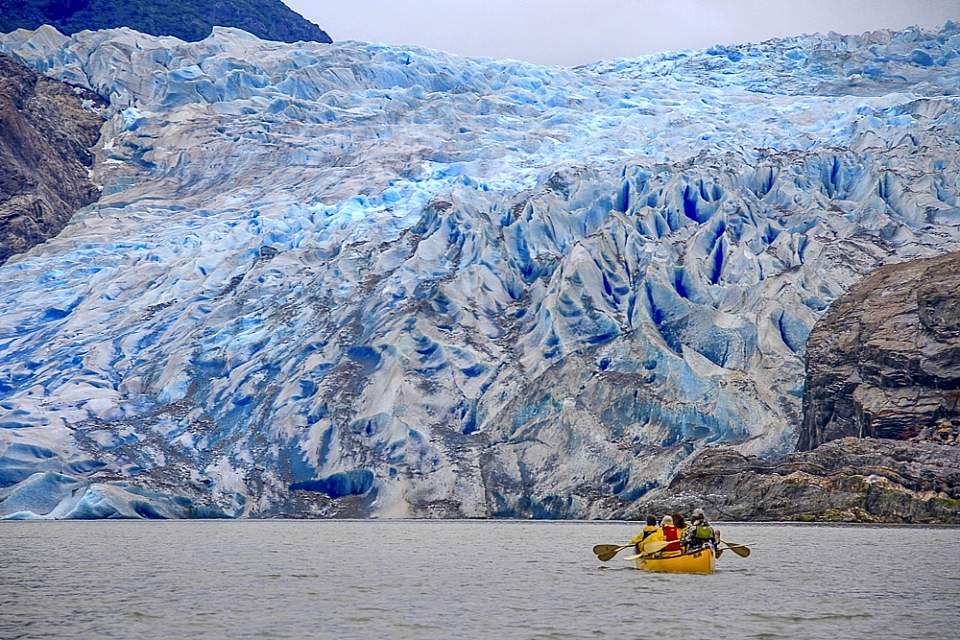 Explore water in several gorgeous forms as you canoe across a lake to a famous glacier, then continue onward towards the edge of the glacier and walk near the blue ice.
Gear Up & Go
After a pickup downtown, you'll gear-up at the Above & Beyond Alaska office for this multi-sport adventure! After a short hike to the canoes, guides—who are all wilderness first-aid certified and go through advanced training each year—walk everyone through safety requirements and paddle techniques…no experience required!
Paddle Across a Glacial Lake
Then you'll set off for about an hour-long paddle across the shimmering lake waters, getting ever closer to the wall of blue ice with every stroke. It's an extremely unique viewpoint, with snow-capped mountains on one side and waterfalls on the other. Keep an eye out for arctic terns, mountain goats, and icebergs floating in the lake.
Beach Landing & Hike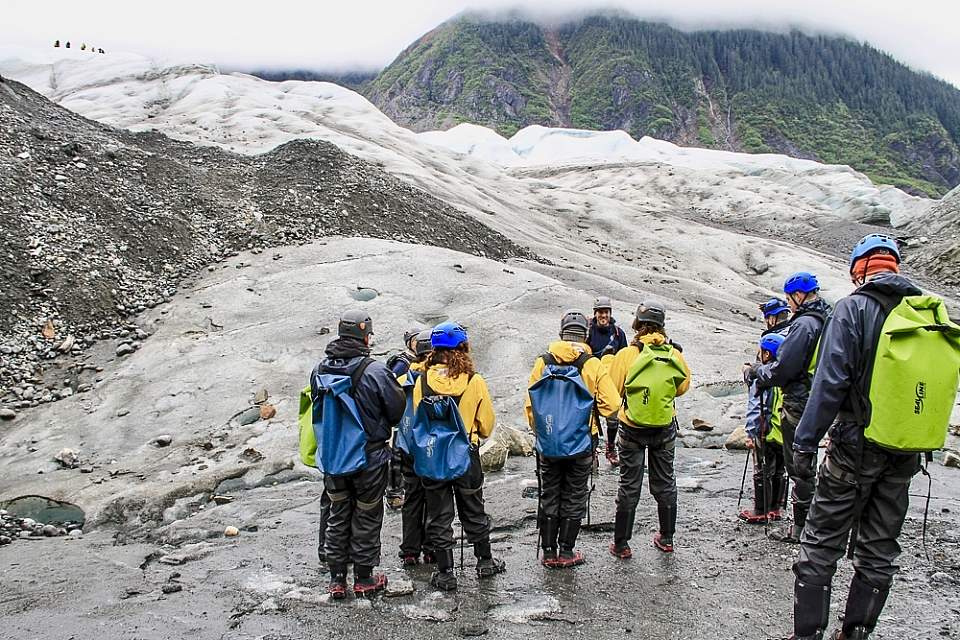 You'll land on the glacier beach and walk about a mile alongside the edge of the glacier, looking at moulins, crevices, and deep blue mysteries of this ancient river of ice. With that vision fresh in your mind, you'll head back to the canoes for a return paddle across the gorgeous lake, with the glacier at your back.
About Above & Beyond Alaska
Since 2002, owners Becky and Sean—passionate environmentalists and longtime guides themselves—have run Above & Beyond Alaska. Their excursions marry their love of the Tongass National Forest and Inside Passage areas with their excitement for sharing this special place with visitors. All of their trips are by kayak, foot, boat, or plane, and all are in intimate, small groups—the best way, they say, to experience Alaska, since that's how they would want to do it themselves!