Photo Credit: Kenai Fjords Glacier Lodge
Trying to pick the right Seward lodging for you? We recommend these Seward hotels:
If you want to stay in town where fine dining, colorful boats bobbing in the water, and all the fun of the harbor are just out your front door, you have several options. The Harbor 360 Hotel is conveniently located in the small boat harbor where all the glacier cruises and fishing charters depart from. Or, for a bit of solitude try the Abode Well Cabins, tucked amidst four acres of trees.
If you really want to get away from it all, try a remote wilderness lodge accessible only by boat. All of these properties offer plenty of activities such as beach combing, kayaking, and whale watching. At the Orca Island Cabins you will stay in spacious, bright yurts, each with their own private decks and access to sea kayaks to explore secluded Humpy Cove. Or, opt for the Kenai Fjords Glacier Lodge, located in the heart of Kenai Fjords National Park. Here you will find 16 guest cabins, spectacular views, and plenty of activities. Or, for an option that's a bit more rustic, check into a yurt in Shearwater Cove. It's a kayaker's paradise, and you have unlimited access to the kayaks during your stay. Really go off the grid and fly by helicopter to Johnstone Adventure Lodge in secluded and beautiful Johnstone Bay. Hear the waves crashing on the shore and explore the glacially formed lake behind the lodge.
Seward Hotels
Near main Seward city attractions like the SeaLife Center and Exit Glacier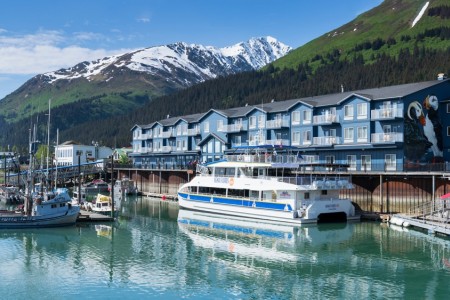 Season: Year Round $214+
Indeed, the Har­bor 360 Hotel has a pret­ty lit­er­al name: Locat­ed on Seward's water­front, this 96 room hotel offers stun­ning 360-degree views: You'll see the Seward Small Boat Har­bor and Res­ur­rec­tion Bay if you book a Har­bor­side room, or the Kenai Moun­tains if you book a Moun­tain­side room.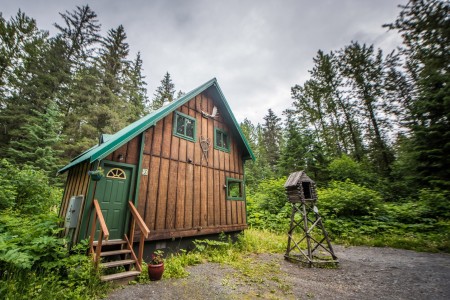 Season: May 10 to Oct 12 $79+
Locat­ed just out­side Seward, the Abode Well Cab­ins are tucked back amidst four acres of trees. Of the 13 avail­able rooms, six are King Cab­ins (which includes a kitch­enette and sleeps up to three) and one is a ​"fam­i­ly cab­in," which has a full kitchen, sep­a­rate bed­rooms and sleeps up to eight with two queen beds, two twins, plus a queen-size sleep­er sofa. There are also six Queen Stu­dio Rooms avail­able, with sim­i­lar ameni­ties to the King Cabins. ...more
Resurrection Bay Wilderness Lodges & Rentals
Remote boat-in or fly-in lodges across the bay from Seward