This tiny cove, 10 miles from Seward, offers a combination of unplugged bliss, cool yurt living, and a kayaker's paradise.
Located between Fox Island and Humpy Cove, Shearwater Cove sits in a secluded, idyllic setting with waterfalls cascading through an old growth forest carpeted with ferns and blueberries—plus the opportunity to see humpbacks or orcas in the distance.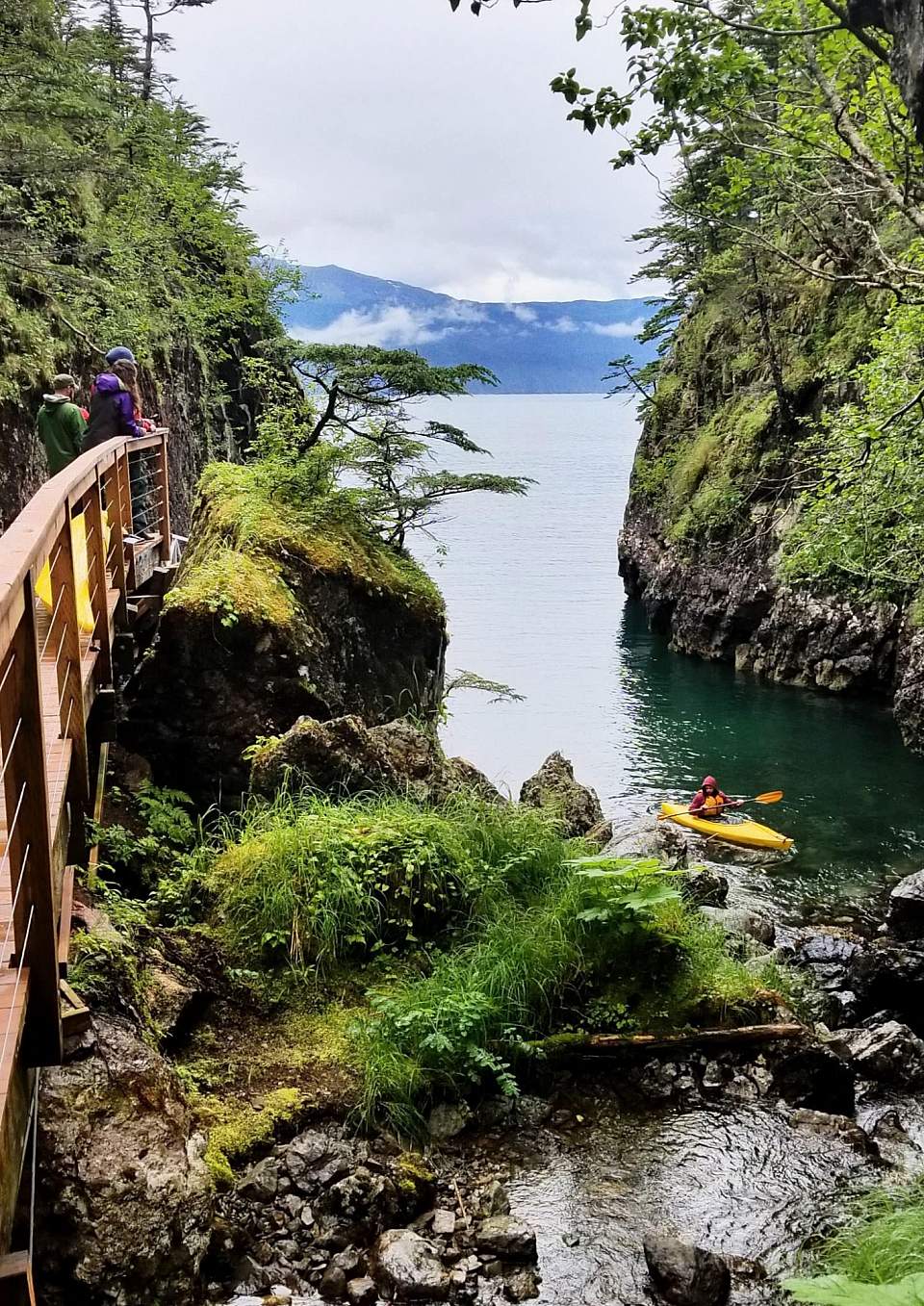 Owners, Jason and Charity, opened Shearwater Cove in 2016 with two bookable yurts. Today there are four you can choose from. The round tent structures offer a distinctly unique experience compared to a traditional cabin. Plenty of warm light streams in from the sky light above, and the circular shape creates an airy, natural environment. Nightly rates include round-trip water taxi transportation to and from the Cove, an oceanfront yurt rental, unlimited use of sea kayaks and gear, and access to multiple hiking trails.
Yurt Luxury
The four "unplugged" yurts—set about 100 feet away from each other— come with a queen-size bed and full size sofa bed, a table and chairs, linens, shower, heater, and a kitchenette. The kitchenette has a two-burner stove, pots and pans, and staples like olive oil, salt, and pepper.
Water Taxi into the Wild
Your stay starts by meeting up with Jason or Charity at the Seward Small Boat Harbor where you'll board Shearwater Cove's exclusive water taxi. On the way to Shearwater Cove learn about Seward and Resurrection Bay from your hosts, and keep an eye out for seals, otters, eagles, and jumping fish.
Try to stay at least two nights, so that you get at least one full day to explore. After all, you get unlimited use of kayaks during your stay—and given the amount of sunlight during summer, that means you can be paddling in and out of coves at midnight if you feel like it. The closest destination to here is Sandspit Point State Marine Park on the northeastern tip of Fox Island, which has tidepools, a big lagoon, and ocean waters beyond that will appeal to experienced kayakers. For consistently calm waters, head to Humpy Cove just to the north. And for some land time, hike the trail that leads up to a high lookout over Resurrection Bay.
Explore Solo, or With a Guide
While most people explore this area by kayak on their own, Jason and Charity can arrange for you to have a guide who can enrich your experience with local knowledge about flora and fauna. You'll also have a host on site who will greet you at check-in, introduce you to your yurt, and provide a full orientation to the kayaks and hiking trails in the area. They're available any time for guest questions or concerns.
Don't worry, meanwhile, about being too cut off from civilization. If you paddle just a little ways out of the cove, you'll quickly pick up a cell phone signal—but it's hard for any signal to compete with this jaw-dropping scenery and beautiful accommodations.