Photo Credit: Lois Settlemeyer
Alaska Winter Vacation Tips
Winter in Alaska is a special time full of festivals, performances, and endless outdoor opportunity. As soon as the first snowflakes fall, Alaskans start chomping at the bit to get outside and play! Not everything is open, however, so if you're thinking about traveling to Alaska over the winter months, here's what to keep in mind.
When Should I Visit?
The timing of your trip really depends on what you'd like to do. Here are a couple highlights you might plan your trip around:
The northern lights. To see the famous aurora borealis, plan your trip for late September through early April.

Winter festivals. In the last part of February, stretching into March, is when Alaskans celebrate winter during the 10-day Fur Rondy festival. It features dog sled races and numerous community activities, including Outhouse Races, the Running of the Reindeer, and team Snowball Fights. Celebrations continue through the start of the 1,049-mile Iditarod Sled Dog Race in early March.
What Can I Do?
Winter brings festivals, ski races, dog sledding tours, northern lights viewing, Nordic skiing, downhill skiing, winter biking, snow shoeing, snowmobiling, gorgeous scenery, ice skating, bonfires, ice fishing, dining, and shopping (whew!). You can take advantage of the longer nights to ski by moonlight, enjoy a bonfire on the beach, or watch for the mysterious auroras. Visit our winter activities page for our full list of recommendations.
What About the Cold?
Temperatures in Southcentral Alaska are no more extreme than other wintry states; the average is 20 degrees. But if you want to see the northern lights, it's best to visit Fairbanks; up there you'll want to pack extra layers, as it can get down to minus-20 degrees.
Isn't It Dark?
We get 6-12 hours of daily light in the winter, depending on where you are, but the sun setting doesn't mean your day is done! Dine at one of more than 600 restaurants, visit a museum, or take in a music or theater performance. If you still want to be outdoors, you can discover exquisitely lit ice carvings in Anchorage and Fairbanks; meanwhile, many of the main ski trails, hockey rinks, and sledding areas are lit. Find out when the sun will rise and set during your Alaska trip using the Alaska.org Sunrise/Sunset Calculator.
Is It Expensive to Visit in Winter?
Actually, you can book lodging for more than 50% off of summer rates, and you'll find great deals on many tours. Even better, activities like Nordic skiing and ice skating are free if you already have equipment.
What About Winter Transportation?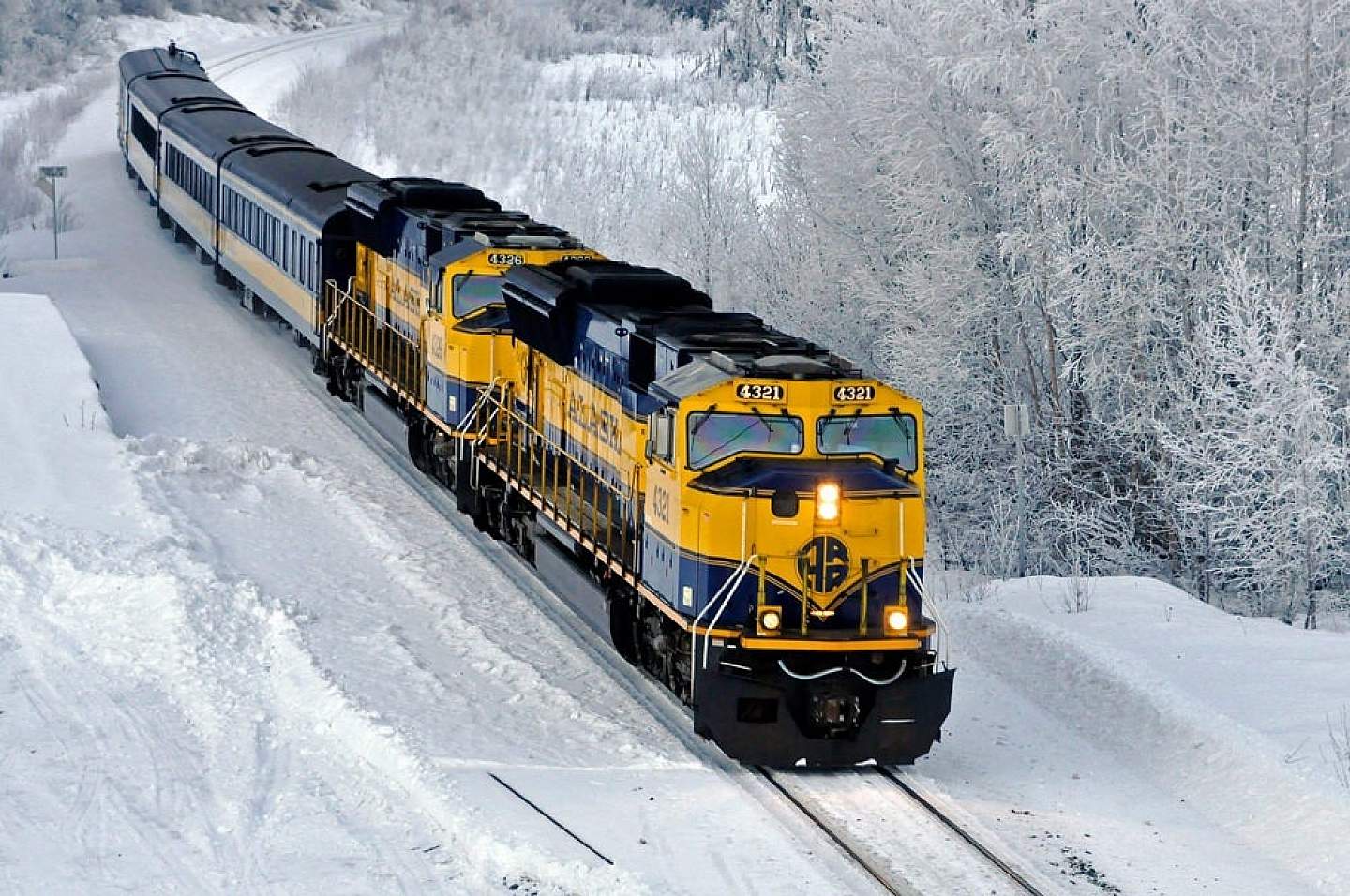 There are definitely fewer public or guided transportation options during winter in Alaska, but it's still relatively easy to get around. Here are some winter-specific suggestions.
Rent a car. If you have experience driving during winter conditions—especially on roads with compacted snow or ice—don't hesitate to rent a front-wheel or all-wheel drive vehicle. (Some vendors offer studded or special winter tires for an additional fee.)

Take a plane. RavnAir and Alaska Airlines maintain daily service to communities throughout the state all winter. Round-trip between Anchorage and Fairbanks is often $150 or less, and takes an hour or less. For the adventurous, investigate travel to remote sites with a bush pilot or charter operator on a ski-equipped aircraft.
Ride a train. The Alaska Railroad maintains an adventure-oriented winter service that connects Anchorage, Wasilla, Talkeetna, Hurricane, Healy, Nenana, and Fairbanks. The railroad also offers winter travel packages with accommodations and activities like pie-making, sightseeing, and aurora watching.
Take a bus. Winter offers far fewer options, but several bus operations maintain winter schedules from Anchorage to Seward and Homer, and Anchorage to Fairbanks. Call for schedules.
Board a ferry. The Alaska Marine Highway System scales back during winter. You can still find connections among Southeast Alaska communities or within Prince William Sound—or make the Homer-Kodiak run. Scope out the interactive sailing calculator as a start.
Take a shuttle or taxi. Most medium and large communities have taxis or shuttles. In Anchorage and Fairbanks, winter has the same full service you'd find in summer.

Is It Really Safe to Drive?
Yes! Just use common sense. Alaska's highways and main roads are usually in decent driving shape (except during some dramatic weather event, of course). State and local crews generally get roads cleared and sanded quickly after bad weather. The Southcentral core area—Anchorage, Matanuska-Susitna Borough, and Kenai Peninsula—rarely sees dangerous subzero temperatures.
If you're traveling north to Fairbanks or the Copper River Basin, you can expect much colder conditions, but here too, road conditions are often good and traffic is light. To be sure, mountain and rural roads can be more challenging. Check out our winter clothing tips before you embark on a road trip into more remote areas. Get real-time condition reports from Alaska's Road Weather System and the state's 511 traveler alert site.
Can I See Glaciers?
Yes. But after snow covers them in late fall, sometimes they become much more difficult to discern.
Matanuska Glacier is a popular glacier to visit year-round. You can join a trek on the ice with Salmon Berry Tours or Wild Alaska Journeys.
Another popular winter glacier is Spencer Glacier. You can get there on an exciting snowmobile ride with Glacier City Snowmobile Tours or Alaska Wild Guides.

Several glaciers actually become easier to approach once their lakes freeze solid. Turnagain Arm's Portage Glacier—approachable only by tour boat in summer—morphs into a popular destination for hikers, skaters, snow-bikers, and skiers after the ice sets up. Hundreds of people converge on sunny weekends in March and April. Mendenhall Glacier near Juneau features the same dynamic.
Glaciers that spill into the sea may be even more spectacular during winter, especially on a sunny day with snow down to the shore. A few tour operations sometimes maintain limited winter schedules, but you'll have to call. Lazy Otter Charters in Whittier has a Blackstone Bay tour, for instance. Some Seward operators will run charters into Kenai Fjords National Park.
Will I See Wildlife?
You probably won't see hibernating bears or glimpse Alaska's tremendous migratory bird life. But many moose roam Alaska's winter landscape—including in city neighborhoods and parks, and in any brushy, low-snow area like the Palmer Hay Flats State Game Refuge. Ravens are common, too—especially inside cities, where they scavenge for morsels. Bald eagles remain in coastal areas, while flocks of black-capped chickadees and redpolls flutter through the forest. Also look for the tracks of snowshoe hares, lynx, foxes, coyotes, weasels and (sometimes) wolves in the fresh snow. For more intimate views of Alaskan animals in their winter splendor, visit the Alaska Zoo in Anchorage and the Alaska Wildlife Conservation Center in Portage.

Can I Visit National Parks?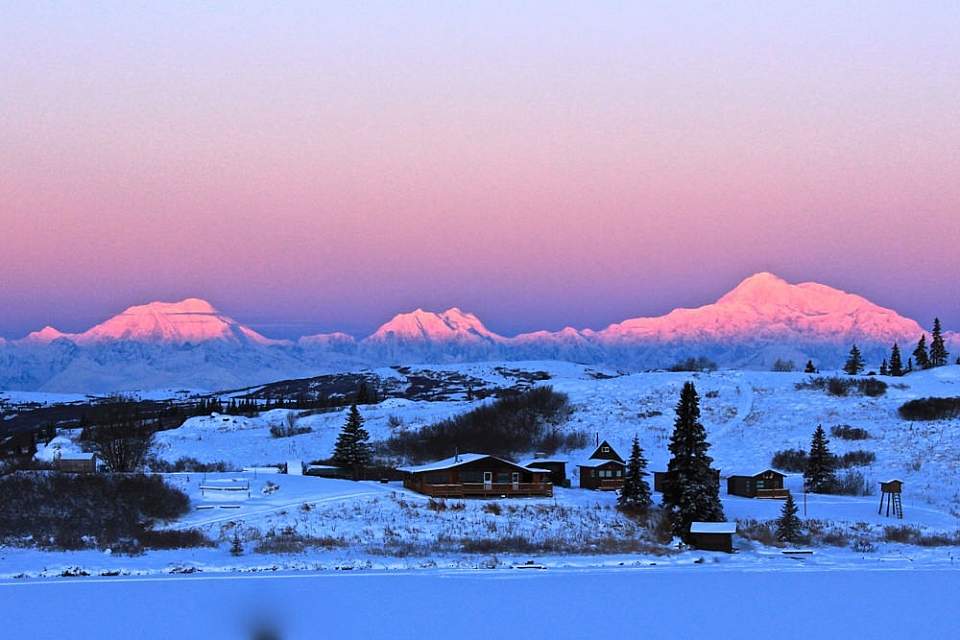 Yes! But expect more limited access and reduced visitor services, depending on the park. Always check individual park websites for details and conditions

Denali National Park. Iconic Denali has an active winter scene, with the Murie Science and Learning Center open every day and the famous Park Road plowed through Mile 3. While most tours and activities will be closed, self-sufficient visitors attuned to Alaska's dark, snowy season enjoy cross-country skiing, snow-shoeing, dog-sledding, and winter biking, as well as gazing at stars and northern lights.
Wrangell-St. Elias National Park. The vast and more remote Wrangell-St. Elias remains open to self-sufficient visitors pursuing winter adventures, but its facilities and visitor centers close for the season.
Kenai Fjords National Park. The road to Exit Glacier in Kenai Fjords generally closes to vehicle traffic about 8 miles out once snow falls, but it's common to visit the glacier area using cross-country skis, winter bikes, snowshoes, and snowmachines (once it opens to snowmobiling). To visit the park's rugged outer coast, check out Seward charter boat operators for a custom tour.
What Are the Winter Holidays Like?
Alaska's holiday season is a busy and raucous time, marked by festivals, bazaars, and—once the snowpack builds—the explosive advent of winter sports season. It's a great time to visit. Cities like Anchorage and Fairbanks are full of activities and shopping. Alaskans fully embrace the dark solstice with family gatherings and parties. Anchorage lights up with colored lights, including a giant star on the mountain east of town. The two-week year-end period can feel like one continuous holiday, with public events almost every day.

What Are the Big Winter Events?
Alaska has dozens of festivals and winter sports contests, including many in Anchorage. Here are the marquee bashes that draw thousands of spectators and participants every year.
The Yukon Quest International Sled Dog Race. Billed as the world's toughest sled dog race, this 1,000-mile epic mush between Fairbanks and Whitehorse traverses the snowbound terrain of the classic pioneer Gold Rush in early February.

The Open North American Sled Dog Championships. This dogsledding event features classic sprint mushing performed by people who live for the sport during the first week of March.
The Anchorage Fur Rendezvous. This 10-day celebration of winter in late February and early March features scores of activities like ice-sculpting competitions, fireworks, live music, and the world championship sprint sled dog race that begins and ends downtown.

The Iditarod Trail Sled Dog Race. This world-famous race crosses 1,000 miles from Anchorage to Nome, with the ceremonial start on the first Saturday in March in downtown Anchorage. Dog teams launch down city streets and travel along park trails into the forest as tailgate-style barbecues erupt all over town.
The Tour of Anchorage ski marathon. Hundreds of people ski across Anchorage in four races that range from 25K to 50K, in both classic and skate styles. It's usually held the first Sunday in March. Even if you don't come to race, you'll find the best and most extensive grooming of the year.

The Top Winter Destinations in Alaska
What Are Some Great High-End Accommodations?
For a start, check out these options:
Hotel Alyeska sits at the base of state's biggest ski resort in Girdwood.
Ultima Thule Lodge, overlooking the Chitina River deep inside Wrangell-St. Elias National Park, is one of the most remote and luxurious lodges in the world.
Hotel Captain Cook, in downtown Anchorage, offers an old-fashioned, big-city hotel experience.

What About Rustic Cabins?
From old-style roadhouses featuring rentals within walking distance of a restaurant to the state's extensive network of do-it-yourself public use cabins, you'll find scores of winter accommodations across Alaska. They range from semi-luxurious venues with services to wilderness outposts where you must chop wood, melt water, and be totally self-sufficient.