If you want to view the northern lights, this family owned lodge offers a remote and exclusive experience north of the Arctic Circle. Whether you are dogsledding, snowshoeing or just scanning the skies for the northern lights, you will still be able to relax in comfort and never feel like you are roughing it.
Front Row for Auroras
This fly-in luxury wilderness lodge is 200 miles north of Fairbanks, 60 miles above the Arctic Circle, and, as owner John Gaedeke says, "180 degrees from anything you have ever experienced before." The main lodge has all the amenities, or you can travel farther into the wilderness and explore the Brooks Range from one of the lodge's private cabins, inside Gates of the Arctic National Park. But even staying put at the lodge gives you a great view of the northern lights, which are particularly active over the Brooks Range. The lodge's huge picture windows make it easy to keep a lookout for the auroras from a warm, comfortable interior.
Hand-Crafted Luxury Lodging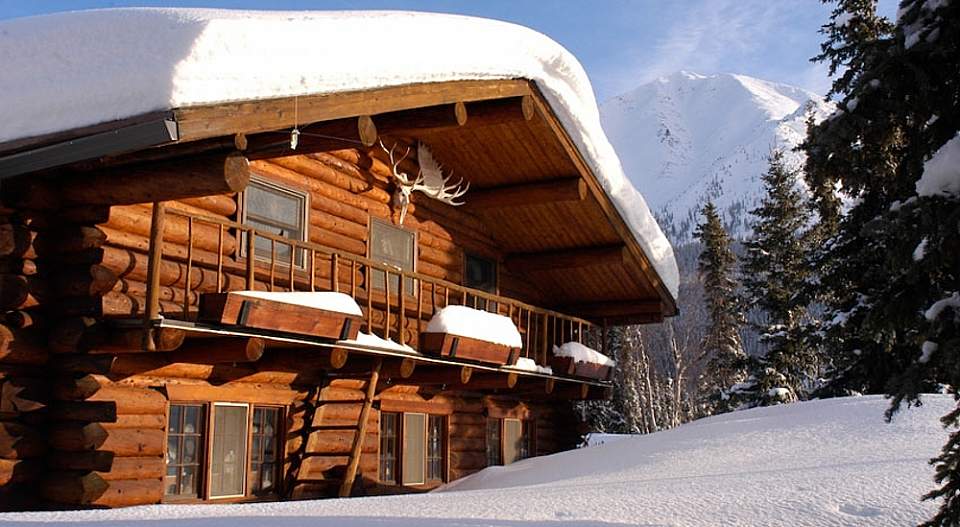 It's all normal to John, of course, who was raised right here. He was born the year after his parents, Pat and Bernd, started cutting logs for the lodge on their honeymoon, in 1974. The lodge was built by hand and there was sawdust covering his crib in those early days, while Pat kneaded bread on a tree stump. Today, he and his guides (all locals themselves) treat guests here with an enthusiasm they still have for the wilderness, while the aroma of Pat's famous sourdough breads still beckon from a modern kitchen.
The lodge comes with 24-hour solar power, plenty of hot water and even satellite Internet, if you need it. The meals, enjoyed family-style in the dining room, are prepared on-site with local dishes—from king salmon and that fresh-baked sourdough bread to blueberry pancakes and decadent deserts. And despite the seemingly extreme location, you'll stay cozy: the warmth of crackling wood stoves, carpeted rooms and down comforters keep out the chill. The lodge offers far-north luxury, so if the temps drop to 50 below, the lodge impresses guests with its comfort: "You can relax and enjoy the wilderness," John says, "without being beat up by it."
Learning to Mush—and You're Off!
The winter months have their own kind of magic in the Brooks Range. The prime time for winter fun here is March, which is more like a snowy springtime in this part of the world. The sun is returning to the arctic which means 14 hours of daylight and relatively balmy temperatures, nights around -10F (-23C) and days hovering around 20F (-6C).
Most guests who come this time of year want to learn dogsledding: you'll get individual lessons and hands-on experience so you can drive your own team on the first day. Enjoy mushing along groomed trails over frozen rivers and lakes each day of your visit, or take a night run and watch as the Northern Lights dance across the sky. You can also spend your days cross-country skiing, snowshoeing, building igloos or even just planting yourself in front of the fireplace indoors and reveling in the peaceful quiet of wilderness winter.
Iniakuk Lodge also has a summer season, when it's warm—and you can hike, fish, float and flight-see, all under the midnight sun.
Mush Your Way to Gates of the Arctic NP
You can also take an extended expedition through the Brooks Range and into Gates of the Arctic National Park. You'll drive your team a few hours each day, then spend nights in heated tents along the trail, or in one of the lodge's satellite cabins on the Alatna River—all great locations for more aurora viewing, far from civilization.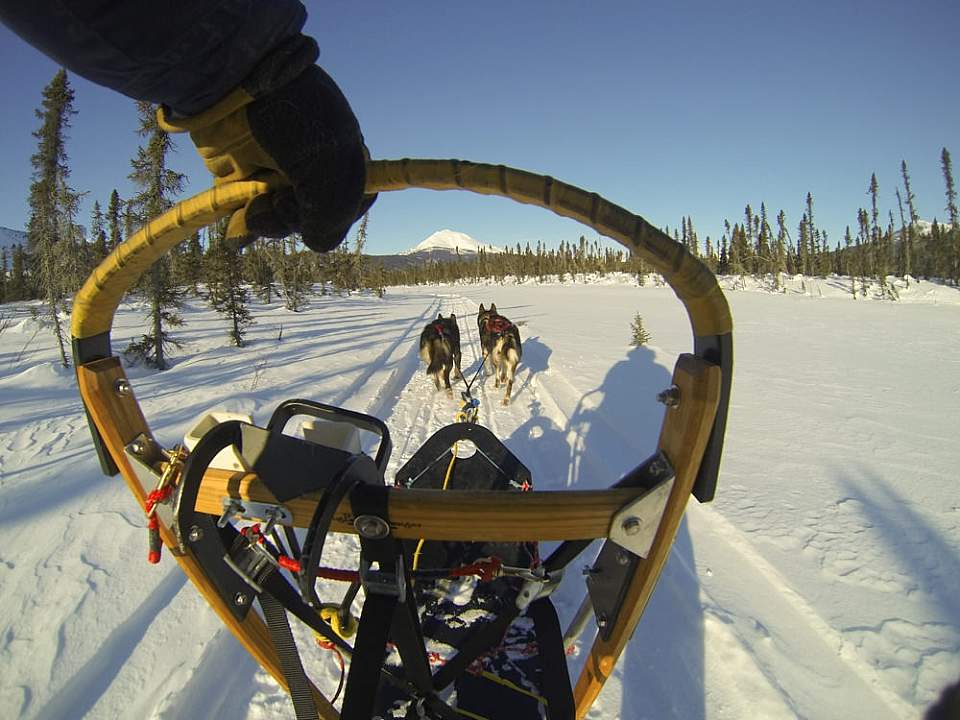 Personalized Adventures
Either way, you will get a customized itinerary and as much (or little) guidance as you like. John and Pat answer all calls and emails themselves, helping you plan your trip to the far north. The lodge's pre-set itineraries are just a starting point; every trip is customized and adjusted to fit your needs and expectations.
Because it's all-inclusive, your lodging, meals, personal guide, and fly-out excursions are all covered in your price. Iniakuk Lodge supplies specialty gear for winter visitors, too. John tells people to bring their favorite ski gear and he will supply the extra layer, from insulated over-boots to a fur-ruffed parka. And they have all of the other outdoorsy gear you will need to enjoy the wilderness like a pro.
One-on-One Service
The ratio of guides to groups is a stunning 1-to-1, so you've always got someone handy to show you how to build an igloo, or to go out for a midnight dog sled ride to see the auroras (afterward, you can sleep in for blueberry pancakes).
Visitors love the passion at Iniakuk Lodge for the outdoors, Alaska, and the Brooks Range's backcountry. The guides have plenty of wild tales from adventuring north of the Arctic Circle and they are happy to share them. "We can't wait for summer," John says, "and then we can't wait for winter again."
You can't rush the weather or the seasons in Alaska and I love that.
Meet me