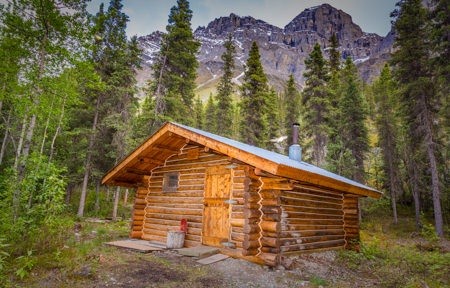 If you've ever dreamed of living in a cabin in the Alaska wilderness, there's an inexpensive way to try it for up to 7 days: rent an Alaska public use cabin.
Compared to an Alaska wilderness lodge or resort, they're bare-boned affairs. But compared to sleeping in a tent, you're living like royalty.
Jump to List of Public Use Cabins | View all on Map
There are more than 300 of these remote cabins around Alaska: on beautiful lakes, along popular hiking trails, overlooking rivers or streams—even on glaciers. Many require a boat or air taxi to get to them.
You can spend your days hiking, taking photos, picking berries, reading by a campfire, or just soaking in the sounds of wilderness. And while you're on your own, you have the peace of mind of knowing you can retreat to a safe, dry cabin at the end of the day.
Alaska's weather can delay your trip at any time of year, so plan accordingly with extra food, provisions and pick-up plans. For any travel in Alaska's backcountry, you are responsible for your own safety; be prepared with survival skills and proper equipment.
How Alaska Public Use Cabins Work
The cabins are managed by a variety of public agencies, and most cost about $30 to $75 per night; a few are even free. You can reserve some up to 180 days in advance. Others are first-come, first-served. With many bookings, you are issued a permit, which proves that the cabin is yours for your visit there.
The agency that books your cabin can recommend air taxis or boat operators to help you get there, but you book and pay for transport yourself.
Most cabins are used year- round although rentals may be strongly discouraged during certain times of the year due to avalanche or other dangerous conditions.
Amenities in Alaska Cabin Rentals
Cabins are rustic—as in, no running water, usually no mattresses, and an outhouse rather than a toilet. But they offer solid basics: bunks or sleeping platforms (some even sleeping up to 10), a heating stove, table and chairs, and sometimes a cooking stove. You bring anything else you'll need to sleep and eat: food, water, bedding and cook stove or utensils.
Cabins on lakes often have a rowboat you can use to go fishing, explore the shoreline, or set off on hikes.

Features
We've also grouped public use cabins with specific characteristics, that will be helpful depending on what type of experience you're looking for.
Accessible by road | Accessible by trail | Have good fishing