Photo Credit: Anchorage Trolley Tours
You have just landed in Alaska, you are a little jet-lagged from your flight, but you are also too excited to explore the area to simply retire to the hotel. City tours are a great first-day option because they are a way to acquaint guests with the area and scope out things to do on later days. City tours normally come in two categories: bus/trolley or walking. Other tours delve into specifics such as food and drink, pub crawls, and ghost tours.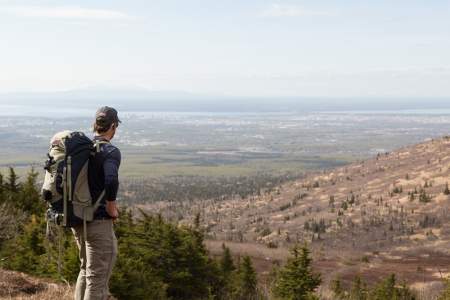 Season: Year Round Custom pricing, contact for rates Full & Half Day Options
Explore Anchorage's best kept secrets with a local guide. Tra­verse Alaska's pri­vate, cus­tom adven­tures are designed to take vis­i­tors off the beat­en path and away from the crowds. Adven­tures can incor­po­rate a full day of hik­ing or a com­bi­na­tion of scenic dri­ving and out­door activ­i­ties. Each trip is cus­tom designed to meet your inter­ests and desired activ­i­ty level.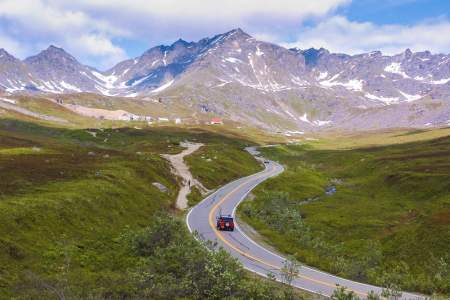 Season: Year Round $825 | Up to 8 people 8 hrs
See Alaska's unique and authen­tic side by hir­ing a guide for a day and cre­at­ing a cus­tom, pri­vate adven­ture for your­self and up to 7 oth­ers. Tours depart from Anchor­age or Gird­wood. Excur­sions include Matanus­ka glac­i­er hikes, ATV tours, gold pan­ning, north­ern lights view­ing, snow­mo­bil­ing, and more.
Bicycle, Scooter & Segway Tours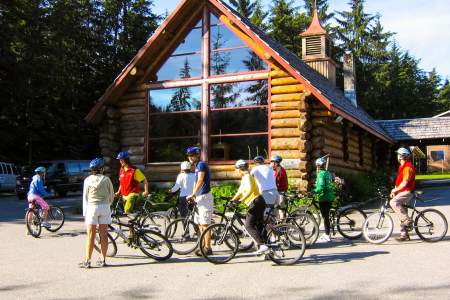 Season: May - September Call for rates 4 - 4.5 hrs
Take a spin through Juneau on a fun bike tour. It's a great way to explore Alaska's cap­i­tal city, with lots of scenery and his­to­ry along the way. Choose from one of sev­er­al options. There's a bike and brew tour, which includes see­ing the Menden­hall Glac­i­er as well as a tast­ing of Alaskan beers. Or ride your bike out to Dou­glas Island for a tram ride, 1,800 feet up Mt. Roberts for some spec­tac­u­lar views. Or cus­tom design your own great bike trip ...more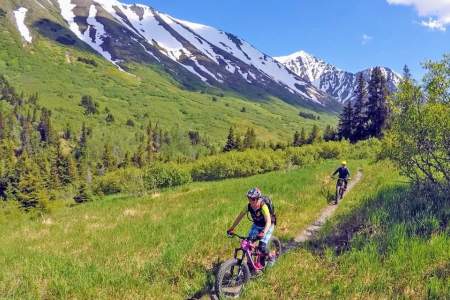 Season: Year Round $105+ Day Tours | $35+ Rentals Half and Full Day Tours | Rentals 4hrs+
Anchor­age may be Alaska's big city, but this bicy­cle tour oper­a­tor offers quick proof that the city has a lot of wilder­ness. Choose your ride based on half-day or full-day options, as well as dif­fi­cul­ty. You'll go from down­town to Moth­er Nature — with moun­tains, coastal views, and the occa­sion­al moose sight­ing — in no time at all. Bet­ter yet, the tours often include beer tast­ings or lunch.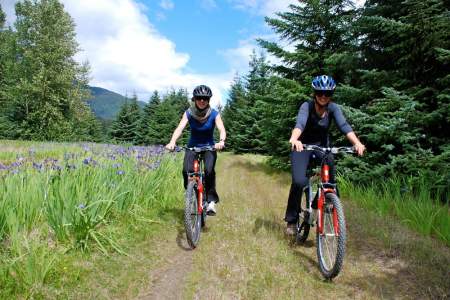 Some peo­ple love the view of Alas­ka from the side of a ship, or from above in a bush plane. But this cycle shop and tour oper­a­tor based in Haines and Skag­way proves that there's noth­ing quite like the view of Alas­ka from atop two wheels, as you glide through the gor­geous­ly unique scenery. Its day trips are a fab­u­lous way for inde­pen­dent trav­el­ers and cruise pas­sen­gers to take a detour on their voy­age, enjoy­ing a dif­fer­ent pace and per­spec­tive on ...more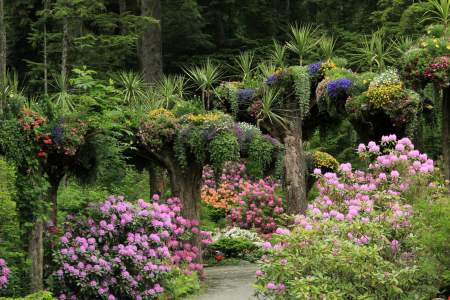 Season: May - September $26.95
Tucked inside the lush Ton­gass Nation­al For­est, dis­cov­er an Alaskan botan­i­cal gar­den unlike any­where else in the world. A 2012 Read­er's Digest poll chose Glac­i­er Gar­dens out of thou­sands of entries as the Most Inter­est­ing Land­mark in Amer­i­ca! Vibrant hang­ing gar­dens spill from 15-foot-tall upside down tree ​"Flower Tow­ers" and ele­gant­ly designed land­scapes com­pli­ment the nat­ur­al beau­ty of the rain­for­est. Explore these unique gar­dens on a guided ...more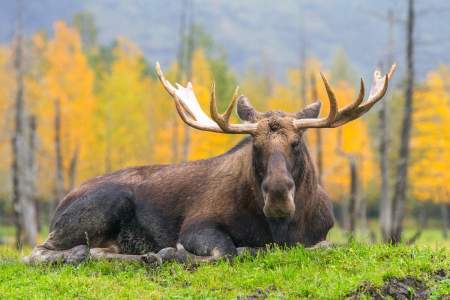 Season: Year Round $18
At the 200-acre Alas­ka Wildlife Con­ser­va­tion Cen­ter, see Alaskan wildlife up close. The center's mis­sion is to pro­vide refuge for orphaned, injured, and ill ani­mals — those that can't sur­vive in the wild. The cen­ter, which opened to the pub­lic in 1993, edu­cates vis­i­tors about Alaska's wildlife. Coy­otes peer out from behind the brush while a bald eagle swoops in on the salmon remains left by a griz­zly bear. Wood Bison plod through 65 acres of tidal ...more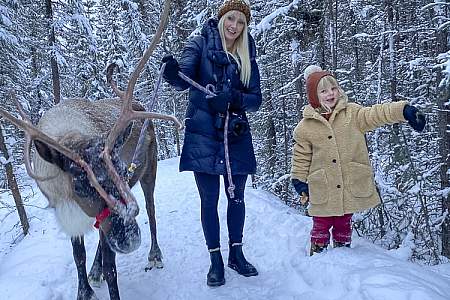 Season: Year Round (Except May) Summer $50+ | Winter $65+ 30 min - Multi-Day
Sam­ple a vari­ety of Alaskan activ­i­ties year-round through this orga­ni­za­tion that's all about show­cas­ing the com­mu­ni­ty of Two Rivers. The sig­na­ture Taste of Two Rivers Tour includes a dog sled demon­stra­tion, gold pan­ning, and an oppor­tu­ni­ty to meet & pet rein­deer. Oth­er sum­mer tours include hikes with rein­deer and vis­it­ing a peony farm. In win­ter, go dog sled­ding (day or mul­ti-day expe­di­tion) and view the north­ern lights.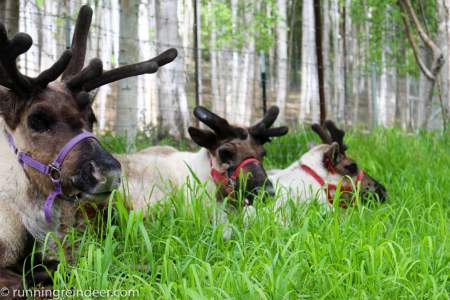 Season: Year Round $20 Yoga | $85+ Tour 1 - 2.5 hrs
You may think of rein­deer as fly­ing crea­tures of the imag­i­na­tion, but here in Alas­ka they're very real. And this unique tour gives you the oppor­tu­ni­ty to get up close and per­son­al with these mag­nif­i­cent ani­mals. Walk among them and pet them — it's tru­ly a moment made for Instagram.
Bus, Trolley & Train Tours
Photography, Art & Hands-On Tours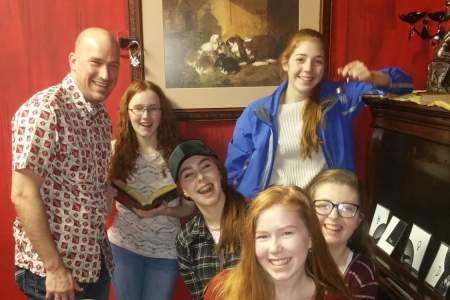 Season: Year Round $35 1.5 hrs
Every now and then in Alas­ka — where the weath­er can change quick­ly — a great indoor activ­i­ty comes in handy. But this unique year-round attrac­tion, where a fam­i­ly or a group of friends solves a mys­tery while ​"locked" indoors, makes a fun diver­sion even when the skies are clear outside.