You may think of reindeer as flying creatures of the imagination, but here in Alaska they're very real. And this unique tour gives you the opportunity to get up close and personal with these magnificent animals. Walk among them and pet them—it's truly a moment made for Instagram.
Walk With Reindeer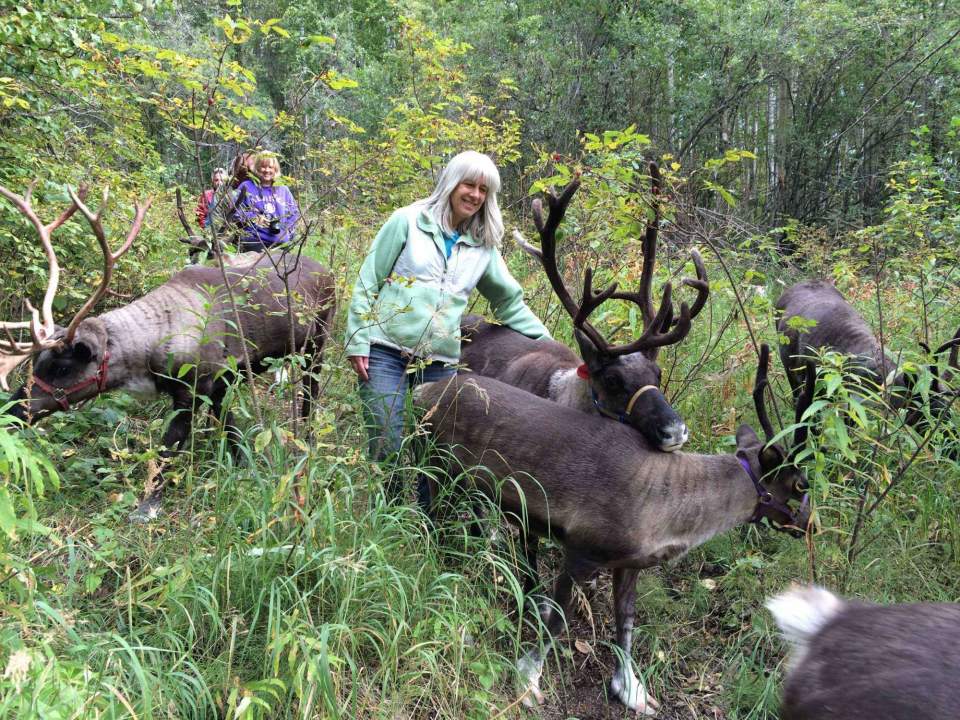 This unique tour begins in the home of the ranch owners, where you'll hear their story and get information on the reindeer you're about to experience. Then it's time to mingle! You'll embark on a short walk for about an hour, with stops along the way. You'll quickly notice that a couple of the nine or so reindeer are happy to follow along (it's their playtime), and you'll be able to stop, pet them, and take as many photos as you like. If there are young calves, your visit can include a stop at the pen to say hello to them and their moms. Then return to the home, where you'll enjoy cookies along with lemonade (in summer) or a hot beverage (in winter), and learn even more about the reindeer.
Tours—which are by reservation only—take place just once a day and in virtually any weather. Summer tours happen in the morning or evening, while winter tours take place in the afternoon. March is the busiest season, so definitely plan ahead then!
The Owners
The ranch is the home of two avid travelers who love meeting travelers: Jane Atkinson and Doug Toelle. Jane, who's passionately involved in the reindeer community, has traveled to Mongolia and Norway to study with reindeer herders.
The idea for the ranch began when Jane and her daughter Robin saw reindeer at the Reindeer Research Program in Fairbanks. Ten-year-old Robin was fascinated and wanted to own reindeer. With Jane's encouragement, Robin raised enough money to buy a couple of them, in part by making and selling cookie dough (the same dough used to bake cookies served on the tour today).
Jane and Robin would walk the reindeer every day, learning more about them and becoming truly passionate about herding. When Robin went abroad to study in the 11th grade, Jane asked friends to help walk the reindeer. People jumped at the chance, and had so much fun doing it they suggested Jane offer the experience to visitors. The rest, as they say, is history. Come experience why it's so much fun!