Photo Credit: Aaron Gifford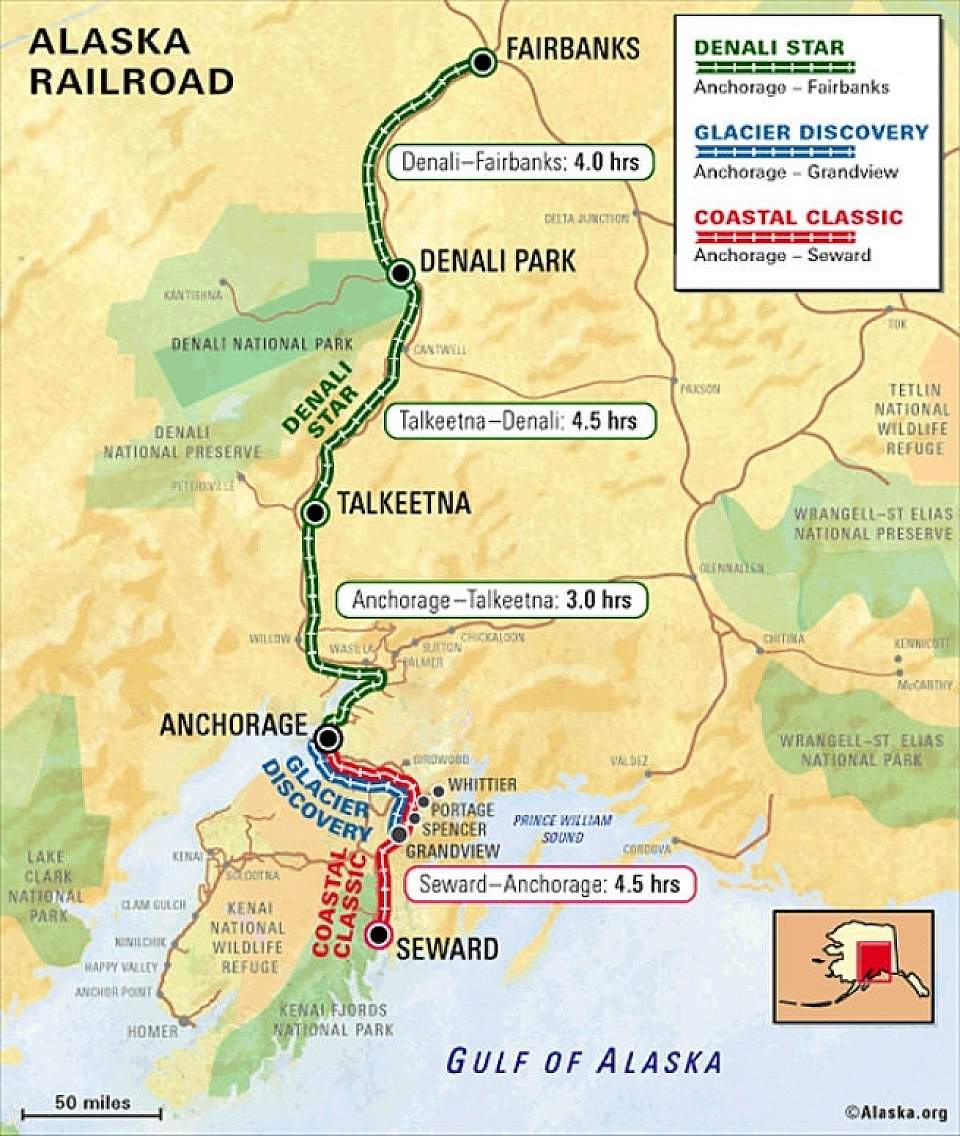 The Alaska Railroad stretches 470 miles from Seward in the south to Fairbanks in the north. The train operates two main daily routes in the summer: a southern route between Seward and Anchorage and a northern route between Anchorage, Talkeetna, Denali, and Fairbanks. (You can't go from Seward to Fairbanks in a day—and wouldn't want to.)
There are four individual routes, with daily departures mid-May to mid-September. The route names can be confusing.

Coastal Classic
Main Use: To go between Anchorage and Seward
Stops: Anchorage | Girdwood | Seward
Length: 4 hours each way (you can go in the morning and return that evening)
More Info: Coastal Classic
Why Do It:
A more scenic way to transfer between Anchorage and your cruise in Seward.
Day or overnight trips to Girdwood for hiking, dogsledding, flightseeing, or relaxation at a resort.
Day or overnight trips to Seward for Kenai Fjords day cruises, Alaska SeaLife Center, and Exit Glacier.
Denali Star
Main Use: To go between Anchorage and Denali, or Denali and Fairbanks
Stops: Anchorage | Wasilla | Talkeetna | Denali | Fairbanks
Length: 8 hrs Anchorage to Denali; 4 hrs Denali to Fairbanks
Why Do It:
Four different companies operate along this route, giving you several choices of service; Alaska Railroad, Wilderness Express, Denali Rail Tours, Princess Rail Tours.
If you're not riding the train between Seward & Anchorage, taking it to Denali is your next best way to experience the Alaska Railroad.
Day or overnight trips from Anchorage to Talkeetna for flightseeing, rafting, jetboating, small town charm.
If you're visiting Denali, it's only another 4 hours to Fairbanks for a riverboat cruise or Arctic Tour.
Glacier Discovery
Main Use: Day trips into Prince William Sound or roadless wilderness areas
Stops: Anchorage | Girdwood | Whittier | Portage | Spencer
Length: About 5 hours each way
More Info: Glacier Discovery Train
Why Do It:
Scenic transfer between Anchorage and Whittier cruises.
Easy day trips into roadless wilderness near Anchorage for sightseeing, rafting (reserve in advance), or hiking.
Day or overnight trips to Girdwood.
Connect to a glacier and wildlife cruise in Price William Sound (from the port of Whittier) and visit active tidewater glaciers, or hire your own small-boat charter to explore or kayak the Sound.
Hurricane Turn
Main Use: Excursions from Talkeetna for the off-the-beaten-path independent traveler; operates only certain days of the week
Stops: Talkeetna | Hurricane
Length: 2 hours each way
More Info: Hurricane Turn
Why Do It:
Ride an old-time train with a self-propelled diesel car.
Meet locals who use the flagstop train to get to their remote cabins.
Option to return by raft from Chase with Denali View Rafting.