The aptly named Coastal Classic route is probably the most beautiful stretch of the Alaska Railroad.
Day Trips from Anchorage
Seward. The most popular way to experience the Coastal Classic is on a day trip from Anchorage. Depart Anchorage early morning for the four-hour scenic trip to Seward. You have about 7 hours to spend in Seward, the perfect amount of time to enjoy a Glacier & Wildlife Cruise into Kenai Fjords National Park. Or, opt for a visit to The Alaska Sealife Center and trip out to Exit Glacier. Other activities include sea kayaking and dog sledding.
Girdwood. Just shy of two hours from Anchorage, you could spend the whole day in this resort town. Use the free town shuttle to visit Crow Creek Mine, take the scenic tram up Mt. Alyeska, and more. You can combine with the Glacier Discovery Train for an earlier departure to Anchorage if you like.
Multi-Day Trips from Anchorage
Overnight in Seward to see more of the town and add in extra excursions. Add on a night in Girdwood to make a 3-day, 2-night itinerary.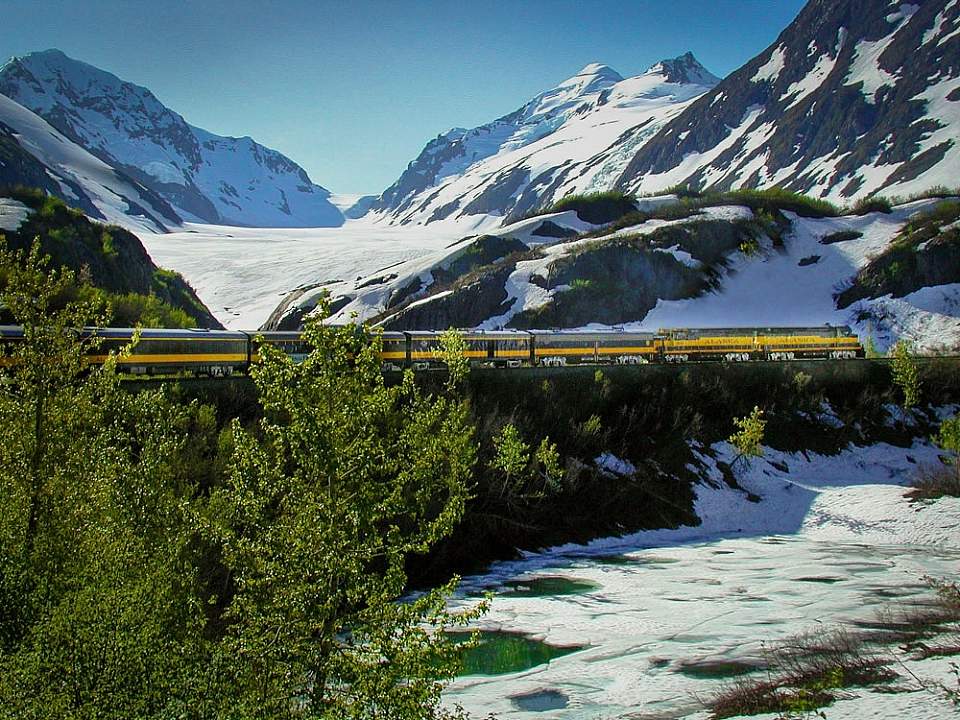 What the Route is Like
This train traces scenic Turnagain Arm, where you'll see awe-inspiring landscapes punctuated by wildlife. You may see Dall sheep, Beluga whales, Bald eagles, as well as lush stands of alder and spruce nourished by coastal rains and high sun.

You'll stop at the town of Girdwood, then it's into the Kenai Mountains, a dramatic landscape of corrugated peaks that stretches as far as you can see. The train stays in the mountains, mostly away from the roads, giving you views you can't get from a car. You'll see glacial backdrops, alpine meadows, wildflowers, and wildlife as you pass through tunnels and past railroad houses on your way to Seward.
Some Coastal Classic riders take the train both ways, doing it as a day trip in just over 8 hours (4 hours in the morning, 4 in the evening). It's also fun to spend one or two nights in Seward visiting the shops and touring the bay. Catching the train back to Anchorage in the afternoon often provides spectacular sunsets over Cook Inlet throughout the summer. Some passengers book a one-way fare, continuing to their next destination via cruise ship out of Seward.

Schedule
| Departure Location | Departure Time | Arrival Time |
| --- | --- | --- |
| Anchorage to Girdwood | 6:45 am | 7:55 am |
| Girdwood to Seward | 8:00 am | 11:05 am |
| Departure Location | Departure Time | Arrival Time |
| --- | --- | --- |
| Seward to Girdwood | 6:00 pm | 8:50 pm |
| Girdwood to Anchorage | 8:55 pm | 10:15 pm |