Photo Credit: Rod's Alaskan Guide Service Aurora Ice Fishin
A classic winter experience when the ice is thick (usually mid-November through March). Guided options offer a cozy portable shelter while waiting for your catch.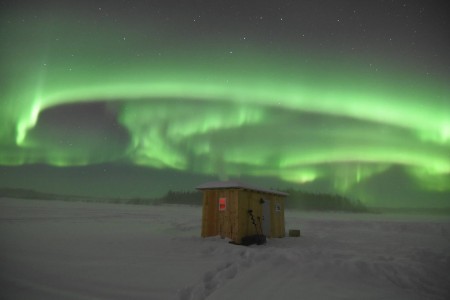 Season: November–March $199+ 4+ hours
See­ing the North­ern Lights is an unfor­get­table win­ter­time expe­ri­ence. Of course, you nev­er know quite when (or even if) Moth­er Nature is going to unleash the dis­play into the night sky. So while you wait, you'll be try­ing your hand at anoth­er activ­i­ty that's unique to the Alaskan win­ter: ice fishing!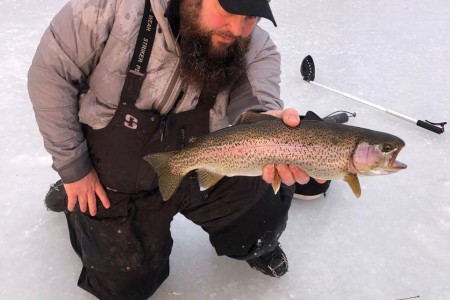 Season: Shack: May–August. Guided Trips: Year-round $100
Go fish­ing right in Anchor­age – whether you have only have a few hours or a full day. Rent a gear pack­age and fish on your own. Or, hire one of our local guides to take you on a guid­ed tour to land your dream catch. You can also buy bait and fish­ing licenses.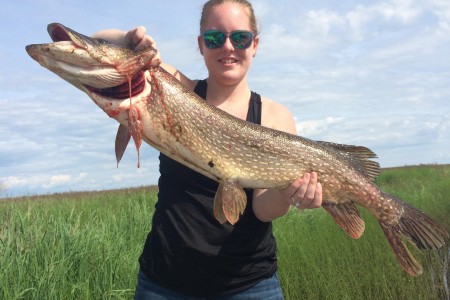 Season: Winter: November - March | Summer: June - August $139+ ice fishing, $315+ fly-in fishing 4+ hrs
Expe­ri­ence Alas­ka fish­ing off the grid — whether you want to fish for world-class-tro­phy pike dur­ing the peak sum­mer sea­son or expe­ri­ence the fab­u­lous­ly unique sport of ice fish­ing in win­ter. This oper­a­tor based in North Pole will coach you, based on what­ev­er your skill lev­el, and take you to spots so spe­cial that own­er, Rod Pang­born, takes his own fam­i­ly there.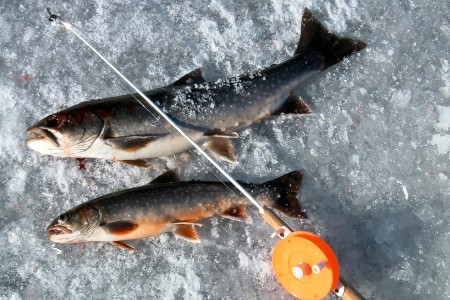 Ever gone ice fish­ing? Cari­bou lake is a great place to enjoy this cold and unique expe­ri­ence. You can spend a qui­et day to your­self, fish­ing for Dol­ly Var­den and Koka­nee. Or if you're feel­ing more com­pet­i­tive, you can par­tic­i­pate in the Sno­mad's (Home­r's snow machine club) annu­al ice fish­ing con­test. (Either way, dress in warm lay­ers and be pre­pared to sit or stand in the cold!)