Experience the fabulously unique sport of ice fishing in winter. Owner, Rod Pangborn and his team of skilled guides based in North Pole will coach you, based on whatever your skill level.
Winter Wonderland Fishing
The winter season (from mid-November through March) brings a whole other level of thrills while fishing for king salmon, pike, silver salmon, grayling, Arctic char and rainbow trout. You can choose between two different ice fishing experiences: a day outing, and a nighttime experience with aurora.
Both kinds of fishing trips take place on nearby lakes. Early in the season the groups (of no more than 12) use portable shelters out on the ice. Once the ice is 20 inches thick (it thickens ½ an inch a day when it's really cold) you'll fish in the full "hard" cabin, which is pretty plush: heat, carpeted floors, a woodstove and electricity (nice for charging your camera or devices). As the season goes on, the cabin moves to follow the fish.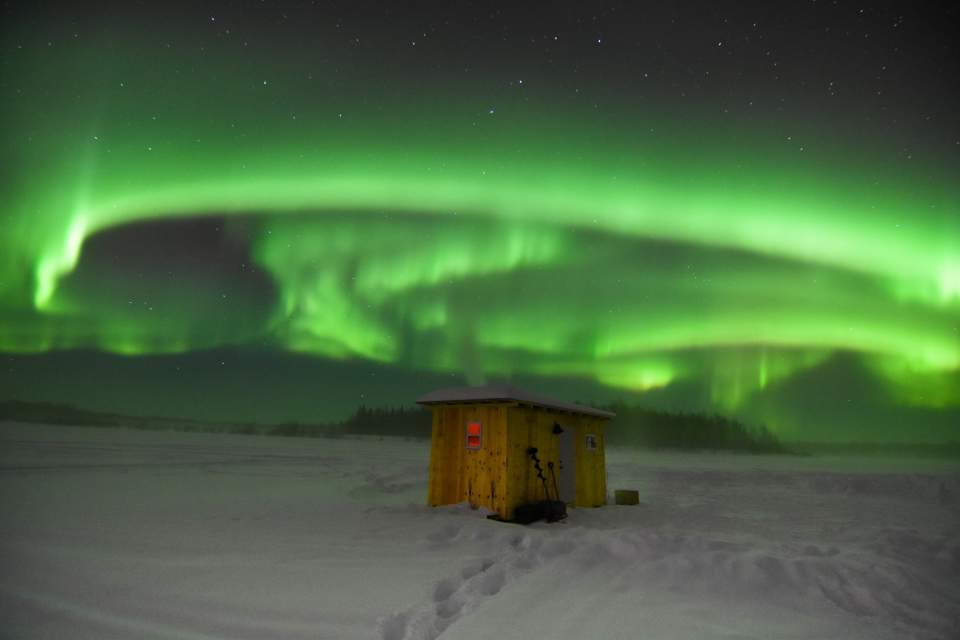 Otherworldly Views of Fish and Auroras
The four-hour day trip gives you plenty of time to practice ice fishing technique: Once everyone is comfortable, the curtains close and the lights go off, so that the sunlight outside filters through the snow and lights up the water below. You won't believe how far you can see down in the ice—basically to the bottom on the lake—and how you can see the fish themselves. At the end, you'll get to pick one fish to filet, cook and eat on the spot. The experience also includes plenty of hot coffee and hot cocoa, as well as some fresh reindeer sausage on a bun, which comes from Indian Valley Meats, a local family-owned company.
For the nighttime tour (which runs from about 10 pm to 3 am), you'll spend the first few hours fishing—then the last few looking at the Northern Lights if they're visible. The cabin has its own perch on the lake, which means an unobstructed view of the colorful show in the sky.
Great Service, All Your Gear

Anglers who come on these trips rave about the personalized service. Rod—a retired Air Force guy, who's also a champion moose-caller—had started his career in the travel world as a vacation rental host, who used to just advise his guests on fun things to do. Over time he started offering his own trips for his guests, like ice fishing and then snowmobiling (during winter, you might think about adding one of Rod's snowmobile tours to your ice-fishing trip).
For either of the winter fishing experiences, since you're fishing inside the cabin, you don't need any heavy outdoor gear, unless you want to try to fish outside (it can be about 20 below). Rod and his guides make it easy for you: All bait and tackle are included. Since Rod is a license vendor, you can buy your license with him, too—and just focus on making the most of this only-in-Alaska fishing experience.