Glide over the snow on a sled that's being pulled by a team of dogs—many of whom have run the Iditarod, Yukon Quest, or other races. Go with Rod's Alaskan Guide Service and experience the thrill of dog sledding with dogs that love to run and passionate mushers who will offer a deeper understanding of this unique sport.
Dog Sledding Options
1/2 Hour Ride
Plan about an hour for this tour. You'll spend the first 15 minutes gearing up in the provided warm clothing. Then you'll have about 20 minutes to meet the dogs, cuddle the puppies, and chat with the mushers—usually locals who are actively training for races. This will give you a real sense of what their training regimens are like and a chance to absorb some of their passion for the sport. Then it's off to the races! You and up to three other people will hop onto one of the sleds—all of which were custom-made by one of the mushers. For the next 20–25 minutes, the team of 12 excited dogs will pull you along 5 miles of gorgeous Alaskan wilderness as you feel the wind on your face and the excitement of dog sledding.
1 Hour Experience
Your trip begins just like the 1/2 hour tour, but this time you'll spend 1 hour on the trails with your musher and team of Alaskan huskies. You'll also get the opportunity to stand on the runners and drive the team like a true musher!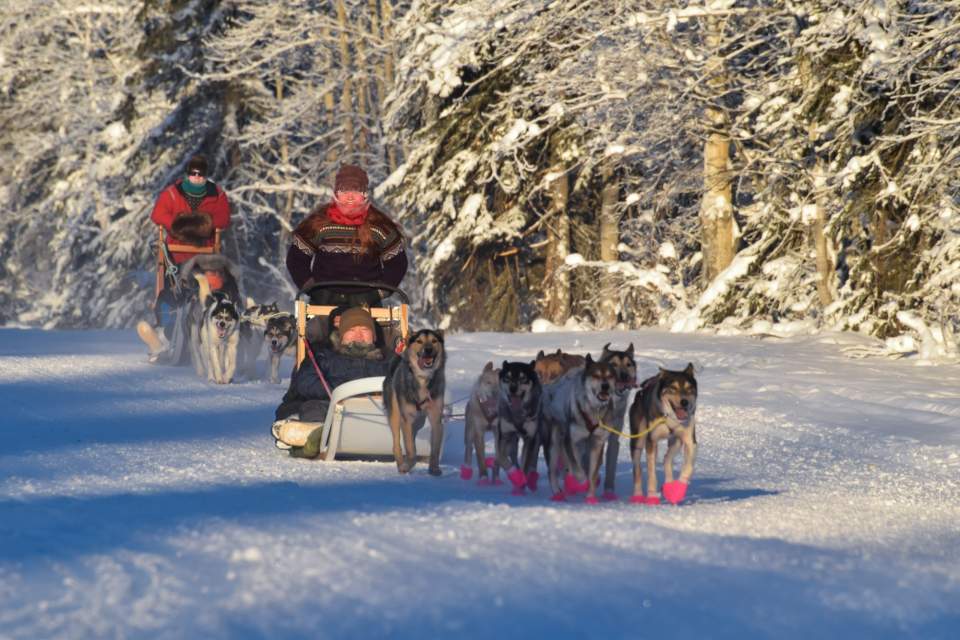 2 Hour "I Want to be a Musher" Adventure
This tour is hands-on from start to finish. After getting geared up, you'll help hook up the dog team, learning why each dog is placed in a specific spot on the "gang line". But the education doesn't stop there. You'll set off through the snow covered trails and learn how to drive the team by voice command, stand on the runners, and drive the team of huskies.
Aurora Dog Sledding Tour
This is a four-hour exclusive nighttime experience for two to four people that begins at 10 p.m. After gearing up, your musher and the dog team will transport you out to a lake, where there's a heated fishing cabin out on the ice. You'll warm up there while you enjoy a snack of reindeer sausage and look for the famous Northern Lights. And if you buy a fishing license, you can also try your hand at ice fishing on the lake! Then you'll jump back on the sled and glide back across the Alaskan tundra.
Who Rod is
Rod Pangborn is retired Air Force and a champion moose caller. He started his career in the travel world as a vacation rental host, advising his guests on fun things to do. Over time he started offering his own trips, like ice fishing and snowmobiling. He started leading snowmobile tours in 2016 and has since expanded his offerings to include fishing trips in summer and winter, as well as these dog sledding trips.