Photo Credit: Turning Heads Kennel
Quick: what's activity screams "Alaska" perhaps more than any other? Dog mushing through the snow, of course! After all, Alaska is home to the world-famous Iditarod, and mushing has a long tradition here. Fortunately, you have lots of options for experiencing dog mushing on snow—as long as, of course, there's snow (usually mid-October or early November until around mid-April). it's a lot of fun, and all ages can do it.
So what's it really like? Well, when you arrive at a kennel, you'll be greeted by a group of dogs, running around, barking excitedly, and waiting anxiously to do what they love best—run.
You'll hop on the sled, and very quickly your jaw will drop at how quickly these dogs move and work together, making it look effortless. And even more quickly, you'll be immersed in the Alaskan winter wilderness—the miles will fly by.
You'll want to bring your own winter gear on this adventure, though many tour operators will provide warm books and parkas. Just don't miss an opportunity to go. If you've done dog mushing in summer, with a cart on wheels, you need to do it in winter—it's a very different experience, and one you won't soon forget. Of course, the mushers know that this is a once-in-a-lifetime experience for many people, and will do their best to make it memorable—but really, it's the dogs that steal the show!
Season: Year Round $75+ Dogsled Tours 1-3 hrs
Plen­ty of peo­ple come to Fair­banks to look at the sky — for north­ern lights, or to bask in the mid­night sun. But this dog-mush­ing expe­ri­ence out­side of Fair­banks is proof that there's plen­ty more of Fair­banks to be seen at eye — or even paw — lev­el. May through Octo­ber, take a a trail ride with 16 dogs hitched up to an ATV. Novem­ber through April, take a mush­ing tour through the snow!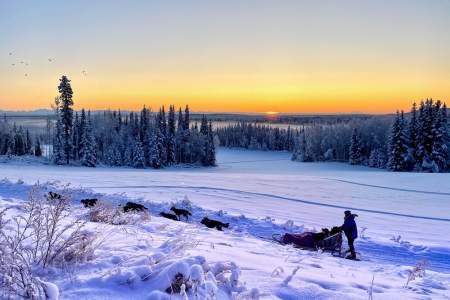 Season: Year Round $80+ per person 30+ min - Multi-Day
Take part in the thrill of win­ter and fall dog sled­ding out of Fair­banks. You'll expe­ri­ence the sport with one of Alaska's longest-run­ning dog tour com­pa­nies. Go for a ride, attend mush­ing school, or go on a mul­ti-day adven­ture to the his­toric Tolo­vana Roadhouse.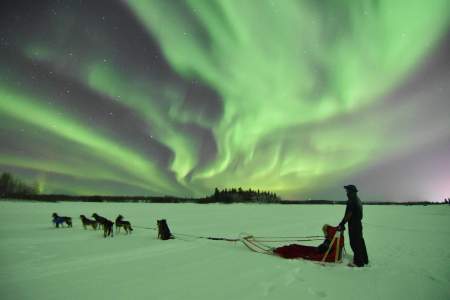 Season: November–March (depending on snow conditions) $79+ per person 1/2 - 8 hrs
Glide over the snow on a sled that's being pulled by a team of dogs — many of whom have run the Idi­tar­od, Yukon Quest, or oth­er races. Go with Rod's Alaskan Guide Ser­vice and expe­ri­ence the thrill of dog sled­ding with dogs that love to run and pas­sion­ate mush­ers who will offer a deep­er under­stand­ing of this unique sport.
Tours depart from nearby Willow (1.5 hr drive). Several companies provide a shuttle from Anchorage.