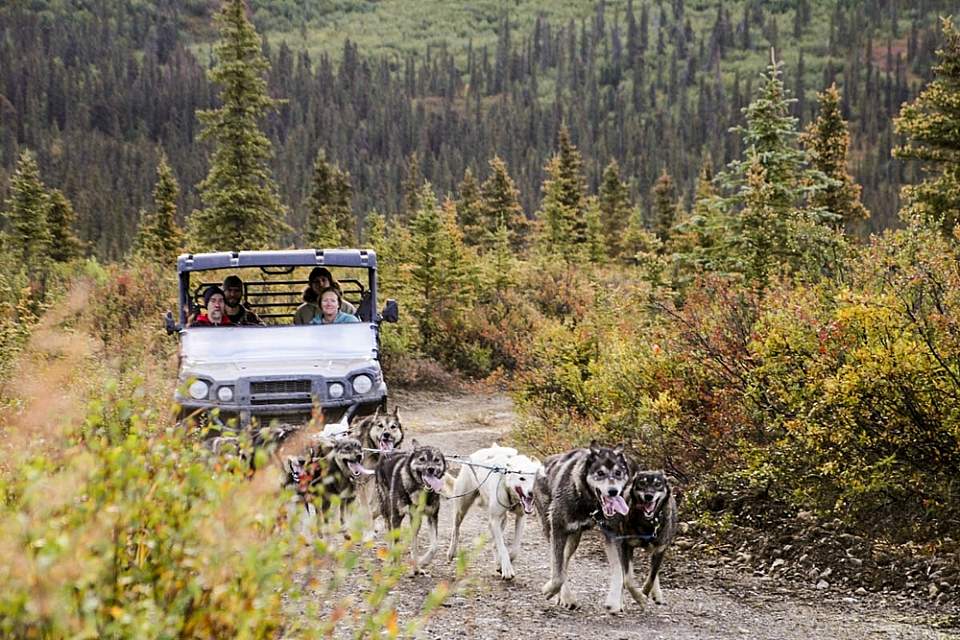 Experience the thrill of the iconic Alaskan sport of dogsledding from veterans of the Iditarod and Yukon Quest races! Operating in summer and winter from Cantwell, about a 30-minute drive south of Denali National Park, the private tours will be just you and your group, led by expert guides.
Winter tours can involve learning to drive your own dog team or riding out to see the northern lights. In summer, the excited dogs pull a side-by-side on wheels across the tundra with a view of Denali. Owners Cody and Paige run the expeditions, along with their team of experienced mushers. And Denali's a great place to try this amazing sport—not only is it stunning wilderness, but it's a cooler part of the state to train dogs. So while many summer dogsledding adventures happen on glaciers, you can sample it without the expense of flying to a glacier.
You'll hear the mushers' stories and have plenty of opportunities to ask questions. And there will be plenty of time to hang out with the dogs and see them in their "normal" lives cuddling on the couch, but also when they're doing what they love to do best—running along a trail!
And if you need a place to stay near Denali, Squid Acres has 2 cabins on site that can be booked through Airbnb. These are authentically Alaskan dry cabins, with power but no running water. There's an outhouse and outdoor sink; inside, each has a queen bed, microwave, refrigerator.
The Tours
Summer Mushing Experience
Only one private group goes out at a time—anywhere from 2 to 30 people—so you can customize it to focus on what you really want to do. You'll start off with an hour-long presentation, including the sled, gear, and specialized clothing used when it's 60-below. You'll meet the dogs, learn how to harness them up, and hear about the racing process. Then ride along in a side-by-side on a 2-mile route along the Jack River, with a view of Denali on a clear day. Come back and spend some time with the dogs and their puppies!
Winter Mushing Experience
Don layers of warm clothing as you get ready to take on the Alaskan winter wilderness. Learn about the sport while you're speeding across the snow with your expert guide. Cozy up in warm sleeping bags as you go, or take a turn driving the dogs yourself.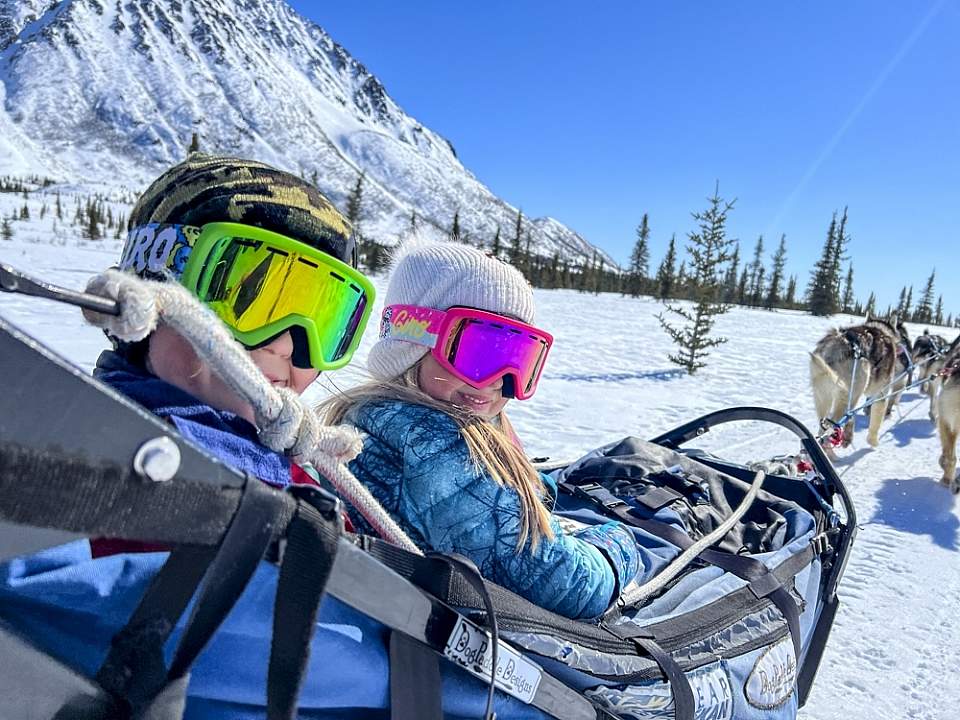 Half-Day Mushing School
Learn how to mush your own dog team from veterans of the Iditarod and Yukon Quest! You'll spend 2 to 3 hours on the sled, with a guide leading the way.
Aurora Mushing Tour
Combine two very Alaskan activities—dogsledding and the northern lights! You'll ride out to a remote camp, where you can enjoy hot beverages around a campfire (there's also a warming tent) while you wait for the aurora to appear. Even if they don't show up, this tour is still a magical experience.
Custom Expeditions
Enjoy an overnight or multi-day experience in warm tents or lodges. Just reach out and Squid Acres can walk you through some options, then build a trip just for you!