Photo Credit: Bob Kaufman
Alaska Bear Viewing Lodges
Bear viewing lodges are located wherever bears fish, forage, or gather. The magnificent creatures may wander right through camp, or you may have to take a short hike (or boat ride) to see them. You can spend as little as 1 night, but we recommend 2 nights or more at your wilderness lodge; if you tire of the bears you can go hiking, canoeing, fishing, or take advantage of other activities.
A typical day of bear viewing includes a short hike to the viewing location, hours of photographing bears, then a return to the lodge for a gourmet home-cooked meal and cozy accommodations.
Boat-Based Multi-Day Expeditions
Season: May - Sept 15 $7500 - $9500 per person 5+ Days
Fly from Anchor­age by sea­plane to the North­west Odyssey, anchored off the coast of Kat­mai Nation­al Park. This lux­u­ri­ous yacht will be your home base for spec­tac­u­lar bear view­ing and fish­ing in uncrowd­ed waters.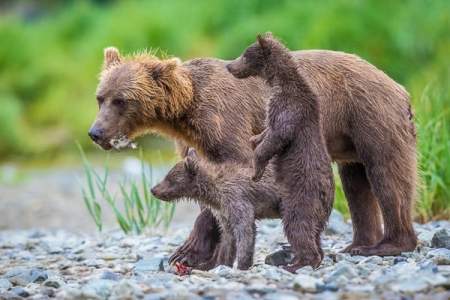 Season: June -  September $6,252+ 6 nights
Immerse your­self in a mul­ti-day Alaskan adven­ture that promis­es incred­i­ble views and jaw-drop­ping bear view­ing in Kat­mai Nation­al Park, along with a warm cama­raderie that only a small group expe­di­tion can cre­ate. Explore from your home base on the Island C, a research ves­sel that gets you close to the action while pro­vid­ing com­fort­able lodg­ing and deli­cious meals.