Photo Credit: Bob Kaufman
Bear viewing lodges are located wherever bears fish, forage, or gather. The magnificent creatures may wander right through camp, or you may have to take a short hike (or boat ride) to see them. You can spend as little as 1 night, but we recommend 2 nights or more at your wilderness lodge; if you tire of the bears you can go hiking, canoeing, fishing, or take advantage of other activities.
A typical day of bear viewing includes a short hike to the viewing location, hours of photographing bears, then a return to the lodge for a gourmet home-cooked meal and cozy accommodations.
Boat-Based Multi-Day Expeditions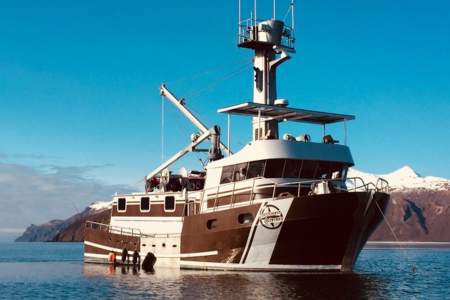 Season: May - Sept 15 $7500+ per person 5+ Days
Fly from Anchor­age by sea­plane to the North­west Odyssey, anchored off the coast of Kat­mai Nation­al Park. This lux­u­ri­ous yacht will be your home base for spec­tac­u­lar bear view­ing and fish­ing in uncrowd­ed waters.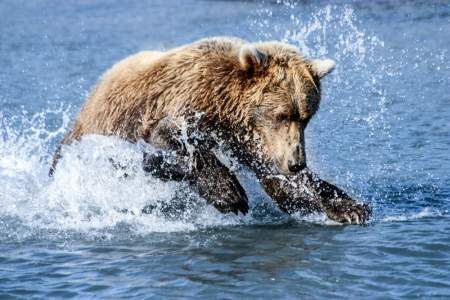 Season: Jun 15 to Sep 15 $8950+ 8 days
It's thrilling to see coastal brown bears in their nat­ur­al habi­tat, espe­cial­ly when you're not rushed. Fly out of Homer to the Kat­mai coast for five days of amaz­ing bear view­ing with Alas­ka Bear Adven­tures. Stay overnight on the Alas­ka Dawn, a 65-foot expe­di­tion trawler, so you can eas­i­ly get back to the bears each morning.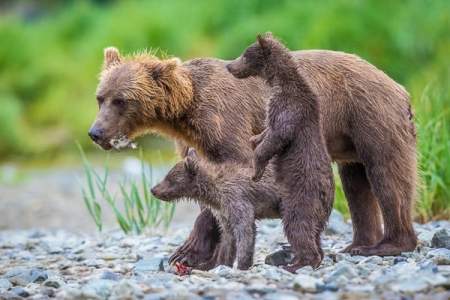 Season: June -  September $5,598+ 7 nights
Immerse your­self in a mul­ti-day Alaskan adven­ture that promis­es incred­i­ble views and jaw-drop­ping bear view­ing in Kat­mai Nation­al Park, along with a warm cama­raderie that only a small group expe­di­tion can cre­ate. Explore from your home base on the Island C, a research ves­sel that gets you close to the action while pro­vid­ing com­fort­able lodg­ing and deli­cious meals.