In the best way possible. you're outnumbered by bears during your stay at this private fly-in wilderness camp.
Private, Secluded Brown Bear Viewing
Fly by chartered plane from Homer to Alaska Bear Camp on a 5-night, 6-day all-inclusive package. This deluxe backcountry camp accommodates just 14 guests in some of the best bear habitat in the world. In contrast to day trips catering to dozens of visitors at a time, Bear Camp offers a rare and exclusive wilderness immersion.
Stay in Solitude on the Edge of Lake Clark National Park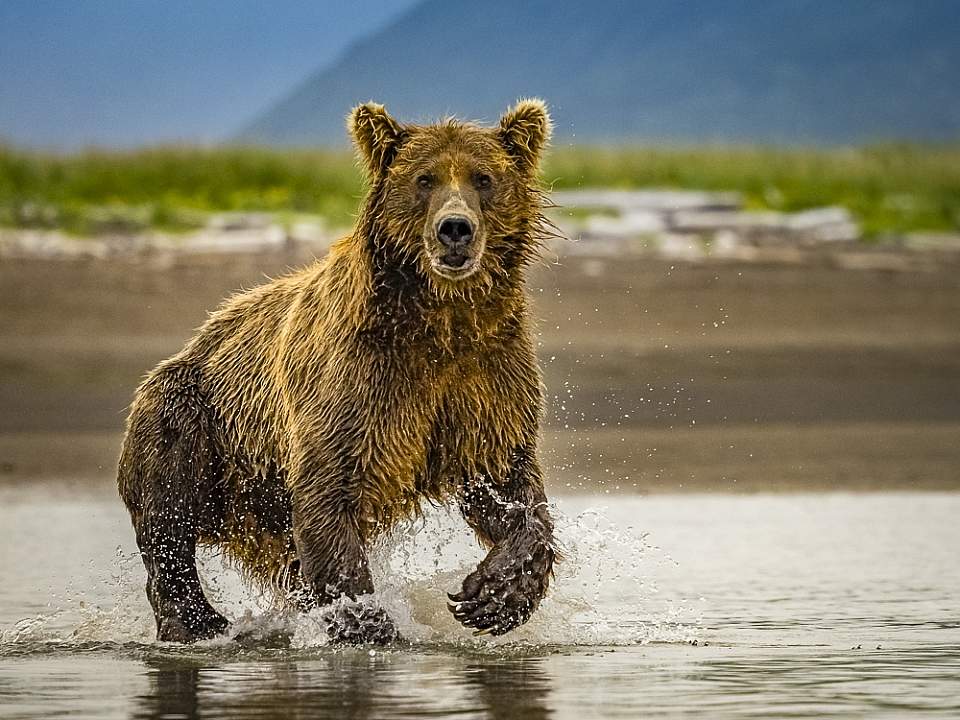 Alaska Bear Camp enjoys an extraordinary setting on the shore of Chinitna Bay on Cook Inlet. On the site of a historic homestead where the original cabin still stands, the camp occupies a remote parcel of private land surrounded by Lake Clark National Park. Guests access this roadless area by bush plane, on a scenic flight past the snowy summits of two volcanoes, Mt. Iliamna and Mt. Redoubt, before landing on the beach next to camp. Backdropped by forest, the camp sits on a coastal plain in view of the icy peaks of the Aleutian Range. Bears are often in view directly in front of camp!
Exhilarating Bear Encounters
This small pocket of wilderness is so rich with bears that it was used as a base camp for filming Disney's 2014 documentary Bears. Several dozen Alaska brown bears typically reside in the vicinity of the camp, with more in adjacent Lake Clark National Park. Sometimes they're seen a mile away, while other times they are just feet away. In May and June, mothers with cubs are prominent, feasting on abundant, protein-rich sedge grass and digging clams on the beach. By July, the salmon start running and the bounty increases as the bears fatten up throughout the summer. In addition to an elevated viewing tower, Bear Camp has a camouflaged platform right over the salmon stream, to facilitate close-up views of the fishing activity.
Living in Harmony with Bears
Alaska Bear Camp has been operating for many years on this site, and the bears exist in comfortable harmony with humans. The respectful relationship has been carefully cultivated through education, as expert naturalist guides train guests in conscientious bear etiquette. On arrival at camp, guides go over proper behavior with guests, so they stay safe and the bears can go about their daily routines undisturbed by people. The result is a rare and wondrous opportunity to observe bears safely in a totally natural setting.
Deluxe Camping Offers Impressive Bush Comfort
To be honest, this isn't really "camping." This is genuine "bush luxury," with accommodations in heavy-duty WeatherPort tent cabins built on raised decks. Inside, you'll find a carpeted floor, beds with linens and cozy duvets, and solar-powered ports for charging cameras and other electronics. A shared bathhouse has hot showers and state-of-the-art composting toilets, while individual tents have porta-potties for nighttime needs. In the main dining tent, guests enjoy chef-prepared gourmet meals featuring fresh local seafood and regional produce.