Photo Credit: Alyeska Resort Downhill Skiing & Winter Activities
Downhill skiing in Alaska is a favorite local pastime, and if you're a slopes enthusiast, you should include a few runs in your winter vacation too!
Most resorts open toward the end of November (conditions pending), and stay open through March, and sometimes into April and early May. If you don't want to bring your own gear, you'll find easy rental options.
Near Anchorage
From Anchorage, Skeetawk and Alyeska are within easy driving distance, and each offer their own distinct flavor of Alaska skiing. Alyeska, just 45-minutes south of Anchorage, is the largest resort in the state complete with a luxury hotel, spa, and numerous runs. Skeetawk sits in Hatcher Pass, an area known for backcountry skiing, about 90-minutes north of Anchorage. Skeetawk has made those slopes accessible and continues to offer backcountry access as well. There's no resort, but skiers can stay nearby in the town of Palmer, or commute from Anchorage.
Juneau
Eaglecrest Ski Area is a community-owned ski area in Alaska's capital Juneau. You can't drive to Juneau, but it's a quick 1.5-hour flight from Anchorage. You can also catch a direct 2 hours and 20-minute flight from Seattle, making it a perfect winter weekend getaway if you live in the Pacific Northwest. The slightly remote island location means you get ocean views while you ski!
Palmer Ski Areas View All
A 90 minute drive to ski area in Hatcher Pass from Anchorage, 20-minutes from Downtown Palmer. Groomed trails and backcountry access.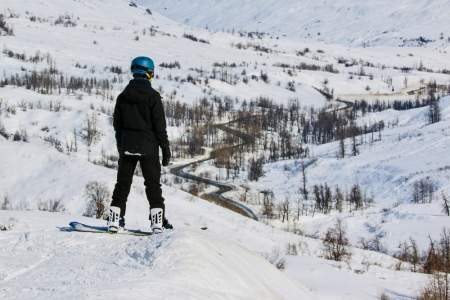 Ski or snow­board in this com­mu­ni­ty ski area set in the Tal­keet­na moun­tains, 90 min­utes north of Anchor­age and 25 min­utes from down­town Palmer. Hatch­er Pass has always been a place back­coun­try skiers flocked to, but Skeetawk makes the great ter­rain avail­able to even more snows­ports lovers.
45 minutes south of Anchorage. Largest ski resort in Alaska.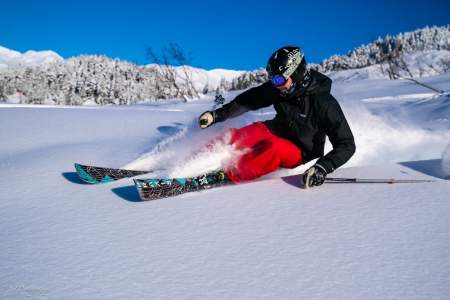 Season: Dec 18 - Mid April $75+ Half or Full Day
Alyeska Resort is famous for its down­hill ski­ing and snow­board­ing for a rea­son — it's tru­ly world-class, fea­tur­ing tons of snow, steep moun­tains, and views that stretch on for­ev­er. But there are a ton of oth­er win­ter activ­i­ties that make Alyeska an epi­cen­ter for win­ter adven­ture. Go cross-coun­try ski­ing or snow­shoe­ing on one of the area trails; or head off into the back­coun­try with a guide for some heli- or cat-ski­ing; try a snow­mo­bile excursion; ...more
Valdez
Fly to some of the best skiing in the world, or ride gentle slopes near town
Ski Juneau with a 1.5 hr flight from Anchorage or 2 hr 20 flight from Seattle! Ski the slopes with ocean views.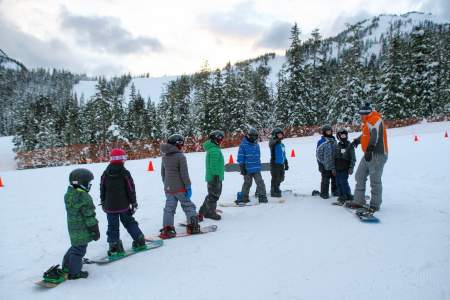 With a 1,620 ft. ver­ti­cal drop, 640 acres, and impres­sive back­coun­try access, Eagle­crest com­bines big moun­tain ter­rain with a local feel in Alaska's cap­i­tal city. It's one of the few com­mu­ni­ty-owned ski areas in the US, offer­ing afford­able prices, few­er crowds, and breath­tak­ing ocean views. You can't dri­ve to Juneau— you have to fly, or fer­ry, which means short­er lift lines and untracked pow­der. Whether you are a begin­ner look­ing to play in the ...more