Photo Credit: Bob Kaufman
The Best Time to Visit Alaska
The best time to visit Alaska is during the summer between May 10 and September 15. You'll experience temperatures in the 60's to low 70's, 16–24 hrs of daylight, leaves and flowers in bloom, rushing rivers, and the best wildlife viewing.
In researching your trip, you may see other dates mentioned:
Peak season is June to August. By mid-June, it's as warm as it's going to get. All summer activities are available, including The Denali Park Road (opens second week in June).
Cruise Season is also May through September. Small ship cruises start as early as mid-April.
May to September is a big window. So when do we tell our friends to visit? June 15 to July 15. It's the absolute height of summer: warm, dry, and alive with energy.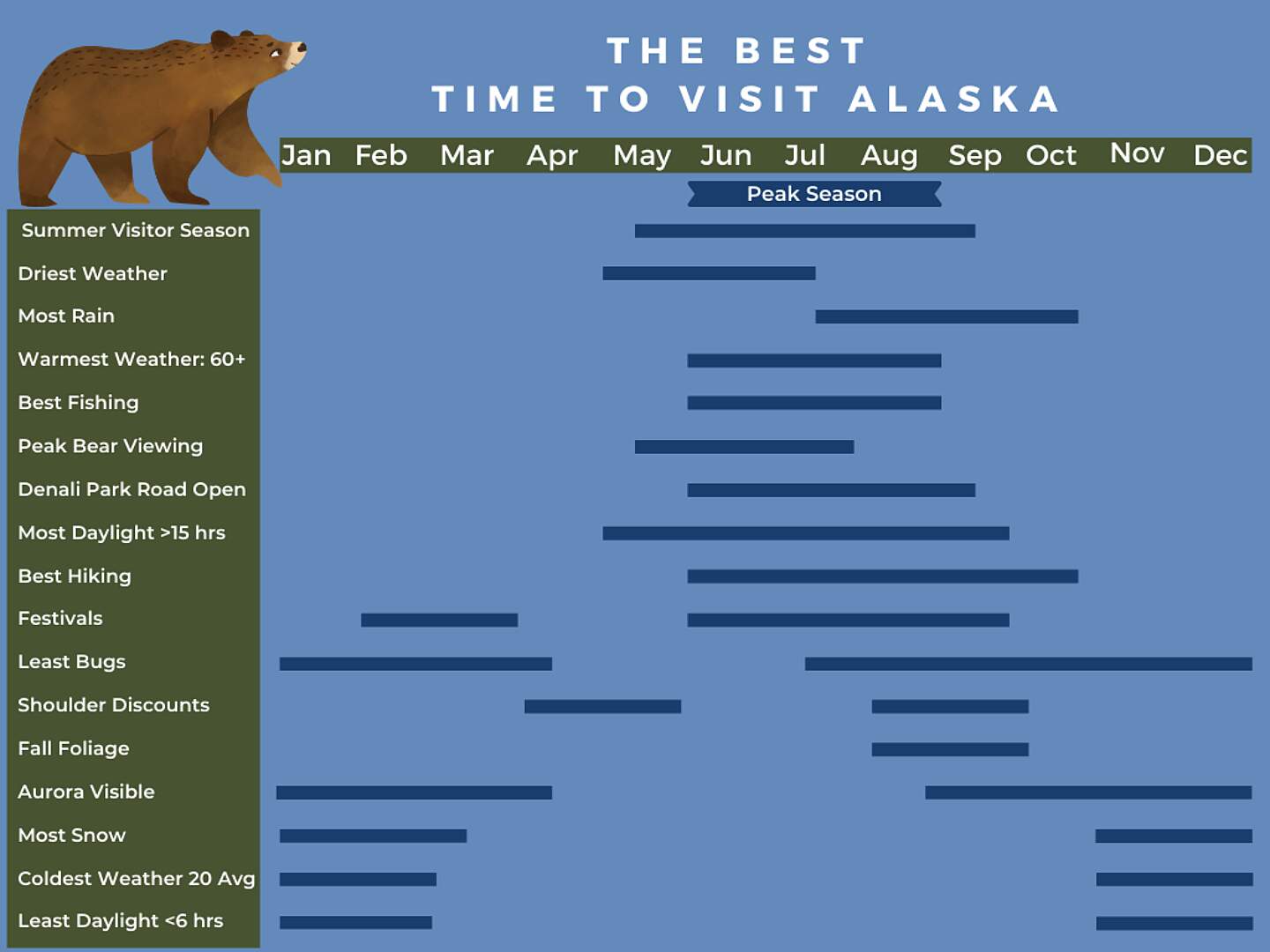 Other Key Things to Know about Visiting Alaska in the Summer
Temperature: Daytime highs range 60°F - 80°F. Nighttime lows are refreshingly cool, dipping into the 40's - 50's. In May and September, expect temperatures to be 5°- 10° cooler. May is our driest month with a 25% chance of rain on any given day. It gets rainier as summer progresses, to a 50% chance in September.
Daylight: June 21 is the longest day of the year: 19 hrs of daylight in Anchorage, 18 in Southeast, and 22 in Fairbanks. It's light outside almost all night long from late May to late July—and light past 10pm for another month on either side of that. Long days mean you can pack in a lot of activities under the Midnight Sun!
Wildlife Viewing: May – September is the best time to see wildlife in general. Fly-in bear viewing begins in May but is best in July. You can see Moose year-round. Gray whales migrate up in March/April; humpbacks are here from May to September; orcas are here year-round.
Fishing is great all summer long.
Hiking: Near Anchorage, trails at lower elevations are clear of snow by May, and in the mountains by early June. Conditions are good until mid-October. Closer to the Arctic, wait until the end of June.
Mosquitos: Bugs don't come out until early June and die off by early August.
Summer & The Northern Lights: The Aurora is not visible for most of summer because it doesn't get dark enough at night. If you want a trip that includes summer activities and the northern lights, visit between August 15 and September 15.
Fall foliage peaks mid-august to mid-September. It's most striking above tree line in the tundra.
Winter Vacations and Prime Aurora Viewing
The northern lights are visible August 20 through April 20. The best time for a winter aurora vacation is February and March. It's still plenty dark at night, but the days are longer and snow conditions are best for dog sledding, snowmobiling, skiing and other winter activities. The best area to view is near Fairbanks. Here are our recommended northern lights viewing tours.
What's Alaska Like the Rest of the Year?