Alaska in September: What's It Like? Should You Visit Then?
September in Alaska is the shoulder season—offering the promise of lower prices on hotels and excursions, fewer crowds and bugs, fall colors, and northern lights viewing. While brochures wax poetic about how early fall can be the perfect time to visit Alaska, the days are shorter, and it can also be rainy and cooler. But not always. Often, we have beautiful late-season warm spell. That's why locals say, "September is a gamble."
September Can Be Divine In Alaska
September is a time of dramatic transformation: the tundra is ablaze in color, autumn colors peak by the end of August you even have a chance to see the northern lights at night if you are away from the city. You also start seeing snow on the mountain tops, which we locals refer to as "Termination Dust." Plus, our mosquitoes usually die off the first week in August, so they are long gone.
The only problem is, it can also be rainy and cool. What we tell our friends is, "Come earlier in the summer, if you can. But if you can't, September could be great." Sometimes September is warmer and drier than the peak of July!
Shorter Days, Cooler Temps, More Rain
What is certain is that the days are shorter. But there's still more daylight than many places in the U.S. see during this same time of year, or even during their summer.
During the first half of the month, it can still feel like Alaska summer, with temps in the high 50s and 60 (maybe even 70), and about 14 hours of light every day (sunrise at 7 a.m., sunset at 9 p.m.).
But by the end of the month, temperatures are about 10 degrees lower overall , and daylight starts slipping away. The sun doesn't rise until about 8 a.m. and sets at 7:30pm.
Fall Colors & Termination Dust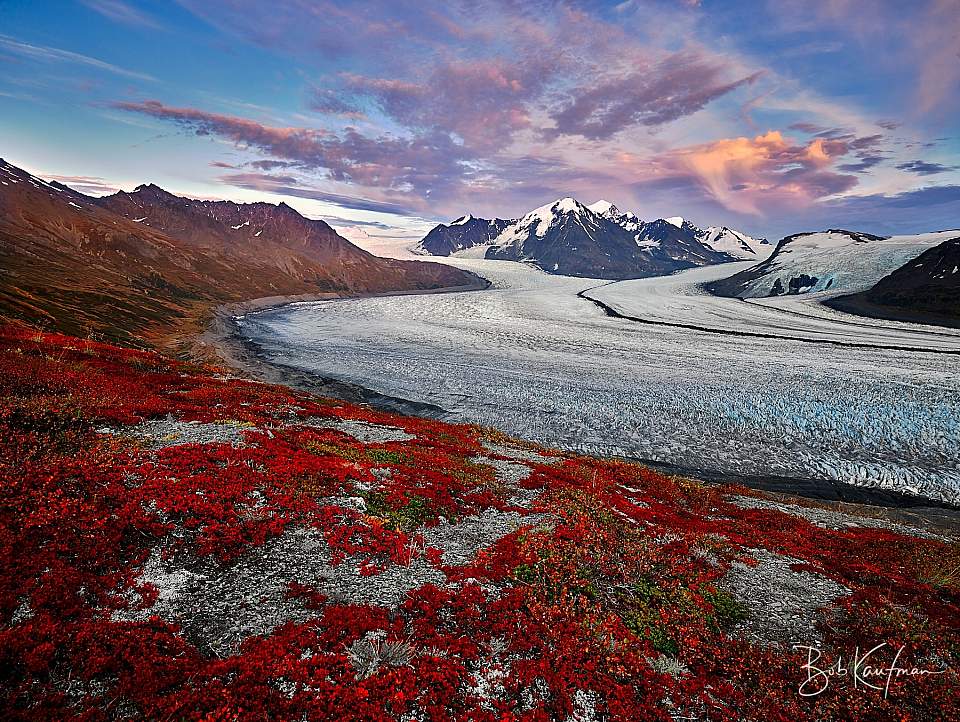 Fall colors in Alaska are beautiful but different from the Lower 48. In Alaska, very few trees turn red. Most of ours turn yellow and orange. On the other, the tundra can glow bright red--and smell fragrant beyond words. If you're a photographer, you may be interested in a fall foliage photo tour.
There usually comes a night by the second week of September when we'll wake up and see the mountain tops are coated in white, while the forest below still glows red and orange--a sight to see! We locals call these early snows Termination Dust, as in signaling the end of summer and that old man winter is just around the corner.
September is Less Crowded
Labor Day is not the end of the tourist crowds in Alaska. Cruise ships run through September—docking in Whittier and Seward, and with buses and trains departing for Anchorage, Talkeetna, Denali and Fairbanks.
But, to be fair, those cruises and buses are less crowded than they were in June, July, and August. The demographics have changed a little by September, too (more families with small kids, since bigger kids have gone back to school).
Shoulder Season Pricing
Selected excursions, transportation (like the railroad), and lodges offer shoulder season pricing in September--but not all do. (You can find the same shoulder season pricing in late May or early June.) And because many operators don't discount September, we advise you not to let saving a few bucks be the reason you come then.
(See our "How to Budget" article for more tips on cutting costs). Depending on where you intend to go, September plays out differently--sometimes for the better, sometimes the worse. Here's an insider's rundown:
September Across Alaska
Anchorage: Business as Usual
Alaska's biggest city—rich with museums, shops and restaurants—sees the least amount of change as August turns into September. For one thing, since this is more of a business hub than a tourist spot, hotels stay open year round, though they can offer better rates in September than you would find during the peak summer months.
September in the Anchorage area has another unique draw: The Alaska State Fair, located just 40 minutes north of the city in Palmer. That brings concerts, plenty of local goods, and the world-famous, massive vegetables that have grown all summer long under the midnight sun. It may not be a huge fair, but what it lacks in size it makes up for in character.
It's also a popular time for multi-day photography tours. Between fall colors, bears gathering at salmon streams, and the possibility of seeing the northern lights, there's plenty to fill your lens.
Girdwood: Fall Walks & Great Food
Girdwood is great to visit in the fall. It's often rainy, the crisp clear fall days are not to be missed. The bustle of the summer season has ended. There's less crowds, but all of the great things about Girdwood still exist. Walk the local trails and dine at the local restaurants. Alyeska Resort is a great basecamp for your fall getaway.
Whittier: You Can Still Take A Glacier Cruise
A little over an hour south of Anchorage, the small town of Whittier is situated on the shores of Prince William Sound. Lazy Otter Charters offers small group sightseeing tours into Blackstone Bay through the month of October. Phillips Cruises & Tours operates cruises through the first week of October. View massive tidewater glaciers and keep an eye out for wildlife. Weather pending, you can also enjoy a jet ski or kayak tour through the middle of the month.
Seward: The Biggest Weather Gamble
This port town offers one of the biggest September gambles in terms of weather, with the chance of cloud cover historically hovering around 90% for the entire month, and the chance of rain sitting at 60% for the month.
Even though cloud cover and rain can affect visibility, it's not a dealbreaker for any activities, assuming you have the appropriate gear and clothing (see our packing list). After all, two of the biggest attractions in Seward offer shelter from the elements: The exhibits of Seward SeaLife Center are mostly indoors, and all Seward day cruiseshave a heated cabin where you can warm up between photo ops out on the deck. Seward Ocean Excursions offers small-group custom charters year-round.
Denali: Prime for Fall Colors and Possible Snow
First the bad news: Most tours and hotels around here close between the 15th and 20th of the month, and many summer activities draw to a close by the middle of the month. Meanwhile, the national park starts offering abbreviated versions of their summer bus tours—basically, the tours only drive as far into the park as you can go without seeing signs of winter along the road (as in, snow). So, if you want to experience the entire park road—all the way to Kantishna and Wonder Lake—September is likely a no-go.
But that doesn't mean things are totally shut down—and there are some nice upsides to September here. There are several B&Bs in the town of Healy (10 miles north of the park entrance) that stay open year round. And the color is gorgeous: you'll see a nice mix of the bright yellow deciduous trees in the lower elevations near the park entrance, and as you get into the park and the tundra emerges, you'll see a vibrant, deep red. The views get even more spectacular if you take a flightseeing tour and see the park's colors from above.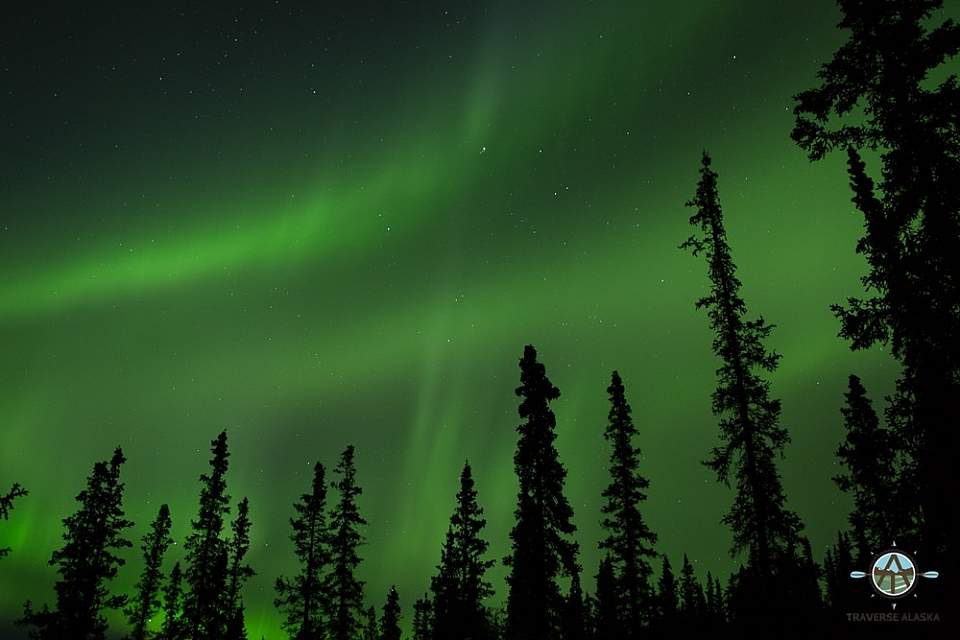 Fairbanks: Kick-Off for the Northern Lights
September is actually the beginning of the peak season of this Alaskan city: Fairbanks is a nice destination year round, but really starts to shine when the night skies finally become dark enough to view the northern lights. You can check them out on your own, or opt for a guided excursion or overnight experience. Recommend tours: Arctic Circle Day & Overnight Adventures, Aurora Pointe, Multi-Day Winter Northern Lights Tour, Northern Lights & Chena Hot Springs, Borealis Basecamp clear-roofed igloos & Aurora Ice Fishing.
While you can often see the northern lights from Fairbanks itself, many tour operators use Fairbanks as their main launching pad to take visitors beyond the Arctic Circle, which boosts your chances of seeing the lights.
Every Monday, Wednesday, and Friday, you can board a van or a 20-passenger bus to travel Interior Alaska Bus Lines' route between Anchorage, Glennallen, Fairbanks, and Tok, making stops along the way in off-the-beaten-path destinations.
Eastern Alaska: The Quietest Place in September
When we say Eastern Alaska, we mean towns like Glenallen, Chitina, Copper Center, McCarthy, and Valdez. This area is similar to Denali in the sense that many hotels and tours shut down by mid-September—after which things are really shut down. So, if you want to experience this area, you just have to come in the early part of the month.
Southeast Alaska: Iffy Weather, but Still Cruise-Ready
For most travelers, Southeast Alaska means cruising—and cruising in September offers just as much of a gamble as a land tour. You still have that increased chance of rain and clouds, so your shipboard views of the coastline could be shrouded in fog. On the other hand, if you get a nice day, your experience will be crisp and crystal clear. And, many cruise lines discount their September cruises.
One interesting alternative that works for the whole month of September is the Alaska Marine Highway Ferry System (check their page for more details). It's great for independent travelers, and most of its routes continue through September.